It was a month into the 2020-2021 school year — one that started with Sunny Hills students learning from home again like March when the COVID-19 pandemic first broke out.
Art teacher and International Baccalaureate [IB] coordinator Brian Wall recalls getting a text message from one of his former IB students, Cecilia Lee, who's in her first year at Yale University.
"Cecilia … asked if I got something from Yale," Wall said. "I thought she was contacting me that [Yale] needed some information about her. She asked if I checked my email today, and that's how I found out about it." 
What Wall eventually found out from opening and reading that email dated Sept. 1 was not something that Lee needed from him, but what the Yale freshman has given back to her IB counselor in recognition for his efforts in not only helping her in her pursuit of her IB diploma and getting accepted into a reputable institution, but also guiding countless others before her.
"Congratulations! We are pleased to announce that you have been selected as a recipient of the 2020 Yale Educator Award," according to the Yale admissions email. "This award, sponsored by the Yale Office of Undergraduate Admissions, recognizes teachers and counselors from around the world who inspire and support their students to perform at high levels and to achieve excellence."
Later, it continues with the following statements: 
"You were nominated for the award by Cecilia Lee and then selected as a winner by a committee in the Office of Undergraduate Admissions. As our committee reviewed nominations, we were constantly reminded of the unique and critical role that exceptional educators play in shaping their students' futures by encouraging them to pursue their goals. … The entire admissions office credits the excellent quality of this year's first-year class to teachers and counselors like you who have been shaping our students long before they arrive at Yale."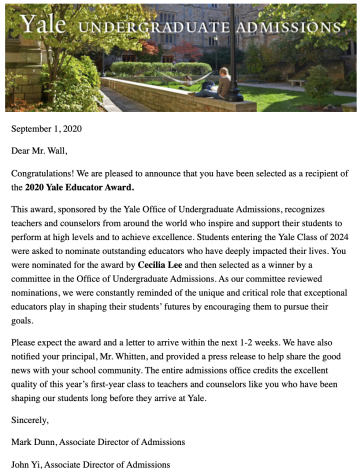 No information was available as to how long this award has been part of Yale's admissions program, and no information was available as to whether any previous Sunny Hills instructors have earned such a distinction in the past.
Wall has earned schoolwide (Sunny Hills teacher of the year in 2016) and countywide recognition as one of the top 25 teachers in Orange County in 2017 by Parenting OC Magazine for his dedication to his IB and art students — many of whom are part of the Conservatory of Fine Arts that he also oversees.
But he does not believe that what he does is driven by awards and finds that his interactions every day bring him fulfillment. 
"As far as this [award] goes, I know Yale has a lot of cachet as far as the name, but I'm not sure what light this puts me in," Wall said. "Being able to serve as a guide and mentor through high school and play a part in laying the foundation for students' futures beyond high school is a responsibility I look forward to and take pride in."t
ONLY ONE STUDENT NEEDED FOR NOMINATION
Lee, a 2020 graduate and a molecular, cellular and developmental biology major, said she first learned of the opportunity to nominate Wall upon receiving her letter of acceptance to the Ivy League school. 
Though she no longer has the exact statements she wrote in submitting her nomination to Yale, the college freshman offered some of Wall's qualities that still resonate with her
"He not only has the experience and range to help you choose your classes, but also he really cares about students' wellbeing and pours a lot of time and effort into students," Lee said. 
Wall supported Lee and her friends and advised her on college essays, as well as helped guide her in organizing events and meetings for the IB program, she said. 
"He helped me a lot with IB council," Lee said. "I used to be the president, and I couldn't have done it without him." 
According to the SH website, IB Council is the student control center for the IB program here. Members are responsible for fundraising events for the IB program, recruiting future IB students and providing community service opportunities. 
Because of the working relationship she had with Wall, Lee said she was able to enjoy high school despite all of the struggles she faced, such as with her classes, her college applications and IB Council.
"He is a very kind and empathetic person," she said. "I used to be much more cynical and unhappy until I got to know Mr. Wall and his genuine passion for students' growth and success." 
HOW THE NOMINEES ARE SELECTED
For the 2020-2021 school year, 317 people were nominated to receive Yale's award, according to Yale's admissions website. But only a quarter — 57 teachers and 24 counselors — got the engraved clear plaque similar in size to a four-inch-by-six-inch photo or index card. 
"A committee of admissions officers reads through all of the nominations," wrote John Yi, Yale's Associate Director of Admissions, in an email to The Accolade. "While all of them are compelling, the most compelling nomination submissions guide the committee in selecting the award recipients." 
Besides being named a Yale Educator Award recipient, the Ivy League school's admissions website also mentions that officials have sent him an engraved desk set and a congratulatory letter. 
Principal Allen Whitten said he was notified of Wall's achievement from an email sent by the Yale Admissions Office in September. Whitten then included this recognition in his Sept. 4 digital newsletter. 
"It's no surprise to me that he was recognized as an exceptional Yale educator," he said. "He is one of those awesome teachers that makes a huge impact in a lot of kids' lives, and it's really nice to see him being recognized for that."  
Though receiving such acclaim from an Ivy League admissions program is an honor, Wall said he plans to maintain his focus on his instruction and his students.
"I am passionate about art and feel so fortunate that I get to share it every day," Wall said. "Sunny Hills really is a dream place to work — we have the best students and parents, I work with amazing colleagues that I look up to, and we are supported at the school and district level."