Turning, twisting and flipping before skidding to a stop, people take over parking structures or skate parks on their skateboards as a hobby and sport — one that is popular among the youth. 
Particularly at Sunny Hills, students who typically don baggier clothing can be found surfing the cement jungle of the school late into the day. 
While all students, from freshmen to seniors, use the campus almost daily, some even use it on the weekends to spend time with friends while partaking in their shared hobby.  
"I think it's the way that the campus is built that makes it so popular," skateboarder senior Melissa Galvez said. "There are a lot of curbs you can use in order to do tricks, and the quad is also really popular — especially the stage area."
Galvez's journey as a skateboarder started when she was 13 years old, when she picked up the sport; Although in the beginning she felt a little uncomfortable practicing in predominantly male settings, she grew used to it and now feels the support of the community.
"It was weird at first because I saw male skateboarders everywhere I went, but they were all really nice and chill," she said.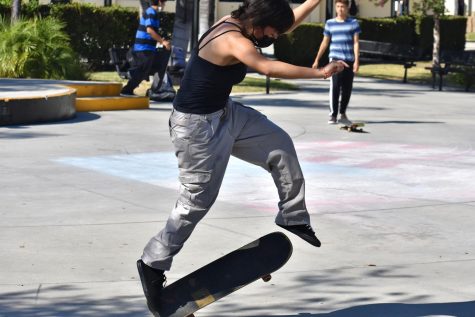 Because of her interest in the sport, Galvez watched the Olympic skateboarder as inspiration to get better and learn new tricks. 
"I thought it was amazing how they do so many extreme tricks, and [it made me] want to get to a point like that," Galvez said. 
Although she doesn't see herself pursuing skateboarding professionally, she hopes to continue sharpening her skills.
"It's honestly such a good feeling," Galvez said. "It's so freeing, and I forget about my stresses — like homework. I just enjoy it because it's really fun."
From the wide expanse of ground in the parking lot bordering the odd buildings to coast smoothly to the range of stairs and ramps that allow students to perform tricks while jumping into the air, these skateboarders use all parts of the campus to refine their skills. 
Although the Behavior and Consequences page of the Fullerton Joint Union High School District website prohibits students from bringing "skateboards, rollerblades, other wheeled vehicles, laser pointers, radios or tape recorders on campus" to be used during school hours, many SH students bring their boards on campus to get to and from school. 
For students like Galvez, skateboards come in handy as a form of transportation. 
"It's definitely faster than walking, and it's also really fun," said Galvez, who uses it when her parents can't give her a ride to school. "For us skateboarders, it's like stress relief."
Though Galvez and other students at Sunny Hills aren't allowed to skateboard during school hours, she uses it to travel to and from school and her house.
Likewise, senior Guillermo Soto has also been using the skateboard as his main form of transportation since freshman year — even during hybrid learning.
"When [COVID-19] was really serious, my parents didn't let me go out," Soto said. "But when it [became] the second semester of junior year, I decided to do the hybrid schedule and brought my board to school every day and skated over there."
These students have the choice to lock up their boards in skateboard racks located on campus like the bike racks. The school set up the very first skateboard rack three years ago, principal Allen Whitten said.
"We put that rack out there, and we have two skateboard racks on campus that were never used for years, [but] now, we have almost three or four skateboards out there almost every day," Whitten said.
"
It's so freeing, and I forget about my stresses — like homework. I just enjoy it because it's really fun.
— senior Melissa Galvez
As the use of these racks increased, the number of skateboarders at Sunny Hills also grew since previous years, said junior Isaiah Moreno, who has been skateboarding on the SH campus since he was a freshman. He is among a group of students that stays after school, sometimes until 5 p.m., to refine their skateboarding skills. 
"We have a lot of skateboarders at our school, and our philosophy has always been: we respect them, [and] they respect us back," Whitten. "We don't like taking skateboards from kids… We just ask them to be respectful, and when they're on campus [while school is in session], they need to carry it."
In addition to the shared love for skateboarding and using the campus, SH skateboarders also share a uniform style of wearing loose clothing, such as hoodies, baggy jeans and oversized T-shirts. 
A lot of skaters prefer wearing the comfortable style of baggy clothing so they have more room to move around while practicing their tricks, Moreno said. 
"Dickey's, [for example], are good pants to wear because of their durability and how loose they are," he said. "[Skateboarders] also wear crewnecks and different kinds of loose clothing; it all just depends on your style."
Though all the students in this community aren't familiar with every single skateboarder, most know of each other through friends and by meeting after school in the same setting, and their shared love for skateboarding brings them together. 
"When I first started bringing my board to Sunny Hills, I was kind of scared because I thought people would be judgmental, but the people were really nice," Galvez said. "They helped me, gave me a lot of tips and made me feel welcome; Now I'm kind of more comfortable going places."
Galvez said her interest grew in seventh grade when she would watch videos of skateboarders performing tricks on YouTube. 
"Watching the videos, I thought it was really cool," she said. "And then when I went to the skatepark with my mom on a whim and saw the people there, I thought, 'Oh wow, I want to be one of them–I want to do that.'"
After deciding to seriously start it as a new hobby, Galvez took her cousin's old skateboard and had it redone at a shop. It would be her starter skateboard — her first one ever. 
"From then on, it just took off," Galvez said. "When I started going downtown for the first time, I met a lot of cool people, and they were all really nice; now they're my friends."
Like Galvez, Moreno also started delving into the sport before entering high school. 
"I knew about it since I was a kid, [and] I never thought I would try it," he said. "But then my friends got into it, and they convinced me to try it."
For these students, skateboarding isn't simply a sport they enjoy–it's what brings them together as a community. And Sunny Hills is the perfect place to build that community. 
"I've met half of my friends through skateboarding, so I'm really glad about that," Galvez said. "I got to know the community because they were really nice, and I'm so glad that skateboarding introduced me to a lot of cool people."