April 14: COVID-19, I'm not going to let you ruin the rest of my senior year
LIVING UNDER THE CORONAVIRUS CRISIS
This is part of a series of columns from The Accolade staff about their various experiences during the school closure because of the coronavirus pandemic. If you would like to submit some of your experiences, please email us at [email protected]m.
Dear COVID-19, 
Although you have caused delays and cancellations in many traditional, end-of-the-school-year events I was looking forward to, I am not going to let you ruin my treasured senior year.
When I first heard about you, I wasn't too worried because you hadn't made your way to the States yet, but I was concerned for others whom you were affecting around the world, such as those in China, South Korea and Italy. At the time, I didn't realize you were going to have such a strong impact on my life. 
First off, you made schools all around the country shut down, including mine. My school closure was announced on March 13, but Sunny Hills students were supposed to return on March 30. However, on March 19, the Fullerton Joint Union District announced that schools would remain closed until May 1. But as of April 2, students will be finishing this school year online.  
It's unfortunate knowing that March 13 was the last time I walked my school's halls as a high school student. Considering that this year I wanted to cherish every moment with my friends because we'll probably go our separate ways after we graduate, my time reduced with them leaves me depressed. 
Currently, you are the reason I am locked up inside my own house — quarantine or stay-at-home order, as California Gov. Gavin Newsom calls it. Sure, I get to spend more time watching Netflix ("The Office," "The Trials of Gabriel Fernandez") and reading books (All Fall Down, Me Before You), but that's what the summer is for. Unlike vacation, I don't get to see my friends or family at all. Facetimes are not cutting it for me; they're not the same as real, face-to-face interaction, which gives people the opportunity to talk with no glitches or Wi-Fi interruptions. 
Since The Accolade staff got nominated for a Columbia Scholastic Press Association award in October, I was looking forward to flying to New York to attend the awards ceremony, especially after taking the time and courage to talk to our principal about it. Visiting the Big Apple would have been one of the most memorable moments as a part of The Accolade or even as a senior. It would have been my first time in New York with people I cherish. 
I would have looked forward to eating at different restaurants or possibly seeing what Times Square looks like in real life. With such a strong passion for journalism, I would have really enjoyed a tour of the New York Times building. 
COVID-19, when you're finally gone, I can't wait to make this year count. Right now, I only see you as a delay — not as a perennial issue.
As of now, some events are delayed until further notice, such as graduation. The fact that I might not be able to turn the tassel from right to left with the rest of my class is upsetting. Despite a majority of my life operating on Zoom right now, the graduation ceremony is one thing that I do not want done virtually. It would be nice if we can hold a delayed ceremony when your trouble settles down.
However, as for completely canceled events like prom or senior spirit week, I have a plan when life goes back to normal. 
No, I am not returning my blue $200 Windsor dress. One of my friends is planning on decorating her back yard to make it look elegant. My friends and I will still dress up in our gowns, do our makeup and hair and head to a restaurant for dinner and to a park to take photos. Then, we'll return to the back yard to "dance" as if we were at the W Hotel in L.A. 
We're also planning a day or two of fun activities. We can have breakfast together at an iHop, make our own togas and gather our papers to throw them up in the air since you also got rid of seniors' traditional "Paper Toss" on the last day of school in the quad. A picnic in the evening at a park would definitely top it all off as a "senior sunset." 
I know these moments will be just as valuable as if they were the real deal. Although I will not be surrounded by the senior class, I'm surrounded by the people who've made my four years of high school enjoyable.
In the case that the May Grad Nite gets canceled, and I wouldn't be surprised if you'll have a hand in that, too, we're still planning on choosing a day over the summer to go to "The Happiest Place on Earth." Heck, we'll go from 8 a.m. to midnight to make the most out of it. 
One thing that I've learned from this whole situation is to adapt. Over the past few weeks, I've learned to accept the situation after realizing that I can always find a way to stay positive when things turn for the worse. No matter what happens, I'm still going to make do with what I have. 
So thank you, COVID-19. You've actually made this a "year to remember," and it will be one fascinating story to talk about to my children or classmates 10 years or so from now — even if a COVID-30 gets in my way.
View Comments (3)
Your donation will support the student journalists of Sunny Hills High School. Your contribution will allow us to purchase equipment and cover our annual website hosting costs.
About the Writer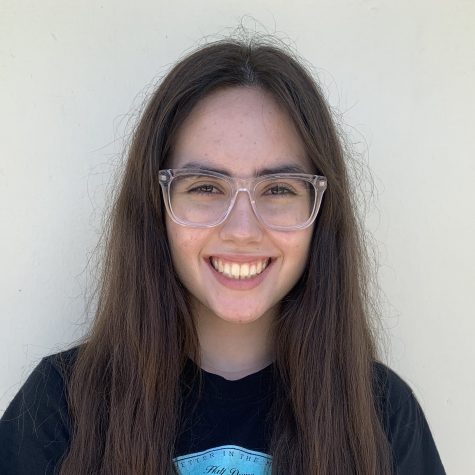 Michelle Buckley, Editor-in-Chief
Michelle Buckley, who graduated in 2020, was The Accolade's editor-in-chief during the 2019-2020 school year.