This was not how rising senior Jason Thomson imagined his first day of the 2020-2021 school year would go when it starts Aug. 11.
"I mean, I imagine coming to school and seeing all my friends like in past years and just feeling a kind of 'this is it' feeling. like this is where we're at, this is who we are — this is senior year," said Thomson, who is among nearly half the more than 2,100 students at Sunny Hills opting to come to campus for direct instruction under the Fullerton Joint Union High School District's [FJUHSD] hybrid learning model. "The past three years at Sunny have been eventful and amazing for me and taught me and made me grow to become who I became, and senior year is just a big reflection time for me."
Thomson, like all high school students in Orange County, will have to start this coming school year under the distance learning model that several campuses had instituted since March when classrooms closed to students because of the fear of spreading the novel coronavirus pandemic.
California Gov. Gavin Newsom issued a mandate July 17 that any educational institutions in counties that are on the state's watch list for high numbers of COVID-19 cases would need to remain closed to direct student instruction. Campuses would only be allowed to reopen if the county they are in is off the watch list for two weeks. 
Thomson fears the decision not to reopen schools could lead to a repeat of what happened to his senior peers from the 2019-2020 school year — canceled school dances, assemblies and graduation-related events. 
"The pandemic is a really sucky thing to happen to the entire world, and it's definitely a letdown because I'm going to be missing out on some memories and events that would normally happen during a senior year," said the boys volleyball player. "But at the end of the day, whatever keeps everyone the safest and healthiest is what I want." 
That was a sentiment that several other students echoed about missing out on the traditional first day of returning to school.
"I wasn't really surprised [about the closure of school] since I already knew marching band camp was fully canceled," said rising junior Josias Huang, who plays alto saxophone for the Lancer Regiment.
Huang said the camp, which he has been attending every summer before the school year starts since his freshman year, was originally scheduled from July 20-31, but a Remind message from band teacher Whitney Ting told him it was changed to only three days starting July 28 via Zoom. 
Huang said his parents actually wanted him to stay home if school were to reopen and learn under the "Cohort C" hybrid model, but he was able to persuade them to tell school officials to enroll Huang in direct instruction learning.
"Honestly, all dangers aside, I [wanted to] be in Cohort A/B so I could at least have a somewhat social life and be able to be with my friends," he said. "I also slightly oppose Cohort C because it's much harder to learn online."
The rising junior said he's not looking forward to continuing with distance learning come Aug. 11 even though he and all Sunny Hills students have received assurance from an email from FJUHSD superintendent Scott Scambray that teachers will provide a more engaging distance learning experience than the end of the spring semester.
"It's a whole different atmosphere, and there's really nothing that can change the feeling that you're not really there," he said. "They can try and try to make it like it used to be, but it just can't feel the same at all. … I think that it's much harder to pay attention than being in the classroom learning from a teacher."
And was that the same case when the Lancer Regiment summer camp became Zoom sessions?
"Well, the instructors [Ting and her husband] can see what you're doing wrong easier when it's up close [in person], and they get to see you and other students and compare, but in a Zoom call it's limited," Huang said.
Like Huang, rising senior Elizabeth Tamayo said her parents originally wanted her to stay at home for fear that Tamayo could come home from school and infect her younger siblings with COVID-19, though no medical or scientific evidence has shown that this could happen.
Tamayo, who plays trombone on the Lancer Regiment, eventually persuaded her parents to let her enroll in direct instruction learning on campus, but that is no longer the issue for the first week or more of the school year.
"On the first day of school, I will miss getting the chance to meet my teachers in person for the first time," she said. "Online learning is a new experience that no one expected. It isn't the ideal way to spend my senior year so I sometimes feel sad. 
"But I think it's important to make the best of it and have fun,"
For the first day of school, the Associated Student Body has in past years decorated the quad with helium balloons featuring Sunny Hills school colors — gold and black — along with chalk messages to welcome students and staff back to campus; it also has organized an annual Welcome Back assembly usually held on the first Friday of the first week back.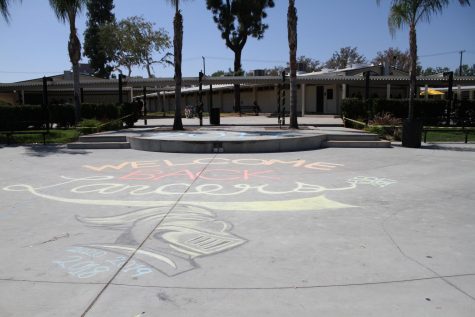 That obviously won't be happening for the 2020-2021 school year.
"I imagine this year's first day of school to be a little less spirited and eventful," said rising junior David Burn, who chose to receive direct instruction from teachers on campus because he also wanted to practice with his Dance Production teammates. "Although I know our Sunny Hills staff is going to do their best to make the first day of school exciting, it is going to be difficult personally to not be at our campus celebrating the first day of our year."
Though Burn is skeptical about how his new teachers will make distance learning more engaging this semester, he wants to remain optimistic about it.
"Online learning makes me a little more unmotivated than I would be in a school setting, but I will try to keep a positive attitude and stay on top of my work," he said. "I hope that online school this year will be a bit more engaging, but I'm not totally sure what they will be adding to make it more engaging."
Several students are also hoping that a reboot of distance learning won't last as long as the previous spring semester. They're worried about adverse consequences of a prolonged time away from their friends in a school setting.
That's the main reason why Thomson was so adamant about coming back to the classroom even in a hybrid learning format.
"My mom was a little iffy about my going to school, but she's seen how seriously I'm taking everything and how I understand her concerns, so she was going to allow me to return to going to school," he said. "I chose to come to school because the distance learning from last year was not working for me.
"I'm a very extroverted person naturally, so not being able to converse with people in a live setting kind of messed with my mental health."