Avid collector, baseball coach establishes himself as campus supervisor
When Randall Avalos was 10 years old, his uncle introduced him to the hobby of collecting and selling baseball cards.
Out of the many he saw, Avalos said he remembered seeing his uncle's 1952 card featuring Hall of Famer Mickey Mantle from the New York Yankees.
"It was the holy grail of baseball cards," he said. "These cards all meant something to him and me as well." 
The young Avalos also found out how much older cards featuring famous baseball players could be worth — a mint Mantle one has fetched up to millions of dollars.
"Ever since he showed me what baseball cards were worth, I just got hooked," said Avalos, who started his own card collection when he was 20 years old with his largest being a full 1973 set of 768 cards from collectibles company, Topps. "It's an awesome experience finding something worth money."
Besides this hobby, he said he has been playing baseball since childhood, joining Little League and Pony Ball.
"Baseball is big in my family, and one of my great uncles just got inducted to the Hall of Fame in the Northern Mexican League," Avalos said. "So, baseball in general has always been my passion since I was a baby."
It would seem that Avalos would fit well to join the Sunny Hills baseball coaching staff but in fact, he's the fourth addition to the campus supervisor team, hired last semester in November to work part time from 11 a.m.-2:45 p.m.
"Everything I've seen about Sunny Hills so far I like," he said. "It's a great school and in a great district."
A POSITIVE FIRST IMPRESSION
Principal Craig Weinreich said the campus has been in need of additional campus supervisors since the March 2020 COVID-19 pandemic, which forced public schools statewide to resort to online distance learning the rest of that spring semester and parts of the 2020-2021 school year.
Some veteran security staff, like Newton "Money" Thompson, did not come back to campus after Sunny Hills returned to in-person instruction last school year.
"It's very nice to have another pair of eyes and another person who can be out there and keep our campus safe," Weinreich said. "We haven't ever had [a] fourth [supervision aide] before."

Sophomore Anthony Mitri, who talked to Avalos in January about his presence at Sunny Hills, said the newest addition to the school's security team has made a positive first impression on him. 
¨I noticed he wasn't here at Sunny Hills in my freshman year, so I decided to go talk to him," Mitri said. "He was really chill."
MORE THAN JUST A COLLECTOR OF BASEBALL CARDS
Avalos has been a part of the Fullerton Joint Union High School District since his high school years.
Though Sunny Hills is not his alma mater, he joined the Buena Park High School baseball team as a catcher in his freshman year and planned to play in college.
But that dream was cut short when he sustained an injury in his rotator cuff from throwing.
"It was unfortunate because I really wanted to go to college playing baseball," the campus supervisor said. "However, I called it quits."
In 2018, Avalos said he joined the baseball team's coaching staff as an assistant at Buena Park High School, where he continues to guide the Coyotes this school year.
A year later, he decided to apply as a campus supervisor in the Fullerton Joint Union High School District, but it wasn't until the 2022-2023 school year that a position opened up for him at Sunny Hills. He said he wanted to find another job within the school district to earn extra money. 
REAPING THE REWARDS OF HIS HOBBY
Since his childhood interest in collecting baseball cards, Avalos said he has earned huge sums of money from some of his recent acquisitions.
He said he bought a rookie card featuring Roberto Clemente from his favorite team, the Pittsburgh Pirates, in 2015, and now it's worth over $10,000. 
"I'm always open to buying and selling whenever there's a card I want," Avalos said. "I had two [Clemente] cards in my possession; I sold one of them for roughly $1,200."
Besides baseball cards, the new campus supervisor said he has also broadened his hobby to collecting all sorts of vintage items like cars and figurines.
"I always loved to collect and sell Americana stuff; it's how I make some extra money on the side," said Avalos, declining to elaborate on exactly what he has sold and how much he has made. "I also recently started to collect real cars that I store in my garage."
ALSO A FAMILY MAN
The campus supervisor said he enjoys his new job, adding that he hopes to one day supervise his own children, ages 6 and 8.
"If I'm still working, I would love for my sons to come to Sunny Hills," said Avalos, whose wife is pregnant with a boy due in July. "Then I would be able to watch over them as well."
Avalos said he likes to spend his free time with his sons by sharing with them his childhood passion: baseball. 
For now, he doesn't have any plans to add another working title to the jobs he has.
"It's only a part-time job [here], but I wouldn't have it any other way," Avalos said. 
Leave a Comment
Your donation will support the student journalists of Sunny Hills High School. Your contribution will allow us to purchase equipment and cover our annual website hosting costs.
About the Writer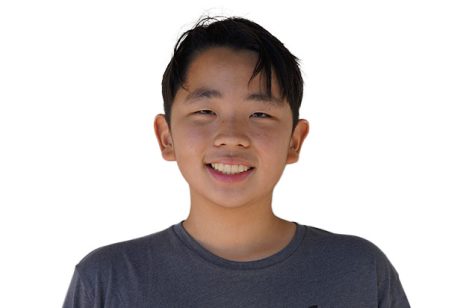 Chris Lee, Staff Reporter
After taking Journalism 1 his freshman year, sophomore Chris Lee wanted to commit to The Accolade. As a staff reporter, Lee intends to experience writing in all sections and hopes to improve his journalism skills over the next few years.
In his free time, Lee likes to play tennis and video games.