KICK STARTER: New assistant principal Heather Bradley brings a field of experience in sports, teaching
Socks pulled up and shin guards secured.
Players' feet entangled and hands kept away from the ball.
The turf field surrounded by spectators' electrifying cheers and illuminating lights set the stage for the Adult Soccer League game.
This was where Heather Bradley could be found a month ago, playing at a soccer match – a recreational activity that Bradley participates in every Thursday and Friday evenings. 
With the experience of a former four-year varsity girls soccer player and 14-year coach of the same sport, Bradley finds ways to participate in this athletic endeavor. 
"I love soccer — haven't left that one yet," Bradley said.
One of the most important skills Bradley said she picked up throughout her athletic journey relates to something that's more mental than physical: time management.
And it has come in handy when she adjusted to her new administrative responsibilities at Sunny Hills, where she replaces Hilda Arredondo during the 2022-2023 school year after Arredondo was transferred to an assistant principal position at La Habra High School.
"I'm excited for a new path and new challenge, and I just want to continue to learn," Bradley said. 
As administrator of student affairs, Bradley oversees athletics and helps coordinate school activities, such as evacuation drills and Associated Student Body [ASB]-related events. Alongside assistant principal Peter Karavedas, she also deals with student discipline issues.
BEND IT LIKE BECKHAM: BRADLEY'S SOCCER ORIGIN STORY 
Never straying far from the Fullerton region, the first-time administrator spent her elementary and middle school years at Hermosa Drive Elementary and Ladera Vista Junior High School as she cultivated her interest in soccer.
Though the assistant principal said she dabbled in a variety of sports, she decided to focus on soccer, which she started at 10 years old, by participating in a recreational team for two seasons and then moving onto club soccer until entering high school. 
"I loved playing sports growing up," said Bradley, who mainly played midfield and forward throughout her soccer career. "I like the exercise and the competition. I think sports are a great way to teach young kids work ethic, teamwork and leadership. I've made a lot of great friends as well."
"
"I loved playing sports growing up. I like the exercise and the competition. I think sports are a great way to teach young kids work ethic, teamwork and leadership. I've made a lot of great friends as well.""
— Heather Bradley
At Sonora High School, she was able to branch out into different athletic endeavors, becoming a triple threat in soccer, volleyball and track and field. In addition to going to CIF in soccer and track as a hurdler and high jumper, Bradley said she was also selected as the first team all league for soccer before she graduated in 1995.
Outside sporting venues, however, the assistant principal said she was able to explore her passion for English.
"I had a very inspirational English teacher in high school, so she made English the subject that I really enjoyed, and I love reading," Bradley said.
GOAL!!! – BRADLEY'S PATHWAY TO TEACHING AND COACHING
By her senior year, she had been team captain for all three sports teams and scouted to play at Cypress College. While taking general education English classes with an undeclared major at Cypress, she said she was called back to Sonora as an assistant coach for girls varsity soccer in 1995.
Though Bradley said she initially considered nursing as a career, Sonora's athletic director at the time, John Link, helped pave her way into teaching.
"I knew I wanted to do something that helped people, and [Link] suggested, 'Have you ever thought about teaching because you're good with the students and you could continue coaching?'" said Bradley, who remained close friends with Link until his death in 2019. "I always had a positive educational experience, so that was a turning point when I decided that [teaching] would be a good path — something I would enjoy."
After deciding she would like to continue working in a school setting, she said she debated between choosing English or PE as the subject she would teach – a career that would occupy the next 22 years of her life.
"I went back and forth between English and PE because I was always involved in English and athletics," Bradley said. "And I'll be honest, at the time, there just weren't any job openings in PE, so I thought it would be a much better idea to major in English."
Her educational journey took her to California State University, Fullerton, where she transferred in 1997 and declared English as her major. Halfway into her teaching credential program in 1998, the former instructor was hired to teach on an emergency credential at Sonora High School as a sophomore and senior English teacher . 
After finishing her English bachelor's degree in 1999 and credentials in 2000, the following school year (2000-2001), she remained at Sonora to teach sophomore and senior English. From then until the last school year, Bradley said she has taught English at all levels from academic interventions for freshmen to Advanced Placement Literature for seniors.
Before earning her administrative credentials in December 2020, she also became the English department chairwoman.
"I enjoyed being at Sonora — it was kind of home to me," she said. "I've loved the classes and every year in teaching is a little bit different, so the personalities that you're teaching and the relationships that you get to build change from year to year, and I've always enjoyed it."
Bradley said she continued being involved with high school sports, including coaching varsity girls soccer for 14 years, 11 for girls volleyball for 11 and hurdles for four. Throughout her career in education, Bradley said her outlook has always revolved around her students or athletes. 
"Getting to really know them and build a relationship with them, I think is the best way to reach them educationally and athletically," the former teacher and multi-sport coach said. "What motivates one student may not motivate another student, so my teaching philosophy has always been to get to know who they are, where they're coming from."
FORWARDING INTO SUNNY HILLS
When Bradley interviewed for an administrative spot within the Fullerton Joint Union High School District [FJUHSD] in May 2021 (though she wasn't told which school had an opening), she said she felt ready to open a new chapter in the education field.
One of the first characteristics of the Sunny Hills campus that she had to get used to was the change from Sonora having a majority of classes housed in one building contrasted with the open space of classrooms in separate wings.
"Indoor vs. outdoor is the biggest difference, and then I think our ASB here is a lot more active and outgoing," Bradley said. "Sonora has a good ASB, but our ASB kids here do a really good job promoting and that shows in the school culture."
"
"Indoor vs. outdoor is the biggest difference, and then I think our ASB here is a lot more active and outgoing. Sonora has a good ASB, but our ASB kids here do a really good job promoting and that shows in the school culture.""
— Heather Bradley
The ASB senior class president Sierra Chavez said she was able to see Bradley in action during the Tuesday, Aug. 9, Lancer Days for registration. 
"During Lancer Days, it can get crazy, but she was super encouraging and non-stop went around to each station and pumped us up and constantly told us that we were doing a great job," said Chavez, whose older sister happened to be one of Bradley's students at Sonora in 2018 as a senior. "I am personally super excited to be working close to her.
"I know she will be helping us with new ideas and help ASB continue to bring the most school spirit ever."
Principal Craig Weinreich said he also recognized Bradley's extensive experience in teaching and athletics during the hiring process. 
"I think she's going to mesh well with our kids, and our students are going to have another positive example they can lean on throughout the course of the year," Weinreich said. "I'm excited for her to be working with, mainly with the athletics teams and our ASB — she's going to do a lot to help with those types of student activities."
Bradley said one of the main goals this year as an administrator centers on exactly that. 
"I think we do a good job of it already, but we want to do an even better job of getting word out to the community and to our parents about what's going on with our sports teams and athletic teams," she said. "So we're using a lot more social media and newsletters, sending out and posting to just make the community aware of how great our programs are and how great our students are."
The assistant principal said encouraging students and parents to follow SH programs' social media through QR codes during Lancer Days was a first step toward accomplishing this mission. 
ASB adviser David Fenstermaker has been able to work with Bradley in preparation for school activities, such as Lancer Days and the first assembly of the year – the Friday, Aug. 19, Welcome Back gathering in the gym.
"She's been very open to being collaborative … and that makes it really easy to work with her in every situation," Fenstermaker said. 
One of the perks of Bradley's having taught within the FJUHSD for so long is being able to interact with several of the Sunny Hills staff members, such as former girls soccer coach Jeff Gordon and English Department chairman Scott Rosenkranz. Being familiar with such SH staff has made transferring to a new campus an easier adjustment, she said.
"I am really enjoying being at Sunny Hills," Bradley said. "Everyone — the students and the staff — are fantastic and very welcoming and supportive, and I'm looking forward to the year."
Leave a Comment
Your donation will support the student journalists of Sunny Hills High School. Your contribution will allow us to purchase equipment and cover our annual website hosting costs.
About the Writer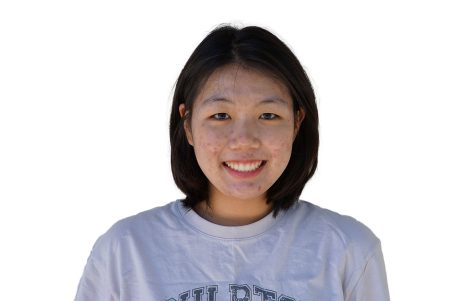 Jaimie Chun, Managing Editor
After an exciting first year on The Accolade staff, junior Jaimie Chun returns as the new managing editor. In addition to being one of the past year's copy editors, Chun was able to pursue her passion for writing by publishing stories for every section. She appreciates being able to speak to many people across campus and sharing their stories in The Accolade.

When not in the newsroom, Chun can be found on the softball field or participating in school clubs. A few of her hobbies include reading and hunting for music to add to her playlist.