From 'The Wizard of Oz' movie props to the 1980s Pac-Man arcade game, new video production teacher impresses his students with themed classroom decorations
As students walked into the first day of their Regional Occupation Program [ROP] Video Production class in August, they literally entered into a whole new world.
Movie posters featuring early 20th century productions lined the walls. Only a film buff would know about classics like "Citizen Kane" (produced in 1941 and considered one of the greatest movies ever made), "Gone With the Wind" (produced in 1939 about the Civil War) and "Gentlemen Prefer Blondes" (produced in 1953 featuring actress icons Marilyn Monroe and Jane Russell).
Not many would recognize the props displayed in a shelf in the center of the room – a replica of the ruby slippers that actress Liza Minnelli wore during the 1939 production of "The Wizard of Oz" and cameras using film to take and develop pictures. 
Though many of Daniel Flores' students may have never heard of these Hollywood gems, the new Video Production teacher used such decorations as an introduction to what his class would be about.
Each month after August, Flores redecorated his classroom to highlight a new theme – in October, he put up a new set of movie posters centered on horror films like "Dracula" (a vampire flick produced in 1931) to fit a Halloween theme. He also placed recognizable movie character mannequins like Annabelle and Chucky to give students a friendly scare.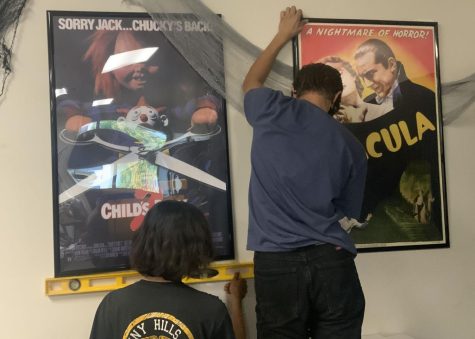 "There is an excitement when students first enter the classroom and see everything transformed," said Flores, who came to Sunny Hills from teaching digital media arts for 6-12 grade levels at Pomona's The School of Arts and Enterprise, a charter school.
The instructor said he invests a couple of hours every month or two to set up the decorations; after August, he has been able to solicit the help of some of his students.
The end of November and December centered on the winter holidays with gift wrap paper taped to the interior of Room 136's door. For the start of the spring semester this month, Flores has set up his classroom to highlight pop culture, including a mini-Pac-Man arcade game similar to the ones from the 1980s to help educate students about "Pac-Man fever."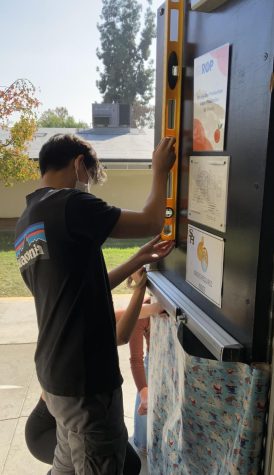 With Flores' classroom becoming a unique sight on campus, many of his students feel that it provides them with the perfect environment to hone in on their videography skills.
"My favorite aspect of Mr. Flores is that we have a new theme every month and the room changes as well, which always inspires me when I walk in," said junior Lucrecia Santos, who is in Flores' third period class. "It's really hard to pick one decor but in October, my favorite was the Chucky and Tiffany dolls because I feel like it's a classic, and it's just pretty cool seeing them there in the room."
After having previously taken the photography class with instructor Michael Goulding, who retired after the 2020-2021 school year, junior Marissa Aielo said she also looks forward to exploring videography in her fifth period class.
One of the assignments Flores gave in October was for students to produce their own horror video short.
"Posters of horror movies … definitely inspired me to pull ideas from those movies into the film we had to make," Aielo said. 
The junior said Flores also deserves praise for the way he approaches his students.
"Mr. Flores is giving me and the other students a good foundation to start our own videography journey," she said. "I really like how he is honest about our work. He says if it is good or if it needs improvement and how we can do that.
"Once you get to know his teaching, he is a really cool teacher."
The videography teacher said he plans to continue changing the room's decorations after seeing how they help enhance his students' skills and experience.
"The classroom environment is a vital component for student success," said Flores, who currently teaches all classes from zero-six period. "My time and effort pay off when I see my students engaged and having fun learning the content."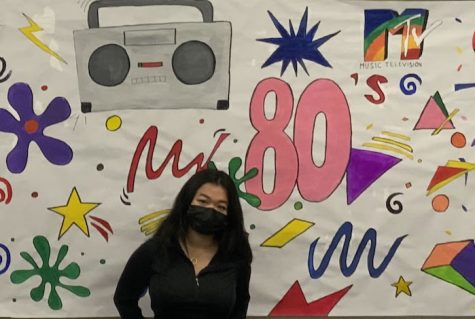 VIDEOGRAPHY OF A TEACHER
Flores, who graduated from Polytechnic High School in Long Beach, said he did not receive his first video production education until he entered California Polytechnic State University, Pomona, since his alma mater never offered such an elective.
Nonetheless, his later experiences were enough to captivate him.
"I believe [what drew me toward video] is the art of storytelling," Flores said. "Being able to produce, document and record someone's story is an honor and doing that in the medium of photo or video is a privilege."
His first few classes in video production also ended up being more challenging for him.
"It was difficult because I didn't have a background from high school, so there was a lot of trying to catch up with just learning all the modes of the camera," Flores said. "It was pretty challenging to adjust, but it was a neat experience."
After majoring in communications when he transferred to the University of California, Riverside, Flores got his first introduction in the professional industry as a videographer for ABC News as well as doing camera work for Fox, MTV and NBC. 
"When I got to see my work on television or print ads, that was my realization that I made it," he said. "I didn't know what it was, but just knowing that people pay for your artform and knowing that my work is out there and publicized, that's the honor right there."
LANDING A TEACHING JOB AT SUNNY HILLS
Goulding, who was known for his work as a photographer for The Orange County Register before leaving that position to become an educator, paved the way for Flores' arrival.
"When I first heard about Sunny Hills transitioning from all photo classes and one video into strictly video, I felt it was a good opportunity to come and enhance the curriculum and change the culture and climate of the ROP course here," Flores said. 
Upon talking to former principal Allen Whitten over the summer, the ROP instructor said he knew that he could help fulfill Whitten's vision for a video production class.
"Mr. Whitten shared with me that the big push is to promote video production and make sure that students have a chance to experience what it's like to be able to promote and produce promotional videos, hype videos for the school, videos we can play on the jumbotron, the YouTube channel and more," Flores said. "Of course building a team of students that would like to start covering different events [is another vision]."
Since the start of the 2021-2022 school year, Flores has already recruited a videography team. He and some of his students have produced a 2021-2022 football season documentary that was scheduled to stream during the team's banquet earlier this month. But the event was postponed because of the surging positive cases of the Omicron variant.
The video team has also produced videos posted on its YouTube page the homecoming assembly and some football games. 
"[Live streaming] the games was a pretty daunting task, but the students have been fantastic with stepping up and wanting to learn how to do a lot of the production itself," Flores said.
One of these eager students is senior Enoch Chung.
"My first impression of Mr. Flores was that he was a friendly and approachable person who seemed to have similar interests with his students, which made it easy to hold fun and valuable conversations with them," Chung said. "I love that he tries to be friends with all his students by creating a level of reliability between him and us.
"It makes it easier for us to feel comfortable, and he always makes sure to hear our opinions."
The Associated Student Body co-adviser, Mike Paris, has taken note of Flores and his student videography team's efforts over the past few assemblies last semester.
"It's really been great that they can [upload ASB's assemblies] and make it available to everybody, whether it was COVID-19 restrictions or not," Paris said.
Whitten said Flores has proven to be a solid hire.
"I met him at a football game when he taught at another school and was blown away by his connection to his students and the work they were doing to broadcast the contest," he said. "He fits with the SH core values of being a teacher kids love, kids learn from those they love, and he is an expert in his subject area.
"This is always a winning combination."
Flores said he also appreciates how much ROP officials have supported the video production program, including the purchase of 35 new iMac computers and top-notch equipment for filming. 
In his seventh year of teaching, the new teacher said he anticipates a school year that provides the best environment for students as he aims to train the next generation of videographers. 
"Every student that enters my classroom knows that their education is my priority, and I will do whatever I can to make my class engaging, current and that they have access to all types of equipment," Flores said. "I always tell [my students] that I'm training and building you to be better than I am."