Staff Editorial: Increasing the availability of mental wellness resources for students and teachers remains a necessity to combat rising rates of depression and anxiety
The Accolade editorial board unanimously voted for the Fullerton Joint Union High School District [FJUHSD] to provide more mental wellness activities/resources on campus to aid students and teachers. 
As the COVID-19 pandemic continues to take its toll on people's lives, the need to address mental health and offer assistance to deal with it becomes increasingly significant — especially for students and teachers. 
The deteriorating mental health conditions among youth have reached a level in which the U.S. surgeon general Vivek H. Murthy recently issued a public health advisory requesting more immediate attention be placed on the emerging crisis. 
The number of teens struggling with mental health doubled from before the pandemic, with 25% experiencing symptoms of depression and 20% experiencing symptoms of anxiety, according to Murthy's public health advisory.
The isolation that came from COVID-19 protocols made it "harder to recognize signs of child abuse, mental health concerns and other challenges," according to the advisory. 
It's also no secret that more educators with years of experience have decided to retire early or find other employment. At Sunny Hills, for example, we have had to replace nearly 10 teachers this school year. 
And more than ever, some are considering leaving the profession after this school year as well, reflecting the results found in a March 2021 study about teacher attitudes during the pandemic. 
When asked if they expected to work as a teacher until retirement, 69% said they would compared to the 74% in the year prior. In contrast, the number of teachers who responded with "I don't know" increased by 6%. 
Nearly one-fourth of teachers believed they were likely to leave their job by the end of the 2020-2021 school year in comparison to one in six before the pandemic, according to a 2021 state of U.S. teacher survey by RAND Corporation. 
Taking the need for action into account, the FJUHSD should begin implementing more options besides wellness polls and referral services (like Care Solace) for students and teachers to assist with any mental health challenges. 
The Fullerton Joint Union High School District released an almost nine and a half minute video on the resources provided for students struggling with mental health. This consists of groups like TTC for Success, Phoenix House, Congruent Lives, Vista Community Clinic and Seneca. 
District officials released the results of an optional survey for students to fill out in October with 8,166 responses and another for parents to complete in December with 874 responses, but never publicized them – The Accolade believes they should do this immediately. 
What's worse is that none of the survey questions addressed mental wellness for teachers. The Dec. 9 parent Google Form, for example, asked adults to rate how they feel about their own children's mental and emotional state. Here is a sampling of those questions:
During the past week, how often have you felt that your student has an adult outside of school that you can count on to help with school work?

How often are things happening outside of school (home life, work, extracurricular, etc.) affecting your student's ability to do well in school?

How often does stress make your student feel like giving up on his/her goals?

 
Though some in the community – if not nationwide – were skeptical about the quality of work teachers produced during distance learning, it's important for district officials to give educators a chance to fill out a survey. 
Teachers will not only be able to report on their own well-being, but they can address their observations on the mental health of their own students, who they see on a regular basis – perhaps even more often than parents, and definitely more often than district officials or administrators.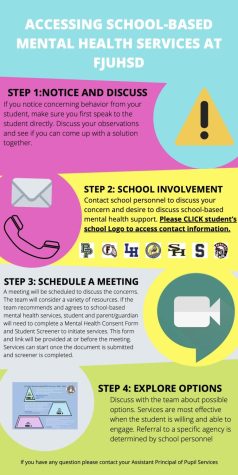 Many don't realize that teachers had to find ways to keep their students engaged during the last school year's hybrid learning models. 
When the 2021-2022 school year started with in-person school – the first time in two years – instructors needed to come up with methods to deal with students' learning loss or handle classroom management more than ever before since students, especially many freshmen and sophomores, never attended high school before.
While gathering data provides a commendable starting point to show the FJUHSD's concern, how the district plans to utilize this information and its next steps moving forward are what really matter. 
Since October 2018, The Accolade has been advocating for an SH Wellness Day – a chance for students and teachers to take a break from the academic rigor of the school year. 
This idea came to light after International Baccalaureate [IB] coordinator Brian Wall organized an event in which "more than half of the campus' IB students turned out for a group session, smaller breakout activities and bracelet making," according to The Accolade's Oct. 26, 2018, staff editorial titled, "How about an SH Wellness Day?"
Nearly a year later in the Oct. 18, 2019, issue, The Accolade published a staff editorial endorsing the creation of a mental wellness center on campus. 
"We would like to encourage discussion about establishing a center on campus to help those not only who are considering suicide, but are also feeling overwhelmed by the challenges they face in the 21st century," according to the staff editorial titled, "SH needs mental health program." 
"Members of the ASB or the Student Senate, for example, could take the lead and talk to school administrators about the value of hiring a full-time therapist or two who are available to meet with students throughout the school day.
"They can also discuss the value of holding regular, before or after school counseling sessions in which students can share their emotions and concerns to calm down in the midst of their hectic lifestyle."
That school year, the campus did open a new center – a College and Career one.
These proposals, if enacted earlier, could have helped students and staff deal with challenging times, especially as COVID-19 cases are dramatically spiking again because of the Omicron variant. Students and staff could have benefited from having the time to talk about how they feel regarding events in the news that hit close to them, like the Dec. 5 police arrest of a Buena Park High School student.
The unidentified minor was accused of sharing a photo of a person holding a gun with a warning to classmates to stay away from school "if you wanna live," according to a Dec. 9 online Los Angeles Times article. 
That same article included comments from UCLA education professor Tyrone Howard, who claims that the youth are unaware of methods to cope with feeling depressed or angry, which leads to three possible trauma responses: being aggressive, becoming reclusive or tuning the world out.
"While there is no current data that aggregates reports among educators and law enforcement about reported upticks in threats, school fights, assaults or behavior troubles, Howard and other educators said students are experiencing anxiety, suicidal ideation and depression, all signs that they are struggling," according to the Times article.
Money to organize a daylong break from academic routine and to open up a place for students and staff to go for counseling should not be a concern, especially with all of the funds the state and federal governments have provided school districts to reopen last August.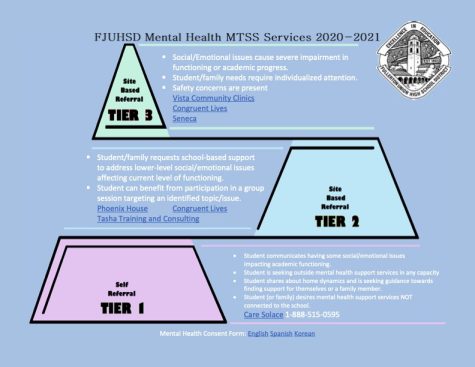 But if for some reason these are not viable options, then the FJUHSD can start small by introducing optional mental health exercises and implementing them regularly in classrooms with short, pre-approved meditation videos. These exercises can range from simply taking a few minutes for breathing exercises after morning announcements during second period to participating in calming exercises or yoga in the gym during lunch or break. 
Bringing in this kind of relaxation option would allow for students and teachers to wind down after a fall semester of teaching or learning. Calming methods can help alleviate some of the stress, anxiety, depression and sleep problems that come with academic workloads, according to the University of Michigan Health. 
Those who would rather not participate won't have to, but knowing that support is available lets school stakeholders know that these mental and emotional well-being issues are being heard and more importantly, addressed. 
If the FJUHSD plays its part by implementing proactive methods to give better access for mental health services, it can prevent the crisis from further expanding in its community. The Accolade hopes the third time for us urging for these additions on campus is the charm and that we will see changes soon. 
The Accolade editorial board is made up of the top editors and section editors on the 2021-2022 staff with the guidance of adviser Tommy Li. If you have a question about the board's decision or an issue for the board to discuss and write about, please send an email to [email protected].