Completed $2.5 million solar panel carports installation offers student drivers 220 parking spaces, more than half of which provide shade
With the $2.5 million solar panel carports project near the Performing Arts Center [PAC] completed a week before the start of the school year, student drivers get 220 parking spaces available – more than half of which have shade.
School officials had to wait until the lot was repaved with parking slots repainted before they could officially reopen it Aug. 10, just in time for Lancer Days.
"In the parking lot, before they renovated everything, I couldn't see the lines dividing the parking stalls at all, and parking was so hard," senior Carmina Pineda said. "When they repainted everything, I was so happy because it made my life so much easier."
Senior Luke Linares also sees the value of clearer lines on the lot, especially since he had to deal with the faded markings last semester during hybrid learning when school officials opened up sections of the lot.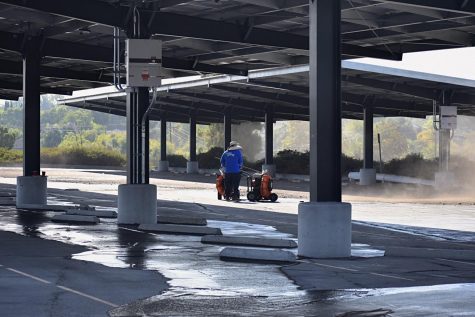 "I like that there is shade [for the cars] now," Linares said. "The solar panels are a lot better for the environment … [and] a good financial investment, too."
Of the 220 total stalls designated for student parking, 143 are under the solar panel carports, while of the 40 slots marked for staff, only 18 have shade.
That's a good deal for social science teacher Arlie Kearny, whose classroom is closest to that parking area.
"I really like all the changes, and the [solar] shade is my personal favorite," Kearney said. "Not having to go to a hot car is awesome."
In addition to the PAC parking lot upgrades, another Aug. 9 change was the three newly painted lanes heading into the area, which allows more cars to move in and out of the location in one direction, allowing more efficient before school dropoffs and after school pickups.
"The people dropping off and picking up people [there] used to [come] from all different directions, and it was madness," Kearney said. 
A final new feature at the PAC parking area is the two Chargepoint stations, which can power up to four electric vehicles [EV]. However, EV owners will have to pay a fee of approximately $1 per hour, said Chinese teacher Soon-ya Gordon, who used the charge port once during the first week of school to add more miles to her Tesla Model S.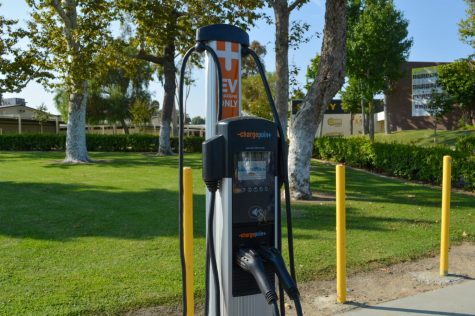 "The rates they are charging aren't bad; they're not expensive," said Gordon, who can also charge her car for free at any Tesla Supercharging station.
According to a sign posted at the charging stalls, only staff members are allowed to charge their EV's during school hours from 7 a.m. to 3 p.m. Before 7 a.m. and after 3 p.m., students or anyone else in the community can use them, assistant principal Melissa Stinson said. 
Junior April Sanders, who is considering buying an EV once she gets her driver's license, hopes school officials will change their minds and allow students to charge there during school hours.
"It was kind of a downer [that we can't], but I understand because students can't really leave [campus] during school unless it's lunch or break time," Sanders said.
For Pineda, just knowing that she can add more miles to her Nissan Leaf before she leaves campus for the day lessens her anxiety.
"The only time I plan on using it is if I really need to," Pineda said. "Like if I forget to charge my car or maybe forget to turn it off."