Math teacher retires after more than three decades in the profession
She's the last to retire of the Sunny Hills teachers who were hired with her in September 1983 – icons like science teacher Jeff Nelson, who coordinated the International Baccalaureate program before art teacher Brian Wall eventually took it over, and English teacher Edlynn Zimmerman, who won twice for the school's teacher of the year award.
Former Fullerton Joint Union High School District superintendent George Giokaris also joined the Sunny Hills campus as an assistant principal among that same group of new teachers in the 1983-1984 school year.
Back then, math teacher Teri Klein was known as Teresa Hallbauer, who was in her third year in the education field after teaching two years at Rancho Cucamonga Middle School in San Bernardino County, according to a Sept. 30, 1983, Accolade article.
Klein notified school officials of her retirement at the end of the fall semester of the 2020-2021 school year, working here for 36 years and one semester.
"I was always there for the students — 100% of the way," she said. "I would go out of my way to encourage and help them be successful."
Another example of her commitment to education was her attendance on campus.
"I never took a day off because I wanted to direct all my attention to my students," Klein said. "I loved being in the classroom with them; it was very important to me, so I avoided taking days off so they would not have to have a sub."
She said she has taught nearly every math course offered at Sunny Hills. Most notably, for nine years, Klein was the Probability-Statistics/Linear Algebra instructor, and in that time, she said her students achieved an overall percentage of 96%-100% on that subject's International Baccalaureate [IB] exam. 
Perhaps her short time working as a waitress helped her come up with stories that connect with certain math concepts.
"It was usually the end of quarter one to the rest of the year; I would tell stories to my students that connected to my lessons so they would remember them," Klein said in regards to one aspect of her teaching style. "When I was teaching double angle formulas, I talked about ice cream. I'd say, 'Remember the ice cream story,' and they'd remember how to do the lesson."
Senior Louis Locsin, who had Klein last semester for first period Pre-Calculus, also recalls the effectiveness of those object lessons.
"Mrs. Klein would always use arbitrary objects in her examples, like various pieces of fruit or animals, which I found charming," Locsin said. "Have a good retirement Mrs. Klein!"
The senior also appreciated her ability to pay attention to details and how that translated into the classroom.
"Mrs. Klein had a rigorous class, which many students found challenging," he said. "However, if you're able to keep up with the work, her insistence on precision helps you to remember her lessons in future."
Outside the classroom, Klein also coached junior varsity girls soccer from 1983-1988 and cheer adviser after that.
"She always pushed her students to do their best," said girls soccer head coach and social science teacher Jeff Gordon, whose father was the head coach of girls soccer when Klein was the JV coach. "She has been a close friend of mine and Mrs. [Soon-Ya] Gordon, mentoring us as new teachers. We are happy for her and wish her the best in the years ahead."
Like Gordon, math teacher Shirley Tan was mentored by Klein, and she is sad to see her leave.
"I wish she continued because we got used to working together and helping each other," Tan said. "When any co-worker or colleague retires, I just don't want them to retire."
Despite this, many wish her the best in her future plans, saddened that they couldn't give her a proper sendoff during the coronavirus pandemic.
"When we heard that Mrs. Klein was retiring, I was very surprised," math teacher Jina Shia said. "I wish we could have officially celebrated her retirement in person."
Wall is among those who've worked with Klein the longest and said he found the news of her retirement shocking.
"It's so hard to fathom that we've worked together for 30 years, and it doesn't feel like that much time has passed. … I've shared a piece of my life with her, and I think that's what I'll cherish the most," he said. "She's always been a good person to me, and I know she's always really cared about her subject and students."
Most of all, Klein said she will miss the daily interactions with students. 
"Just the excitement of coming in and teaching a new lesson, watching the kids connect to those lessons, seeing the lightbulb go on and say, 'Ah, I get it!' and coming back every day," she said. "Every day was a new beginning."
Klein also enjoyed presenting new material and felt great satisfaction in helping students succeed. 
"I loved making connections to the students and talking with them," she said. "I went to their sporting events and dances to support them outside of the classroom, and my door was always open to them during break and after school."
About the Writer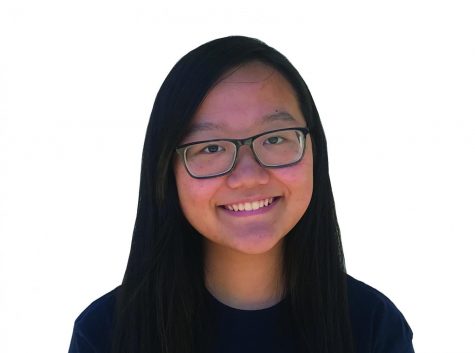 Hannah Kim, Special Sections Editor
Despite being a full-time staff writer last year, senior Hannah Kim moves on to become The Accolade's first special sections editor. After coming from her middle school's yearbook staff, Kim has been able to utilize Photoshop and InDesign to aid in the composition of graphics and layouts. She has previously won awards in several journalism competitions, and Kim hopes her efforts may help The Accolade and its staff flourish.

When not interviewing sources, Kim can be found singing alongside her choir, practicing with her Science Olympiad team or hanging out with her friends.