It was only a month into the lockdown that started last March when senior Marcus Llajaruna went for a run and started experiencing muscle weakness, a coronavirus symptom.
It was worse for junior Kelly Pich, who spent her 16th birthday celebration last July quarantined in Reno, Nev., with nine relatives after her COVID-19 test came back positive.
If that didn't take the cake, then-sophomore Cole Sass and freshman Arum Han's bout with the disease that has killed, according to the Centers for Disease Control and Prevention, more than 29 million people nationwide occurred during winter break.
One year into the coronavirus pandemic, Sunny Hills students have found it more comfortable to share about their experiences contracting and then overcoming COVID-19. Though they kept their condition low key when they first started experiencing symptoms, they now want to share their stories in hopes of bringing comfort to other teenagers who have or haven't contracted the virus.
"I feel more comfortable talking about it because I feel like a lot of people have also [gotten sick], so I don't feel as alone," Pich said. "Although my experience was not bad, I still know others who've passed away and are dealing with COVID aftermath … everyone's body reacts differently."
NEVER BEEN TESTED POSITIVE, BUT THE SYMPTOMS WERE THERE
For Llajaruna, his bout with the coronavirus started a month after Sunny Hills first moved to distance learning. The senior recalls his 84-year-old grandfather, who lives in the same Fullerton home with five others, decided to go out and buy food from Northgate Market, all the while wearing a mask.
"After a couple days, he was all sick, and that's how we found out [he had COVID-19]," he said. "[He got tested on May 1], and he had it, so he was with us the whole time."
Although Llajaruna and his sister ended up having coronavirus-specific symptoms, they didn't get tested per their doctor's recommendation not to waste a COVID-19 test — perhaps others would need the testing more than them. But because his symptoms were "obvious," he still felt fearful for his situation.
"I told my friends, and they're all scared for me because COVID was still very new, and we didn't know what was gonna happen," he said about using his phone to text and FaceTime his friends. "I was super scared, and what was going through my mind was to prepare myself for what could have happened if my grandparents could have passed."
But other than his friends, Llajaruna said he initially didn't tell anyone else he had the virus.
"I decided it wasn't worth telling everyone I had COVID and I didn't want to bring all that attention on myself," he said.
For Llajaruna, his first week of having the coronavirus brought only one day of tastelessness when his dad brought him a bowl of arroz chaufa, a Peruvian fried rice dish with salt, shrimp and onions. His father wasn't infected with the virus because he doesn't live with Llajaruna.
"
I was just scared because of all these symptoms adding up, and I felt it could get worse from there, like eventually I'm not going to be able to breathe.
"I tried the food, and actually I couldn't taste anything. It was very bland, it was very plain," said the senior, whose first symptoms were muscle weakness and difficulty breathing. "I was just scared because of all these symptoms adding up, and I felt it could get worse from there, like eventually I'm not going to be able to breathe."
The worst his family experienced was when they witnessed his grandpa collapsing in the shower, he said.
"We took him to the emergency room and checked for the concussion and everything," Llajaruna said. "He got tested right after that, and he came back with a little walking stick because he couldn't walk anymore for that time; he was very weak."
Meanwhile, he remained optimistic, mentally preparing himself for what could happen next.
"I was just trying to prepare myself for what would happen in the future, if we survive it or if we don't, [telling myself] 'OK, just try to enjoy this time, at least this quarantine, because you never know what's going to happen.'"
Eventually, the coronavirus did not kill any of his family members. Llajaruna now attends school in person on Mondays and Thursdays, just like he did last semester.
"I'm comfortable with my son Marcus going to school because we've already been through COVID once and it wasn't as bad as we thought it was going to be," said Lilia Meza, Llajarana's mother. "Also, since his grandparents and myself are soon to get vaccinated, COVID shouldn't be a risk anymore to our family."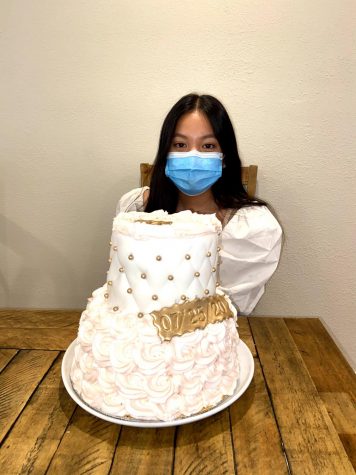 SWEET 16 NOT SO MUCH FOR JUNIOR AND HER FAMILY
On July 24, the day Pich arrived at a Reno, Nev., rental house to celebrate her 16th birthday with her family, she received her positive COVID-19 test results.
The virus spread to six of the nine people living there near Lake Tahoe, including Pich, her father, brother and cousins.
With the two-story house, the family could quarantine the infected upstairs, while the healthy ones stayed downstairs, she said.
Her dad explained it as if they became jail inmates, Pich said, since a healthy family member from downstairs would deliver food and drinks to their doors every day. Once the person left, the doors upstairs opened — revealing hands that immediately grabbed the victuals — then closed right away.
After she returned home and tested negative on Aug. 20, Pich hasn't regained the sense of smell she had before.
The air smells like garlic or like burnt wood all the time," she said. "Lotions or things that I used to love the scent of or the smell of before I had COVID, they smell weird to me now."
HO, HO, HO, ENDED UP MORE LIKE NO, NO, NO FOR TWO UNDERCLASSMEN
Han, who got the virus after her father did from work, spent Christmas Day quarantined with her parents.
"We had a small church gathering on Christmas Day, so I was really sad to miss that, but I knew that it was best to stay at home," she said. "So I just spent Christmas with my family, and even for that I was very grateful."
Now, three months after Han tested negative on Jan. 7, Han, like Pich, hasn't fully recovered. She said she lost her sense of smell and the depth behind the food she eats, including kimchi, a traditional Korean dish of fermented vegetables.
"I still remember that bitter flavor, but now it's just slightly tangy in my mouth," said the freshman, whose parents have fully recovered.
To readers, she gave a warning and an encouragement.
"Now more than ever, I think the coronavirus is a lot more serious than back then when all I had to do was wear a mask," Han said. "Stay safe and even if it's not likely for you to get coronavirus, still take preventative measures for others."