Sophomore recalls how she raised $6,000 for Conservatory of Fine Arts program pre-pandemic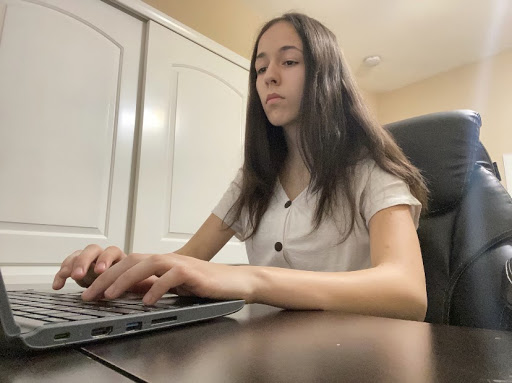 It was Oct. 14, 2019.
Then a freshman, Danielle Tryon had spent a previous day getting ready for her big Powerpoint presentation in front of eight high-ranking board members at Vacco, an El Monte-based engineering firm. As the new director of fundraising, Tryon was hoping to raise some money for the school's Conservatory of the Fine Arts [COFA] program. 
"I would say that I was a little nervous, but I felt mostly excited that I had the opportunity to present in front of [them]," Tryon said.
After the hour-long presentation, the board told Tryon it would keep in touch with her later to inform her of its decision, she said. 
About three weeks after the Oct. 14 presentation, one of the board members contacted Tryon's mother personally and informed her of their decision: a whopping $6,000 donation to the COFA program.
"I was shocked because I didn't think that Vacco was going to give such a big donation to COFA, and I felt really accomplished that I was able to raise money at all during my first year of fundraising," she said.
Tryon acknowledged that she had some inside help from her mom, Vicky Tryon, who works as a supply chain vice president at Vacco. 
"If I was just a regular girl whose mom didn't work for the company, I think that it would be harder, but I wouldn't give up until I was able to present," Danielle Tryon said.
Even before the Sunny Hills student made her pitch to Vacco executives, her mother had talked to her boss and showed him the presentation that covered what COFA stands for, what the different pathways are and how all the pathways come together..
"I am beyond proud of Danielle," Vicky Tryon said. "She demonstrated confidence and leadership as she stood in front of a board room full of executives and presented all the COFA fundraising information."
Danielle Tryon then informed COFA council members and Wall at the next council meeting in November about the large sum of money that would make its way into the COFA coffers.
"We have received small donations through fundraising efforts in the past, but never in the thousands," Wall said. "So when Danielle told me about the $6,000 donation, I was shocked but very grateful to Vacco that they would support our program."
COFA offered Danielle Tryon the title of director of fundraising during the second meeting in September of 2019 after she learned more about the role at the first meeting. She oversees a group of four committee members that are solely responsible for getting funds for the program. 
In her second year as director of fundraising, it hasn't been as easy, especially as businesses are struggling during the coronavirus pandemic.
"I was also feeling the pressure [of finding another big donor] because I want to do better than I would expect myself to do," Danielle Tryon said. "I felt confident that I will get a big donation, but then the pandemic hit, and it's been really hard to find places that are willing to donate to schools right now."
Nevertheless, she was able to come up with some quarantine-friendly methods. Danielle Tryon said she reached out to Yogurtland in Whittier in October by phone and received 20 gift card donations worth $5 each (those were eventually given away as prizes for the Oct. 23 COFA Fall Festival.
"I was [also] thinking of reaching out to Starbucks or Coffee Bean to get a donation, but we haven't fully decided on where to ask," she said.
Danielle Tryon continues to fulfill her duties and seek fundraising opportunities wherever she can, despite the COVID-19 challenges.
"I think that this year it was a lot harder to get donations because a lot of big companies are trying to focus on keeping their employees employed and small businesses are going out," she said.