Junior establishes ethical podcast and school club to promote 'upcycled' fashion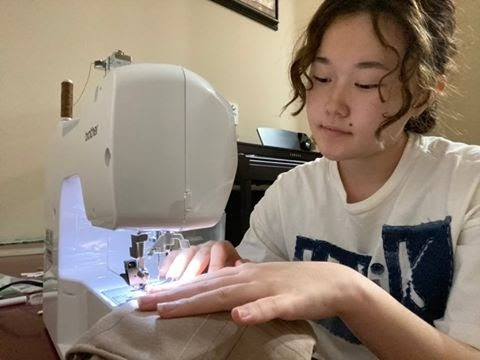 As her sophomore year came to a close in May, Violet Kim knew she had to direct her passion for fashion through some kind of outlet. Quarantine gave her the perfect opportunity to rebrand her business.
With her awareness toward pollution caused by fashion, Kim said she looked for ways to encourage others to use secondhand clothing rather than attire from mass-producing industries that encourage fast fashion. (The term refers to major brands constantly producing trending clothing items for cheap prices.)
Inspired by her first name and favorite smile emoji, Kim rebranded her business on Aug. 9 from V SYAL to Purple Smiles. 
To further her knowledge of what goes into making a ready-to-wear collection, Kim said she took an online pre-college art class from Academy of Arts University from June 12-July 25.
All items produced by Purple Smiles, which include tops, tote bags, mini handbags and two-piece sets, are originals and handmade by Kim. 
Though Kim declined to say how much money her online business has made, she has managed  to collaborate with several Instagram influencers such as Kayla Lee (@kayllaalee, 31.6K followers), who promotes the business on her account. Kim said she also worked with social media influencer Angela Ramirez (@Wahmeko, 14.9K followers) and Florentyna Daniels (@fflorentynaa, 716 followers) to represent the brand's first collection launched Sept. 12, focusing on incorporating diversity and inclusivity in her shoots.
"I am very excited and proud to launch my first collection with a brand that has my name in it," she said. "Working with them taught me to be open-minded and positive about everything."
To make a purchase, customers can visit the Purple Smiles's website, www.purplesmiles.shop, which Kim created herself.
Custom orders were made available on Sept. 3, which are for customers to request alternate sizing, related designs and different colors for a specific design that is already sold in the store. 
Junior Shiraz Higier is one of the customers who has purchased Kim's new collection.
"I purchased two of her ENIK shirts," Higier said. "I always like when clothes are different from what everyone else wears, and her brand ensures quality and satisfaction all around."
With her growing passion for designing her own clothes through her business, Kim said she plans to pursue a career in fashion in the future.
 "I want to go to the Fashion Institute of Technology to study fashion design before holding a physical store so I can learn as much as possible," she said.
In addition to her fashion business, Kim then started on July 29 the "Purple Podcast," which helps her connect with her followers to strictly talk about ethical fashion, sustainable brands and the harms of fast fashion.
New episodes are released every Saturday at 5 p.m. on platforms such as Anchor, Spotify and Google Podcast, each including a guest with a background as an ethical fashion influencer or brand owner. Potential guests can fill out a Google Form for Kim to review. Once approved, the two will then share their thoughts in the Podcast about fashion and provide descriptions about their brands.
Jessie Isabel, who appeared as a guest on Purple Podcast's seventh episode, shared her experience.
"We got on Zoom, and [Kim] asked a series of questions about me personally, my YouTube channel, some of my thoughts on different topics like slow fashion and much more," Isabel said. "It was really fun."
Kim created the podcast with the intention of spreading awareness about the pollution released from fast fashion companies such as Zara and Forever 21. Although the podcast is not very well known yet, Kim is not discouraged and plans to use her social media account to reach out to influencers and make more products to expand her business. Since she began producing podcasts, she's accumulated 142 views.
"I believe that the brand and the podcast I made is not solely based on making a profit and earning a lot of views but showing my creativity and spreading awareness of the harms of fast fashion," Kim said.
Additionally, on the Sunny Hills campus, Kim started the Warmth of Sewing Club on Aug. 29, meant to help children and the environment at the same time and to inform students on campus of the benefits of using sustainable materials in creating clothes.
"We will be focusing on reducing environmental pollution while giving isolated children in hospitals special handmade gifts," she said. "Join to be involved in these meaningful activities."
The club meetings are every Monday during lunch through Zoom meetings. Contact Kim at her email address [email protected] for more information.