Students upgrading their wardrobes despite distance learning Zoom sessions instead of live classroom instruction
Since mid-March when the COVID-19 shutdown started and live classroom instruction shifted to online learning, the only times sophomore Gabriel Villanueva has ever left his Fullerton home are when he went to run short errands, like buying groceries, and to grab a bite to eat.
Instead of live social interactions with his friends, Villanueva resorted to FaceTime and Zoom sessions with them.
Nevertheless, his interest in fashion didn't waver. In fact, he's even more interested in regularly updating his wardrobe and accessories at least every month and a half, spending the allowance from his parents and the $400-$500 he earned while privately tutoring fifth-graders before COVID-19 occurred. 
"I usually shop for items that I don't already have and tend to gravitate to clothes that are more extra with bold designs," said Villanueva, who prefers to shop at department stores like Nordstrom because of the variety of brands he can choose from.
Whenever he dresses up, he said it makes him feel more like himself and allows him to be more productive while attending Zoom classes. 
"I dress up entirely for myself and invest so much time into clothes and fashion because they are a part of who I am, and I'm just naturally interested in it," Villanueva said.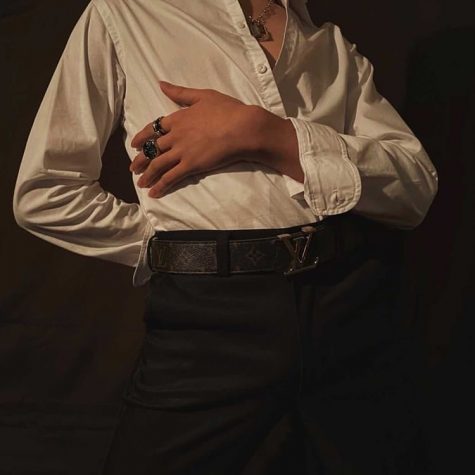 Wearing a clean, white dress shirt, sophomore Gabriel Villaneuva shows off his favorite accessories of silver rings and a lock chain necklace along with a Louis Vuitton belt, which ties the entire outfit together.
The sophomore is among a growing trend of Sunny Hills students who are experiencing a rediscovery of their wardrobe through their newfound free time from the restrictions like quarantines during the pandemic.
This has also led to a growth in trends such as the Y2K style, which is based on fashion from the 2000s with its bold, clashing patterns and funky mix of bright colors and streetwear, which consists of casual clothing that evolved from hip hop culture. Through social media platforms like Tik Tok and Pinterest, different clothing trends from bandana tops to shoulder bags continue to rise in popularity and gain momentum in mainstream fashion.
"During the pandemic, we had a lot of time to browse online websites and search for fashionable clothes and inspiration," said junior Paul Kim, who has spent $1,435 on his new wardrobe of crewnecks, sweater vests and more. "Social media also gave us a broad reach to look at stylish celebrities who can influence our style."
In addition, the pandemic allowed students like senior Carrie Cheng to experiment and improve their styles. 
"Over quarantine, I used a lot of my free time to upgrade my closet and figure out my style," said Cheng who has spent about $2,500 on new fashion items. "I've always loved fashion, but this quarantine helped me dive deeper into my own style."
Some of her favorite items include shoulder bags as well as baggy clothing like oversized graphic tees and loose jeans.
"Baggy pants have been an all-time favorite because I don't really like skinny jeans," said Cheng, who sports this relaxed style of clothing anytime she gets a chance to leave the house.
Cheng earns the money she uses to shop through her Depop shop, in which she sells clothing for approximately $10-$60  and by reselling sneakers for $100-$300 on Instagram. And since she makes her own money from both ventures, the senior said her parents don't care how much or how often she spends on adding to her wardrobe.
Similarly, Villanueva and Kim's parents don't mind their childrens' interest and spending in fashion — so long as they don't overspend their money.
"[Although] my mom cares and complains about how much I spend on clothes, she usually lets me buy what I want because she knows I'm careful with what I buy," Kim said. "I usually buy $100-$200 worth of clothes once a month, and anything more than that is a lot."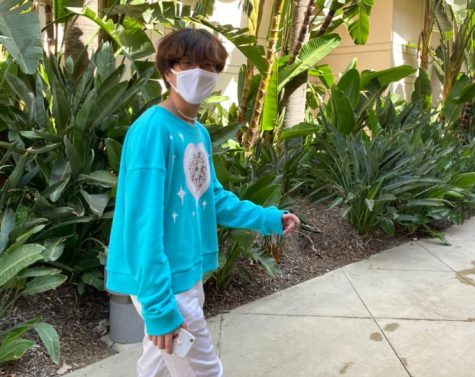 Villanueva's parents are also usually indifferent about how much he spends as he tries to stay under a budget.
"They know I love flamboyant clothing so they just let me buy whatever I'm attracted to — as long as I'm not going overboard with the spending," he said. "They typically consider going over $500 overboard."
Despite having more fashion influence than ever before, students find themselves unable to dress for success as often because of distance learning and limited social gatherings. During pre-COVID days, students would've been able to hang out with friends and attend various community events, but now, it's more difficult for youth to go on large-scale outings as the coronavirus pandemic restricts meetings in big groups.
Instead, they turn to occasionally dressing up for their Zoom classes and envision different looks to wear for the fall season, especially when hybrid learning reopens the Sunny Hills campus Nov. 2.
"Y2K-inspired outfits, which consist of low rise jeans, baggy shirts and trucker hats — are some fall fashion trends for attending Zoom meetings in Cohort C or going to school in Cohort A/B," said Kim, who will not be able to physically show up on campus Nov. 2 since he's in Cohort C, the group that will continue with distance learning.
"
I dress up entirely for myself and invest so much time into clothes and fashion because they are a part of who I am, and I'm just naturally interested in it."
— Gabriel Villanueva
The sweater vest also seems to be a hot trend of 2020, said Villanueva. From intricate knitwork to displaying statement designs with bright colors, this piece makes for a versatile closet item for students.
"I gravitate toward the sweater vest a lot because they're really 'preppy,'" he said. "It's perfect for my personal aesthetic and helps me express that more."
The sweater vest can be layered over a plain shirt, polo, blouse or even by itself for a more casual look. 
"I like styling sweater vests with polo shirts and dress shirts because they have a vintage '90s look that I really love," Villanueva said. "Wearing them is also a great way to add layers and spice up an outfit."
Students also opt for the popular shoulder bag as a way to accessorize when they are not in school. Coming in different patterns like plaid and cow print, the small size and lightweight build of shoulder bags allow students to stay comfortable and trendy.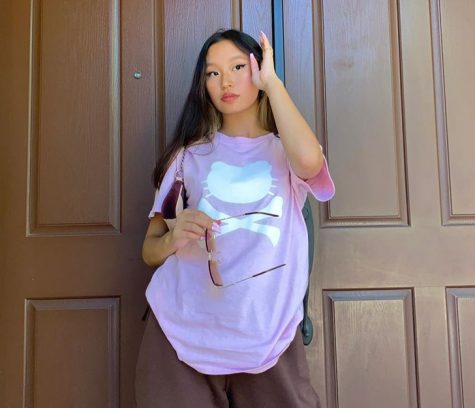 "A shoulder bag can easily bring any outfit from a six to a ten," Cheng said. "They're so cute, and I can't leave the house without one."
Although the ongoing pandemic prevents students from showcasing their favorite outfits as much as they could before, it doesn't stop them from keeping up with the latest trends and staying in style.
"Honestly, anyone can pull off anything if they believe they can. It's all about confidence," Villanueva said. "You can't impress everyone anyways, so you might as well impress yourself."