Sunny Hills students, teachers finding College Board's not budging much on their appeals regarding low scores from modified online exams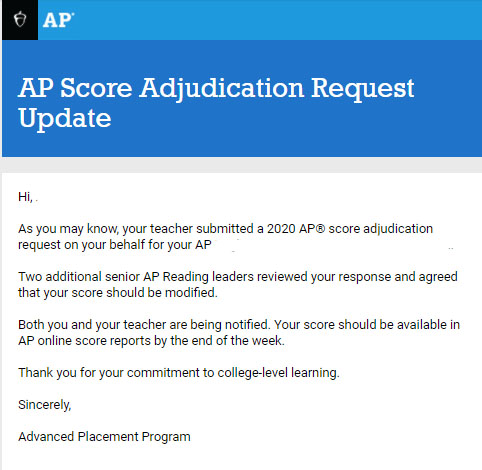 This is the second of a two-part series focusing on the May 2020 Advanced Placement [AP] scores released earlier this summer. In response to the coronavirus pandemic that shut down testing locations worldwide, the College Board had severely modified its exams to the point that it was administered online for students to provide typed responses with the multiple choice section completely taken out.
Senior Allison Lee took four modified, online AP exams this past May — the most she's ever taken in one school year since she was a sophomore in 2019 when she took only the AP Psychology exam.
Lee's AP Language and Composition [AP LANG] and United States History [APUSH] exams required her to answer one free response question under a 45-minute time limit. Her AP Biology and Calculus BC exams instructed her to answer two free-response questions within a 45-minute time limit.    
She said she ended up scoring the highest in her math test, a 5, followed by 4's for AP Biology and APUSH.
"I believe my worst subject is English, and I favor STEM subjects over humanities," Lee said. "I was more nervous for my APUSH and AP LANG exams and think that had a pretty dense impact [on my results]."   
But she didn't expect she'd score a 1 on her English test.
"I definitely didn't expect to receive a 1 and thought I deserved at least a 2 or 3," Lee said. "After showing my friends and AP [English] teacher, they agreed that my exam was underscored." 
Like some of her Sunny Hills peers who also felt their exams were incorrectly scored, Lee followed the College Board's procedure for how to appeal for a re-evaluation of her responses. And like most of her classmates who chose to challenge their scores, Lee found that the College Board did not want to budge that much on granting passing ones on appeals.
To ask the College Board for a possible change in an AP exam score, test-takers must upon receiving their scores have first contacted their former AP teacher who instructed them in that particular subject during the school year.
According to the College Board's website, these other procedures should follow once a complaint is filed with students' AP instructors:
Teachers will review the student's score and response over the summer.

If a student doesn't receive a score of 3 or higher, and the teacher feels the exam was underscored, the teacher will be able to communicate with the AP Program's college faculty partners to review and confirm the score.

 
Neither Sunny Hills school officials nor the College Board could provide more information about who the "AP Program's college faculty partners" are and how long this whole process could take to change a score.
Lee's AP LANG teacher, Teresa McCarty, said she submitted to the College Board an AP score adjudication request for Lee and around nine other of her students the last week of July after reviewing their responses and confirming that they were worthy of higher scores.
"The adjudication process was not an easy task for teachers, and it was a lot of work for me," McCarty said. "Transferring scores, typing out forms and explanations for around 10 students was quite a process."
The English instructor, who teaches AP Literature and College Prep English for juniors, declined to comment on Lee's case because of confidentiality.
"Some of the students I submitted requests for did [later] receive passing scores; most did not," McCarty said.        
Lee acknowledged that the College Board's responses to her appeal did not fall in her favor.
She said she had received two emails from the College Board, one dated Aug. 14 denying that its evaluators had committed any errors in her score and another dated Aug.  26 indicating her new score would be visible on the AP online score reports by the end of that week.   
"I thought I knew the content well enough to understand what it was asking for and didn't think I deserved a 1," Lee said. "I was surprised and hopeful, but I was disappointed when I saw that it was raised to a 2 and not a 3."
Upon hindsight,  Lee said she would not have asked the College Board for a refund on her AP LANG exam; she would still have liked for her exam to be scored despite not being so confident in her performance.
Junior Edward Cho also pushed for a change to his low AP European History exam score, but he was unable to persuade his former teacher, Patrick Debacker, to follow through on the appeals process.
"When reading over the answers I submitted, I still believe that I answered the prompt correctly and should have received a higher score," said Cho, who declined to share his specific score. "I emailed my teacher but did not receive any response." 
Debacker said he sent a generic email response to his former students who had emailed him requesting an appeal to the College Board, adding that he had no ability to change their scores. 
But he could not recall whether that email included Cho as among the recipients. The College Board gave teachers a very small window of opportunity to give students a number grade without knowing what score they had already received, the social science instructor said. 
"Teachers were not given the opportunity we thought we were going to be given to change students' grades," said Debacker, who also doubted that the College Board would be so generous to give students passing scores upon any appeal. "I would have had to grade each essay following the rubric without knowing what was said at the AP official table reading; it was ridiculous." 
Knowing that writing wasn't his strongest area, Cho said he still decided to take the AP Euro test instead of asking the College Board for a refund because he felt that he could use it as a learning experience.
"I don't plan on majoring in history and took the class [AP Euro] more for the learning experience," he said. "I took the class more than just to earn a 5 on the exam." 
The College Board has closed all opportunities for students to apply for a re-evaluation with July 31 being the final deadline to submit adjudication requests.
Senior Harbinder Dhariwal said he got a lower than expected score on his APUSH test, but he never planned on appealing it.
"It wasn't a comprehensive test of knowledge and made it difficult for students to earn higher scores," Dhariwal said. "I didn't want to get my hopes up by [appealing to] the College Board because I figured my money was already gone, and I couldn't care less about what happened anymore."
The one takeaway for McCarty from this experience with the appeals is she plans to review the example 2020 AP essay evaluations once they're released and adjust her teaching accordingly so her students can be more prepared if next year's AP Literature exam format is the same.
"I'm sure the College Board did the best they could under the circumstances they were under with the entire pandemic," she said. "But I was disappointed with some of the inconsistencies they had with scoring students' exams."