How I helped my mom overcome her coronavirus infection and gained a new appreciation for first-responders
It all started with a text message from my mom while I was spending the night at my sister's apartment in Tarzana:
"Gigi, I have bad news. I got a text from work about my [COVID-19] results, and I came out positive."
My mom found out that she tested positive from one of her weekly COVID-19 tests provided to all the staff at her workplace.
I was in complete shock and fear. Tragic stories of people losing loved ones to the coronavirus flood the news and my Instagram timeline. The virus had reached my home, and I couldn't imagine losing my mom, a certified nurse assistant of 11 years who cares for elderly patients at a nursing home — including some who have contracted COVID-19.
With Orange County cases rising exponentially between June and August, it felt as though the chances of the disease affecting me or someone I love was no longer a matter of "if," but rather, "when."
Even though my mom suggested that I stay at my sister's place until she recovered, I knew that the responsibility to care for my mom laid on me. Living in a single-parent household, it was no question that I was going to return to my Fullerton home and commit myself to nursing her back to health — from outside her bedroom door, of course.
Prior to receiving her test results, my mom worked with "yellow zone" patients who were potential carriers of the virus without confirmed test results. She said she felt a lot more tired than usual, but thought it was a result of stress and the longer hours she was working.
Shortly after she tested positive, my mom began to experience body aches, muscle pain, a dry throat and a constant cough. She even temporarily lost her sense of smell and taste, symptoms that many COVID-19 patients experience.
One of my biggest worries was that my mom, a strong, 49-year-old woman, would suffer in silence. My top priority was to make sure that she communicated her symptoms to me, felt comfortable and didn't feel like a burden.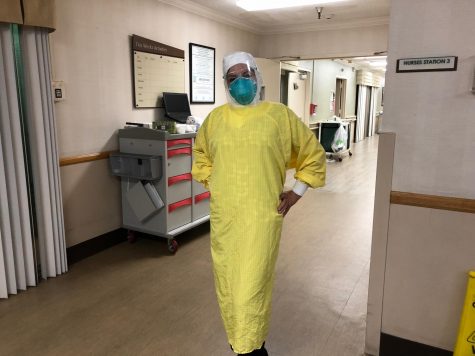 One of the first things I did when I got home was make her a tea consisting of onions, garlic, lemon, honey, cinnamon and ginger that I had previously stumbled upon on TikTok a couple weeks prior to my mom getting the virus; this relieved some of my mom's pain. Titled "COVID TEA" on Tiktok, this recipe is not a new concept for Hispanic households that regularly make the tea to ease common sicknesses, but the lady who made the video said that it helped her elderly parents recover from COVID-19 quickly. I scrolled through the comments, and other people shared their own COVID-19 recovery using this same concoction. Naturally, the first thing that came to mind when my mom got sick was to hope that the tea would work its magic on her as well.
Another challenge that arose during this time was having to share a single shower in the apartment. We had to be extra cautious and disinfect the entire shower before and after every use.
Throughout the four weeks that I stayed home assisting in my mom's recovery, I didn't experience any symptoms. However, I never got tested, so I won't know if I was asymptomatic.
Despite her sickness, my mom prioritized my health and made sure to check in with me daily to see how I was feeling. Almost every morning, we'd have this little conversation:
"How are you feeling today? Do you have a headache or cough?" she would ask me.
"No, I'm fine, mom. How about you?"
To prevent putting my close friends and family at risk, I decided to self-quarantine for about three weeks from July 8 to August 11 and wait until my mom fully recovered to ensure that we were both virus-free, which is what everyone who is infected or has been in contact with an infected person should be doing. 
Although catching the virus isn't something I'd wish on anyone, a few silver linings came from my experience nursing my mom back to health.
The love and support I received from family and friends made me emotional on many occasions. Several of my relatives and friends would go out of their way to drop off groceries, food and other essentials that we might need.
 The positive and comforting messages I received from my loved ones were enough to uplift my spirits during moments when I felt extremely sad, and it was during dark moments like these when I learned who was genuinely there for my mom and me.
Texts like one I received from my best friend, Angelica, when I first found out about the news made me feel like I wasn't alone:
"I love you and I'm praying your mom is healthy and stays strong! Please stay safe, God has your back," she said in the text.
Even my dad, despite being 7,265 miles away in the Philippines 15 hours ahead of us, maintained daily communication with me and helped me plan out my weekly shopping lists and meals. It didn't matter if it was 3 a.m. in the Philippines — my dad would answer my FaceTime calls and help me with anything I needed.
He could tell that I was stressed and worried about how I was going to handle everything. Even though my parents are divorced, it felt like the three of us were a little team. I remember feeling overwhelmed and alone, but texts from my dad at the end of the day helped keep me at peace.
"Love you," said one of his texts. "We'll get through this. Get some rest."
What I'm most happy about is that the relationship between me and my mom has greatly improved. Unfortunately, it was easy for me to take my mom for granted. Before she contracted the virus, we didn't have a bad relationship, but we were never very close. Oftentimes we were both stressed from work and school, so we found ourselves getting into tiny arguments about insignificant things all the time.
My mom's COVID-19 experience helped us realize that we want to be better friends. Rather than using our interactions to release built-up frustration from our long days, we now ask each other questions and make the effort to be loving and patient. 
Overall, my mom saw me take on responsibilities around the house on a much higher level than before. She was amazed with the meals I cooked and left outside of her door, proud of how I cared for her and relieved that I wasn't struggling to hold the house down while she isolated herself in her bedroom. We also FaceTimed throughout the day to chat, check up on her symptoms and make sure she had everything she needed.
"
One of my biggest worries was that my mom, a strong, 49-year-old woman, would suffer in silence."
The reality is, my mom had a mild bout with the virus, but that isn't the case for the 14,386 Americans who have died of COVID-19 as of Sept. 14, as well as those who are currently fighting for their lives.
Luckily, my mom is healthy and working again. Since she now works with confirmed COVID-19 patients, her workplace provides her a hotel to stay in. It's tough not having my mom around, but I know how important it is to be safe rather than sorry. My only wish is that she doesn't catch the virus a second time.
My mom and I have both been healthy for more than a month now, so it's safe to say I can return to school when we reopen. However, I chose to be in Cohort C and will be doing distance learning until further notice.
I'm not worried that my peers will judge me once they find out my mom had tested positive for coronavirus. If they are not taking this pandemic seriously, I hope this will help them realize that even their own loved ones are susceptible to catching this virus as well.
Moving forward, my mom hopes to donate her plasma in an effort to aid current COVID-19 patients who can benefit from antibodies.
Just like it started, my mom's COVID-19 experience ended with a text that she sent during her break at work:
"I'm really very proud of you; you were the most amazing doctor, nurse, cook and human being I could ever ask for," she said. "Sometimes, difficult times bring good memories that will last forever." 
Although I plan on pursuing a career in business management, this past summer has only deepened my respect for my mom and other healthcare workers who risk their own safety for others. I hope I can follow their example and continue to express my appreciation for my mom, specifically, in the little things, like cooking meals and providing company for the woman who can do it all.