Sunny Hills sports delayed until end of 2020 given spread of COVID-19 cases
CIF-SS splits 2020-2021 sports calendar into two seasons; first athletic events could take place in December
On March 12, the Sunny Hills boys volleyball team walked out of the SH gym with a 3-0 victory over Artesia, the Lancers' first best-of-five set win in its inaugural season.
It would also be the last match involving an SH varsity squad until December at the earliest. 
After a July 6 letter from the Orange County Department of Education placed in-person practices for high school sports teams on an indefinite hiatus, a July 20 press release from the California Interscholastic Federation [CIF] State office answered the questions of athletes, coaches and administrators.
In the statement, CIF State included an updated 2020-2021 CIF Sports Calendar that splits 20 CIF-sponsored sports into "fall" and "spring" groups and provides the final possible dates for playoffs but not much more. 
"The CIF has determined, in collaboration with our 10 Sections, that education-based athletics for the 2020-2021 school year will begin with a modified season of sport schedule,"  according to the news release. "It is anticipated that most Section start dates will commence in December 2020 or January 2021."
CIF State's move was made following the delay of high school sports in many high school and collegiate conferences across the country. 
Orange County has seen a steady rise in hospitalizations and deaths over the past few weeks, and as of July 23 has had 32,648 positive COVID-19 cumulative cases and 543 deaths, 1,485 cases and 24 deaths of which are in Fullerton, according to the Orange County Health Care Agency. The county has also recorded the second highest number of positive cases among California's counties, trailing only Los Angeles County, which has accounted for 167,030 positive cases as of July 23.
Although student athletes who are already starting the fall semester with distance learning are disappointed with the delay of most sports, they are prioritizing the health of the public and their families. 
"I was really sad about the fact that I won't be able to compete earlier, but in the end, being healthy is more important than playing golf," rising sophomore Irene Kang said. "Hopefully, by the spring, the rising rates of COVID-19 will be more under control."
Coaches are maintaining a positive outlook going into the upcoming season. 
"The CIF put in a lot of hard work into this process, and they did a really great job putting together these seasons," said head aquatics director Keith Nighswonger, who coaches boys and girls water polo and the boys and girls swim and dive teams. "I look forward to practicing and getting back with my teams." 
Just 15 minutes after the CIF State announcement, CIF-Southern Section [CIF-SS] executive director Rob Wigood released a letter to the CIF-SS website detailing the new sports calendar and confirmed that the 581 schools under CIF-SS jurisdiction — including Sunny Hills — will operate on the two-season system beginning in December.
Given improved conditions of the novel coronavirus, the new 2020-2021 sports calendar will open on Dec. 12, when the boys volleyball team would be allowed to have its first home match. The new schedule of opponents has not been released yet. 
School administrators will decide when teams are allowed to practice on campus again for all sports with the exception of football, which is scheduled to start "fall camp" on Dec. 14, Wigood said.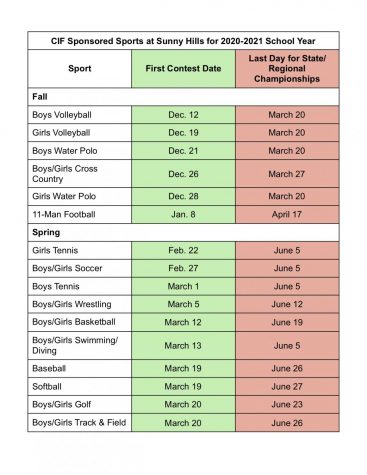 Junior varsity and frosh/soph squads are also expected to play their seasons corresponding to the new sports calendar.
"The decision was made to condense three seasons of sport into two seasons of sport, primarily to help with the spacing between particular sports and the overlap of certain sports between seasons," Wigood said.
He later said in a news conference that with current school closures and the potential cancellation of sports again caused by the coronavirus pandemic, having sports during the fall could possibly force the seasons to be canceled prematurely. 
"The alternative would be to just cancel an entire season [because] the fall season can't fit into the traditional window of August through November," Wigood said. "I do not believe anyone preferred that option."
The CIF-SS's executive director acknowledged that the recent uptick in COVID-19 cases and subsequent shelter-in-place orders influenced the decision to release the sports calendar in its current fashion, but California Gov. Gavin Newsom's mandate to keep classrooms closed in counties that are on the COVID-19 watchlist was not one of them.
"[CIF State executive director] Ron Nocetti did a good job of explaining to everyone that we should try to wait as long as we can before making a decision," said Wigood, whose authority covers 10 counties, seven of which — including Orange County — are on the COVID-19 watchlist. "The governor's decision actually reinforced what we came to an agreement on." 
The only other time in CIF-SS history when schedules were drastically altered was during the 1918 football season in which the Spanish Flu pandemic pushed the playoffs all the way to March of the next year. An April 13 online Accolade article covers what happened during that historic season.
One of the casualties of the new sports calendar for football will be that head football coach Peter Karavedas' squad — coming off a CIF-SS Division 8 championship — will lose the opportunity to play during week zero, one of the casualties of the new sports calendar. His Sunny Hills players were slated to open the season against Canyon at home during week zero on Aug. 21.
"We are talking with Canyon about moving our zero week game to our bye week, but that hasn't been decided yet," Karavedas said. "I've already spoken with their coach, and we're trying to work it out."
Otherwise, the football coach maintains his optimism about the 2020-2021 season.
"We all expected the season to get pushed back," he said. "But what I was most thrilled about is that we're going to be able to get a 10-game season. Our kids certainly deserve it."
A day after the announcement, Karavedas said he reached an agreement to host Tustin in a rematch of last year's first-round CIF playoff match on Feb. 5.
Even with a delayed football season, defensive lineman rising senior Kenny Lathrum is optimistic and looks forward to playing his postponed last season on the gridiron. 
"Our team will definitely be ready when the season starts, and this will give us the opportunity to work harder," Lathrum said. "We will have to be creative and find more ways to showcase and practice our skills." 
Although the new calendar gives athletes more time to prepare for their seasons, it has also created issues for several of Sunny Hills' multi-sport athletes.
Rising junior Carolyn Tran, for example, will have to decide whether she joins the girls tennis team or runs with the track squad. 
As of July 21, Tran said she plans to consult with both coaches of those sports before the new season begins before deciding. 
"I  know that dropping a sport instead of committing might look bad to colleges, but hopefully they will understand my struggle to balance school with athletics in these hard times," she said.
Girls tennis is one of the many sports at Sunny Hills in which the boys and the girls teams share a facility. As both teams are set to play during the "spring" season, this could become a pressing problem. 
"Even last year when the girls were in season and the boys had off-season, we usually only spared one court for them to practice on," Tran said. "Now that we have the same season, it will be even harder to keep all the tennis teams six feet apart and organized." 
Lancer and Lady Lancer netters are not the only athletes who will run into the problem of sharing facilities because of the crossover of different sports seasons. 
"Sharing a gym for volleyball is not too bad because we can make three smaller courts out of the whole gym, but we have had problems with sharing our softball field with other teams because various teams use the same space," said rising senior Emma Suh, a girls volleyball libero and softball utility player. 
Though much can change between now and the beginning of the new CIF-SS sports calendar, Karavedas is still looking forward to the day his championship squad will take the field again. 
"The season is almost five months away, but what I really, really hope is that [the coronavirus] gets figured out and come Jan. 8, we're playing," the coach said.