The show must go on — virtually for 10-year anniversary of Conservatory of Fine Arts laureate ceremony for Class of 2020
To celebrate the Conservatory of Fine Arts' [COFA] 10th year in existence at the Monday, May 18, laureate ceremony honoring the Class of 2020, director Brian Wall had planned for a painted mural on the remodeled Performing Arts Center [PAC] and a plaque or statue erected someplace in the quad.
"We had several ideas for celebrating the anniversary," Wall said. "The mural and plaque are still in the plans [for] next [school] year."
The plans couldn't be fulfilled this school year because of what happened with the spread of the novel coronavirus pandemic. The Fullerton Joint Union High School District's superintendent, Scott Scambray, had announced in mid-March that all school events and gatherings be canceled and classrooms closed to students because of the growing spread of COVID-19.
Wall, like many other school program coordinators, had to decide what to do next.
He settled on setting up a virtual ceremony May 18, from 6-7 p.m. to acknowledge the 57 seniors who pursued three or more fine arts courses throughout their high school years. 
The virtual ceremony was decided by the COFA council, staff and laureate ceremony directors, and it will be recorded to be shared with the 1,028 COFA members Tuesday, May 19. 
"I'm anxious and excited," he said. "The new format will be different, but I'm excited to celebrate these amazing artists and their long term commitment to their disciplines."
In past years, the ceremony had taken place in the PAC, where the lobby would be decorated with a different theme each year, including a reflection on the year's accomplishments and pictures of the graduating laureates. 
This year, the pictures will be shown digitally during the ceremony when the names of each laureate are called. 
Although the COFA stoles and certificates will not be available for seniors to pick up on campus until May 26-27 — the days seniors are set to drop off textbooks and clean out their lockers — Wall hoped that all of them would still join the Zoom session for the official ceremony.
"You are among the 57 seniors that have met all of the requirements to be recognized and receive the COFA stole as a laureate or a laureate with distinction and a framed certificate of the award," Wall said in his digital invitation.
The three hosts — juniors Kathryn Aurelio, Jasmine Long and sophomore Marian Abwai — began the ceremony by introducing themselves and displaying a recording of the national anthem sung by student director of choir, junior Vivian Tran. 
The participating teachers had virtual backgrounds with their names and the title of their pathway, while the students had a background of their pathway's name and an image of something related to their fine arts course on the bottom right corner. 
It was almost the same for the three hosts except their backgrounds had their names and position, Aurelio, for example, had "Kathryn Aurelio" and "co-director" as her backdrop.
Then after a brief, four-minute introduction, the hosts shared their own introductory speeches.
"I feel honored to be one of the hosts, especially because of the unusual times we are going through right now," said Abwai, assistant director of the ceremony.
The pathway teachers — faculty members representing the different art forms — recognized their students, first commencing with the Drawing and Painting/3-D/Art and Media category and ending with Theatre.
Afterward, Wall recognized some students who have achieved laureates in the Interdisciplinary Pathway, credited certain COFA council members for their efforts and introduced the first COFA president, senior Alia Scroggins, who then gave her speech, according to the ceremony script.  
"I am really sad that I won't get honored in the same way it has been done in the past," said Scroggins, a four-year Dance Production member who also joined the COFA Council in her freshman year. "It would have been so amazing to have the ceremony in the [newly] renovated PAC." 
She had hoped to help the laureates reflect on their journey from pursuing their art pathways, ending her speech by presenting next year's COFA president.
"I wanted to congratulate all the laureates on their accomplishments in making it this far," Scroggins said. "More importantly, I [wanted to focus] on the reality of life and the lessons that come with it. I'm hoping that my [peers] will take these tools with them to their college, their careers and their life." 
The ceremony ended with a live message from principal Allen Whitten.
COFA is a multi-disciplinary program that encourages all areas of art, including visual arts, dance, theater, vocal and instrumental, according to the COFA website. Its purpose is to urge students to explore art forms outside their own pathway and help expand their understanding of what being an artist means.
The laureate requires students to earn a minimum of 30 fine art credits and attend nine COFA events that are not in the same pathway as the art they are taking, while the laureate with distinction award requires them to obtain 40 credits and attend 12 events.
According to the COFA website, these two awards are granted to graduating seniors who have completed the Conservatory's requirements and are also presented with a certificate of recognition and a stole — to wear over their graduation gown during commencement.
About the Writer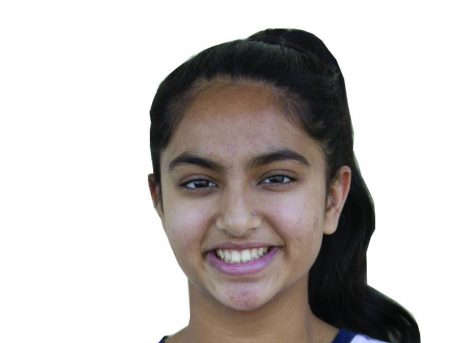 Nevya Patel, Assistant Business Manager
After spending a year in Journalism 1, Nevya Patel became an assistant business manager for The Accolade. Her plans as a junior are to brainstorm different methods to increase the newspaper's profits as well as the program's popularity on campus. She hopes to build positive relationships with local businesses to gain advertisements which will lead to more issues this school year.

Outside of school, Patel volunteers for various programs and loves hanging out with her friends. Some of her favorite activities include joining different school clubs, such as MUN, ISA and CSF, listening to music, reading and trying new projects to keep herself busy.