April 4: Why losing the chance to compete at Science Olympiad states feels worse than not qualifying at all
LIVING UNDER THE CORONAVIRUS CRISIS
This is part of a series of columns from The Accolade staff about their various experiences during the school closure because of the coronavirus pandemic. If you would like to submit some of your experiences, please email us at [email protected].
We — the Sunny Hills Science Olympiad team — made history, and then the coronavirus rewrote our story.
I was supposed to compete in the Southern California State Science Olympiad Tournament (commonly referred to by my teammates and me as "states") today on April 4, but instead, I'm staying home playing Animal Crossing and doing homework.
When I first heard the news on March 6 that the competition was canceled, I couldn't believe it. I was in denial, remembering how hard the whole team had worked to make it this far. 
It was as if I'd relived that moment sitting in the auditorium at the University of California, Irvine, praying we'd qualify for the state competition because I didn't want the seniors and founders of our team like Megan Luo to finish their Science Olympiad experience without a crack at competing at states. I remembered crying so hard after Portola's team was called to the stage for fifth place, believing we'd missed the mark by a slight margin like we had the year before when we lost to Portola. 
But then the event organizers announced fourth place, and I saw "Sunny Hills" on the big screen. 
We made it.
Almost everyone on the team was screaming and crying, and we were all so happy to have finally made it to the state level after only being a team for four years. It was an amazing feeling, and we celebrated later by completing a 12-person escape room called "The Hex Room" in Anaheim together.
But as I'm sitting at home on the day that my teammates and I were scheduled to compete at the California Institute of Technology, it was as if all that work only resulted in disappointment — a kind that stings more than not qualifying for states at all.
I was angry, and my team and I vented our frustration and despair to one another over phone calls and text messages.
Why did I spend those countless hours at freshman Maggie Kho and senior Sam Kho's house preparing for the next competition with tests and practice problems? 
Why did I stay at school until 10-11 p.m. once every other week testing a bottle rocket and parachute system in the gym? We spent over half a year preparing for these competitions, but did any of that hard work matter now that all the competitions were shutting down? 
Science Olympiad had become my passion, a safe activity where I had friends — not just teammates — who I wanted to work and improve with. It wasn't even about winning a state or national title.
I just wanted to compete with my friends one last time before they graduated — whether they were my teammates or my "rivals" from other schools — and now the coronavirus was taking that away from me.
I couldn't beat sophomore Tim Elnitiarta (one of Troy's team members) at Codebusters, I couldn't beat Troy High School at Sounds of Music, and I couldn't even use my rocket that I worked on at school in an official competition. The thing that hurt the most was that my final memory with my team was everyone discussing the cancellation of the competition on March 6 over Discord, an online messaging app. 
As time went on, I visited the Science Olympiad Discord Server, bonding with other teams across the United States and waiting as more states announced their competitions were shutting down or being postponed because of the COVID-19 outbreak. 
It wasn't until the national tournament was canceled that I realized that Science Olympiad had become like a family to me — the Discord server containing posts from others sharing the same sadness that we had. Here were a few that caught my attention:
"I'm scared. … Michigan states will probably get canceled by the time it's supposed to happen. Just hoping regionals doesn't get canceled at this point."
"I can't grasp this. I want to wake up. I'm crying. I'm actually crying. I was so excited."
"I still can't grasp this. Scioly is canceled; you can't just cancel scioly. Scioly is something you do even when you have pneumonia. You can't just stop scioly."
Though I didn't express too much of my anger with my parents, my mom did show me her schedule for today. She, too, was looking forward to going to states and prom with my team members and me. As the previous adviser of the team, she knows how hard we worked and understood at least a little of our pain when the cancellation announcement was made, so I felt comforted knowing that she could sympathize with us.
So, we — the senior coaches and the future competitors, alike — are all waiting and preparing for next year's season to begin. Science Olympiad officials announced that to make up for the inconvenience of canceling the competitions, this year's events would not be rotating out, so we didn't have to burn a hole in our pockets buying new equipment and materials. 
Even if we don't have a guaranteed bid to advance to states, I'm still glad I can continue improving in some of the events that I love. Now I can have a second chance at beating Elnitiarta at regionals and states and medaling in some of my favorite events.
As time has healed my heart and the pandemic has continued to affect the world, I realize now that this was a silly thing to complain about because even with all the bumps in the road of this journey, I'll still cherish all the memories I've made with my teammates this year, and of course, I won't ever forget the feeling of screaming, crying and hugging my teammates after we'd made SH history.
Leave a Comment
Your donation will support the student journalists of Sunny Hills High School. Your contribution will allow us to purchase equipment and cover our annual website hosting costs.
About the Writer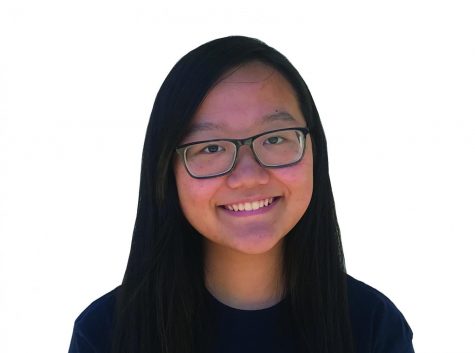 Hannah Kim, Special Sections Editor
Despite being a full-time staff writer last year, senior Hannah Kim moves on to become The Accolade's first special sections editor. After coming from her middle school's yearbook staff, Kim has been able to utilize Photoshop and InDesign to aid in the composition of graphics and layouts. She has previously won awards in several journalism competitions, and Kim hopes her efforts may help The Accolade and its staff flourish.

When not interviewing sources, Kim can be found singing alongside her choir, practicing with her Science Olympiad team or hanging out with her friends.