Get ready to sing along with Disney Plus' latest movie adaptation of the young adult novel, 'Stargirl'
In a March 13 interview with USA Today, Grace VanderWaal said she wrote her song, "Today and Tomorrow," on the set of her debut film, "Stargirl," without any intention of including it in the movie.
The 16-year-old "America's Got Talent" Season 11 winner said she showed it to the movie's director Julia Hart ("Fast Color"), who liked it and made it the last end credit song and scene.
Simple ukulele chords accompany her lilting voice singing, "We can stay here for as long as we want / And make forever last a while … One day I'll be old and ugly / Will you still be thinking of me? / If we were as brave as we are now."
These lyrics match perfectly with the themes of first love and the confidence to be yourself in Disney Plus' "Stargirl."
Released on March 13, the movie stars newcomer VanderWaal as quirky new kid Stargirl Caraway and Graham Verchere ("The Good Doctor") as Leo Borlock, the voiceover narrator and the kid who falls in love with her. 
Running at an hour and 47 minutes, the film is based on Jerry Spinelli's novel of the same name, which has sold nearly 2 million copies since its release in 2000.
Leo, who has been the new kid before, knows from experience that Mica High School doesn't respond well to change. He's resolved to become as normal as possible through blending in with the crowd.
But when Stargirl — named Susan before she realized everything is made of stardust — begins attending Mica because she's bored of homeschool and wants to make friends, Leo is attracted to her uniqueness.
At school, she wears assorted pom-poms in her hair, colorful knitted tops, layers her tank tops on sheer long-sleeves and even a bright yellow jumpsuit at one point. Her outfits are cute, but nothing like what an average teenager would wear at Mica. 
She brings a ukulele to school and sings Leo her rendition of "Happy Birthday" on his 16th in the school cafeteria. She drops change into parking meters that are about to expire and has a pet rat named Cinnamon.
Her spark even revs up the crowd at a football game as she sings The Beach Boys' "Be True to Your School" during halftime (one of many '80s songs sprinkled throughout the movie), leading the Mud Frogs to their eventual win and acceptance of Stargirl — to the point of the head cheerleader (Shelby Simmons, "Bunk'd") recruiting her to join the squad for all future football games.
Although the student body's accepting an outcast is definitely unrealistic, the scene is still effective to contrast students' realistic rejection of her later on.
For viewers, Leo and Stargirl's meetings leading up to their relationship feels more rushed than cute. This makes the montage of their activities together pass by even faster, establishing their friendship before their boyfriend-girlfriend status even more cliche and cheesy than if it were slowed down.
But once their relationship starts, "Stargirl" gets so refreshing as the audience bonds with Leo and his thrills of young, first love. So when Stargirl accidentally turns Mica against her, viewers won't even notice when her classmates begin to shun her.
Viewers should also look out for the sweetest scene of the movie when Stargirl and Leo — his first time in the movie — sing Big Star's "Thirteen" together. The protagonist finally takes a risk in uniting himself with the outlier, but their cute collaboration foreshadows what lies ahead now that he has picked a side.
Compared to Netflix's "To All the Boys" series, "Stargirl" is definitely more whitewashed. But on its own, Disney took steps to make the movie diverse, making Leo's friend in the novel, Kevin Quinlan, into a Kevin Singh (Karan Brar, "Bunk'd"), who is Indian, and adding an African-American and queer friend, Tess (Annacheska Brown, "Roswell, New Mexico"), to his posse.
Also, unlike Peter and Lara Jean, whose relationship continues through the movies, Disney portrays a different kind of happiness that doesn't always come as expected.
"Stargirl" is a heart-warming, sweet addition to Disney Plus' offerings. For fans of the book, they will have moments of dumbfoundedness (like how Leo's ties are from his father, who died when he was a kid, and how Stargirl doesn't have a dad).
For those familiar and unfamiliar with "Stargirl" in novel form, the film will inspire nonetheless with its message of reaching for the stars – without succumbing to peer pressure, of course.
Leave a Comment
Your donation will support the student journalists of Sunny Hills High School. Your contribution will allow us to purchase equipment and cover our annual website hosting costs.
About the Writer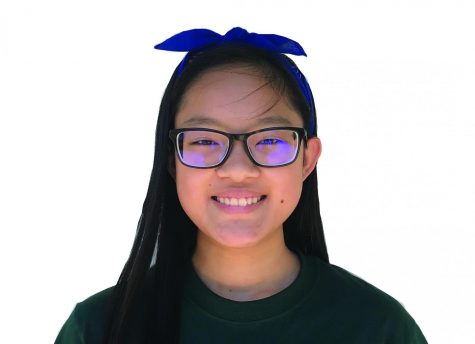 Hope Li, Opinion Editor
Following in her father's footsteps as a professional journalist in the '90s, senior Hope Li has been pursuing journalism for three years. From writing about the Los Angeles Times' Festival of Books to having her distance learning column featured in The 74 Million, Li seeks to amplify student voices in all facets as The Accolade's opinion editor.

She has attended the Journalism Education Association- and National Scholastic Press Association-hosted spring and fall 2019 national conventions in Anaheim, Calif., and Washington, D.C., respectively; she received an honorable mention in commentary writing at the D.C. convention.

A piano player for over 10 years, Li is involved in Certificate of Merit. She enjoys telling puns to anyone listening.