March 20: How I'm handling the abrupt end to my senior swim season in club and at Sunny Hills
LIVING UNDER THE CORONAVIRUS CRISIS
This is part of a series of columns from The Accolade staff about their various experiences during the school closure because of the coronavirus pandemic. If you would like to submit some of your experiences, please email us at  [email protected].
Senior year is the year many students look forward to as they are able to wrap up their high school careers with prom, Grad Nite at Disneyland and graduation.
For student athletes, they have senior night when we get recognized for our four years of commitment to the sport at the last home meet, match or game.
Since I'm in swimming — a spring sport at Sunny Hills — this was an event that I was looking forward to because of all the memories that seem to come with the recognition.
Little did I know that this would all be lost because of an invisible enemy called COVID-19.
After having a great swim season my junior year reaching the CIF finals, I wanted my senior season to be better so I could successfully end my high school career with a possible CIF title ring.
Based on how I swam at the two preseason meets, I felt like I was on track to achieving personal best times in the events I normally swim — 200 yard free and the 100 yard butterfly — because of how close I got to them without getting rest.
However, once I heard the news on March 13 that all spring sports were suspended for two weeks, I just hoped that this was a temporary break from high school swim since I still had club practices during this time.
Later that day, I also got news that club meets were suspended until the end of April, meaning that the training focus would have to change. This upset me because our championship meet got canceled since it was within the suspension period.
Then, more bad news came in as the coronavirus seemed to spread, affecting more people and eventually, my club practices got suspended at my facility. But the coaches told us they would find other pools for the swimmers to practice in.
In the meantime, we were told to try to stay in shape by working with weights and resistance bands on our own.
Once they found a pool, only 10 people were allowed to practice during the given time frame at a time. I felt hopeful that I was able to continue to improve.
We were then given information that all pool practices were suspended, so we could only stay in shape by working out on our own. This was when I knew that my senior season in club was going to be cut short with hopes to still swim a few meets in high school.
Eventually, I found out that those two meets were the last for my senior season as well. The announcement from the district that school would continue distance learning until May 1 made me sad because I quickly lost my chance to make more memories. I found myself Facetiming a lot of my younger teammates and talking about the situation while we were all in disbelief.
However, through the exercise plans the club coaches provided us, this would be the only way for me to stay in shape and hopefully be ready for my summer senior season.
All these suspensions only give me more motivation to make the best of my last few meets in the summer. Since I can no longer practice in the water, I try to run and work on strengthening the muscles I use to swim using resistance bands and core exercises my club coach provided the team.
Because cancelling the season of spring sports leaves many athletes discontent, I feel that CIF would do many of the athletes, not just seniors, a favor by extending the schedule past May 4 in the event normalcy does return. This allows the seniors to still have that one home meet to have their senior night and for the underclassmen to formally say goodbye.
With this extension, I'm hoping that CIF officials would dive into this idea I have: Allow for a one-day, mini-playoff for all spring sports to occur that would; allow all teams no matter what their record to qualify so they can spend more time together and for the students to have one last big game, match or meet to make connections with the seniors.
Leave a Comment
Your donation will support the student journalists of Sunny Hills High School. Your contribution will allow us to purchase equipment and cover our annual website hosting costs.
About the Writer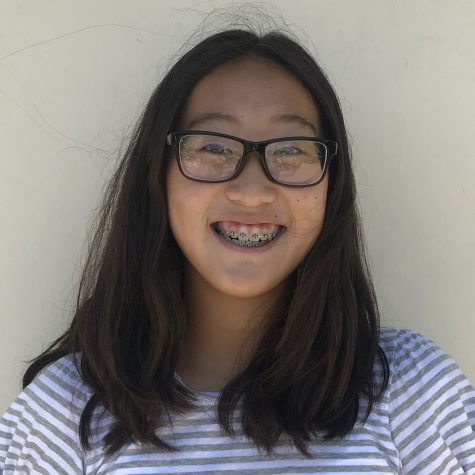 Megan Shin, Photo Editor
Megan Shin, who graduated in 2020, was The Accolade's photo editor during the 2019-2020 school year.