Sophomore draws away from the starving artist profile, earning four-digit figure from sales of her prints, buttons, charms
The starving artist.
For stereotypical Asian parents aka Tiger Moms, their child should strive to attend an Ivy League university and pursue a career in the medical field or law, oftentimes steering them away from professions they deem financially unstable such as in writing and fine arts.
But sophomore Elisa Kho is proving to her peers that she can make money off her own artwork as she has raked in up to a four-figure profit but declined to be more specific for confidentiality reasons.
Cho's sales began when she wanted to start her own business in September 2019, so she took something she loved and turned it into something she could also profit from.
She began by selling around campus and church, advertising her products such as $8-$12 acrylic charms, $15 prints of her art and $3 buttons with anime characters on them on social media to friends or other students she knew.
"I started selling when I felt my skill of art was good enough for people to be interested," Kho said. "I also had some friends at the time who wanted to buy my art."
When she knows what characters she wants to draw, she sketches them on her Windows computer, outlines, colors and formats them to her button shapes and prints them using the home laser printer her parents bought for her art business.
After this, she hand presses her buttons in her button maker, or she emails her print and acrylic charm designs and pays a small fee of around $3-$5 per item to companies that will ship her finished merchandise to her house so she can sell them to her customers.
Soon enough, she had gained enough popularity and opened up an online Etsy shop (https://www.etsy.com/shop/MilleKurepu) in January of this year under the pseudonym Mille Kurepu, relating to her customers who are often as happy as she is when she eats crepes.
Kho said she began selling her merchandise depicting characters from various well-known Japanese anime shows and games such as "Fire Emblem" and "Demon Slayer."
"I draw characters I like or ones that people request, and people generally respond with positive comments," Kho said.
With over 300 items sold, she has decided to expand beyond the horizons of just friends and family, venturing to some local anime conventions she discovered online to sell her art and further publicize her work.
Her first stop was the artists alley at Anime Impulse at the Fairplex in Pomona from Jan. 18-19 when people display their work for sale usually behind a table in a covered booth and spend $500 to sell their wares for two days.
"Ever since my first convention, which was very successful, I've decided I'm going to more conventions like Anifest in Torrance and Animanga in Pomona in the future," said Kho, whose parents accompanied her to Anime Impulse and helped her set up her booth.
Despite it being a fun job, Kho still spends a lot of time making each piece, usually taking around two weeks for each of her prints.
To manage this, she does homework during her break and lunch at school, studies for her honors and Advanced Placement classes for two to three hours when she gets home and spends around two to five hours to focus her attention on art.
With all this time devoted to her craft, Kho has taught herself the skills she has learned, her artistic ability stemming from her love of art, dedication and talent.
As she rises in popularity among her friends, Kho's parents pride themselves in their daughter's work, supporting her in her passion.
"I have always been very supportive in 'Mille Kurepu,' Elisa's digital anime art business," said pharmacist William Kho, Elisa's father. "From her first sketch to final piece, I perceive her joy, tears, laughter and hope from the characters she draws."
As she develops her business, Kho has already received praise from her peers, and her buttons can be seen on various students' backpacks on campus.
"I just like that there are aspects of her art that are unique to her style, such as the cute ways she draws eyes," said junior Austin Jung, who spent $5 for two of Kho's buttons, one of Ram from "Re:Zero" and the other of Byleth from "Fire Emblem," on his backpack.
Junior Rebecca Worrell, who also bought a few buttons of "Demon Slayer" characters, agrees with Jung, commending Kho for finding a way to become successful doing something she loves.
"She's an amazing artist and her keychains and pins are so adorable," Worrell said. "I really hope she continues to pursue her love of art because she truly is gifted."
Despite her venture into the art business, Kho said her main goals are to gain business experience while improving her skills as an artist, saving her earnings in the bank for better art supplies and future schooling, whether that be in a university or an art academy.
Though she doesn't know what she'll major in in college, Kho plans on pursuing art as her career, utilizing this business as a means of gaining an experience similar to what her future may be like.
"I didn't start my business just to make money," she said. "I wanted to do something I'm passionate about, and I'm happy I chose this."
Leave a Comment
Your donation will support the student journalists of Sunny Hills High School. Your contribution will allow us to purchase equipment and cover our annual website hosting costs.
About the Writer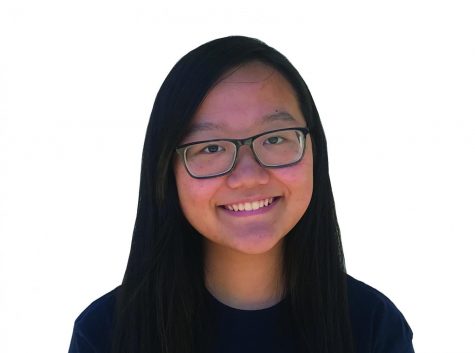 Hannah Kim, Special Sections Editor
Despite being a full-time staff writer last year, senior Hannah Kim moves on to become The Accolade's first special sections editor. After coming from her middle school's yearbook staff, Kim has been able to utilize Photoshop and InDesign to aid in the composition of graphics and layouts. She has previously won awards in several journalism competitions, and Kim hopes her efforts may help The Accolade and its staff flourish.

When not interviewing sources, Kim can be found singing alongside her choir, practicing with her Science Olympiad team or hanging out with her friends.