High school sweethearts share their love story beyond high school
The Accolade sought out as many former high school couples as possible through a post to the Sunny Hills Facebook alumni page and received nearly a dozen responses with marriages that have lasted as long as 50 years.
Class of 1968 alumna Nancy Sundvold MacInnis posted a comment saying she met her husband during her sophomore year at Sunny Hills and got married four years later on July 11, 1970.
"[Brian] sat in front of me in Mrs. Carpenter's English class. He asked me out the last day of school that year and wanted me to meet his mom,"  MacInnis said. "He took me to meet his mom then asked me to go to the movies that Saturday night."
Four years after their first date on June 18, 1966, the couple got married on July 11, 1970, and now have two children and five grandchildren.
"I guess you could say that we have lasted all these years out of love and determination to make it work," she said. "I was taught to never give up on something you really wanted."
Class of 1978 alumna Lisa Porter said she met Class of 1977 alum David Lee when she was in seventh grade, and he was in eighth grade at Parks Junior High. They both went on to attend Sunny Hills and eventually attended  prom together for three consecutive years: 1976, 1977 and 1978. 
"Our first date was on Valentine's Day 1976," Porter said. "We drove down to Newport Beach to the Balboa Pavilion for dinner." 
The couple got married June 12, 1983, and later had three sons and are now retired from their jobs and living in La Quinta.
"Even during the most difficult times we never gave up," Porter said. "Too many people throw in the towel when times are hard, so we just found fun creative ways to stay friends and always put our family first."
Class of 2000 alumna Cindy Yu said she met her husband, Chris Berry, because he was on the football team, and she was a cheerleader, but they didn't start talking until sophomore year, when Barry sat in front of her in English class.
After familiarizing themselves through the class they shared, their love story began.
"One day I saw him in the parking lot trying to bum a ride home from anyone, and so I offered him a ride, and that is how it all started," Yu said.
The two attended California State University, Fullerton, and after graduating, Yu moved to New York.
"Eventually, we reconnected when I moved back, and now we are married with three boys," she said.
As of today, the couple has known each other for 22 years.
"I absolutely love being married to my high school sweetheart," Yu said. "We always tell each other how we love that we have known one another for so long."
Class of 2000 alumna Jessica Pagano said she met George Sergeant, Class of 1999, through attending Saturday school together. 
"We would always go to Jack in the Box for breakfast afterward," Pagano said. "We became inseparable as friends for about a year but had our first real date on Oct. 16, 1999." 
She and her husband got married in March 2010 and now have a 5-year-old daughter.
Seargent [then Pagano] attributes her relationship's success to always fighting and believing in each other regardless of other people's opinions. Her advice to current high school couples is to support each other and have fun.
"Always communicate and always give each other space when you need it," she said. "Don't assume [negative things] or jump to conclusions."
Amber and Samuel Chang, former Accolade business manager and editor-in-chief, respectively, first met their freshman year 18 years ago. They were also on the water polo and swim teams from their freshman to senior years. 
Samuel Chang provides a male perspective on the origin of his high school sweetheart relationship.
"The first time I saw Amber was on the Sunny Hills pool deck during our freshman year. Amber was playing goalie during a frosh-soph water polo game," said Chang, who now lives in Washington, D.C., with his wife and two children, ages 3 and 3 months. "I thought it was cute how she would poke her nose high up in the air, like a meerkat, whenever she was looking to pass the ball to a teammate."
Most high school relationships don't last long, though, Amber Chang said.
"Popular culture can sometimes treat the idea of 'love' as something trite, packaging it as a holiday or dressing it up in movies as a fleeting feeling, but in our (limited) experience, love and relationships involve commitment, forgiveness, sacrifice and — with those — joy, rest, satisfaction and belonging," she said. "It's also hard to know when you're in such a formative stage in life who you will be in five years, much less 10, 20 or 50 years."
To current high school couples, Yu offers this final piece of advice.
"[Do] not take life too seriously. Don't rely on your partner to make you happy and fill some void in your life," she said. "Only you can do that. Try your best to enjoy this special time in your life where you have so many possibilities. 
"Obviously getting married to your high school sweetheart is not the norm so don't expect it to happen to you but if it does, great! Just keep an open mind and be accepting of what life gives you."
View Comments (2)
Your donation will support the student journalists of Sunny Hills High School. Your contribution will allow us to purchase equipment and cover our annual website hosting costs.
About the Writer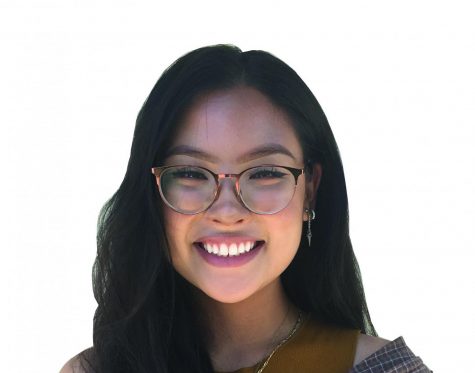 Gianne Veluz, Social Media Manager
After spending a year as a reporter covering exciting stories, senior Gianne Veluz became one of two social media managers for her last year on staff. Veluz loves writing features and opinion pieces about women empowerment, and hopes to enhance the Accolade's social media presence and encourage others to read all of the Accolade's great work! Outside of the Accolade Veluz is the president of SHHS FFA, Co-President of the Bayanihan club and Co-Captain of the varsity girls golf team.