Coronavirus Timeline
12/31-3/3 https://www.nytimes.com/article/coronavirus-timeline.html
1/20 first case of coronavirus in the U.S. (New England Journal of Medicine)
Accolade staff reporter Hannah Kim compiled this timeline. Accolade staff writer Hope Li, feature editor Lira Jeong and sports editors Annie Bang and Andrew Ngo also contributed to this timeline. This timeline will be updated at least once per day to reflect any updates. Last updated: 
3/5
4:25 p.m.

FJUHSD (Scambray) sends out coronavirus update (

fjuhsd.org

)
3/6
3/11
8:55 a.m.

E3 Convention canceled (see @E3 on Twitter), would have been June 9-11 in LA (

LA Times

)

9:16 a.m.

WHO makes coronavirus officially a pandemic (

NPR

)

3:00 p.m.

National Science Olympiad tournament canceled, was to be held in NC State U May 15-16 (

soinc.org

)

4:21 p.m.

SCJEA writeoffs canceled (

OCJEA

)

6:14 p.m.

Tom Hanks and Rita Wilson test positive for coronavirus (

LA Times

)

6:17 p.m.

President Trump has Oval Office coronavirus address (

ABC 10

)

6:40 p.m.

NBA suspends season immediately because a Utah Jazz player tests positive for corona (

LA Times

)

6:40 p.m.

The White House announces Europe travel ban that will go into effect 3/13 at midnight (Twitter @WhiteHouse)

7:06 p.m.

LAUSD bans spectators, large gatherings (

LA Times

)

7:25 p.m.

Dr. Scambray's sends letter about the parent who was allegedly in contact with a coworker who tested positive for corona (

signalkit.com

)

12:30 p.m.

The District found out

SH IB teachers tested Zoom and Google Meet
3/12
8:33 a.m.

Gavin Newsom says gatherings with 250+ people should be canceled or rescheduled through March (Twitter,

gov.ca.gov

)

9:06 a.m.

CIF State cancels state basketball championship games (Twitter,

cifstate.org

)

10:01 a.m.

Universal Pictures delays "F9" release from May 22 to April 2, 2021 (

LA Times

)

10:34 a.m.

Garden Grove Unified School District suspends all athletics indefinitely, several other Orange County school districts follow.

1:27 p.m.

Disneyland, Disney World closed from 3/14-31 (

marketwatch.com

)

1:55 p.m.

Scambray sends another FJUHSD email about canceling field trips, events and holding sports without spectators (

signalkit.com

)

3/13 ASB assembly canceled

3/18 COFA Quad Show canceled

3:23 p.m.

Disney postpones "Mulan," "New Mutants," and "Antlers" (

LA Times

)

4:07 p.m.

NCAA championships canceled (

ncaa.org

)

6:01 p.m.

Newport-Mesa Unified School District, Huntington Beach UHSD postponed sports games indefinitely (

LA Times

)

8:48 p.m.

Canada's PM Justin Trudeau's wife Sophie Gregoire Trudeau tests positive for corona

BP High School Art Show Awards Ceremony canceled (

buenapark.com

)

Tustin Unified surveys parents on school closure (

OC Register

)

SH teachers talked to students about remote learning devices Zoom, Google Meet

LAUSD suspended athletics

Orange Lutheran HS canceled school
3/13
9:21 a.m.

President Trump declares a national emergency

12:02 p.m.

Whitten sends another "Gold Standard" newsletter and talks about how we have Chromebooks so we are fully prepared

1:57 p.m.

FJUHSD sends email that schools will be closed from 3/16 to spring break 3/23-27. School will resume 3/30

3:13 p.m.

Whitten sends out an email detailing Sunny Hills' "Distance Learning Plan." There will be "to go style sacked lunches" available at the cafeteria. (

signalkit.com

)

6:00 p.m.

Charter, Comcast offer 60 days of free internet service to homes with students (

abc7.com

)

8:03 p.m.

FJUHSD sends email summarizing what Whitten said (

signalkit.com

)

Valencia SAT test center, Fairmont prep closed

Birmingham Charter, Harvard-Westlake, San Diego USD closed

Prom postponed
3/14
10:57 a.m.

Whitten sends his letter of encouragement and lets students know that he'll try to preserve our traditions

12:28 p.m.

Pac-12 cancels all sports competitions for remainder of academic year (

LA Times

)

4:41 p.m.

President Trump tests negative for coronavirus

UCI cancels graduation ceremonies
3/15
2:11 p.m.

Gov. Newsom orders closure of bars, wineries and those aged 65 and over to put themselves into self-quarantine

2:46 p.m.

President Trump and vice president Biden call on Americans that there's "no need for for anybody in the country to hoard supplies"

2:54 p.m.

Vice president Biden announces that new guidelines and recommendations will be released March 16. Travel fromUK and Ireland (non-American citizens) to be suspended
2:56 p.m.

USC student tests positive for coronavirus (

LA Times

)
9:00 p.m.

California, Ohio, Illinois, Massachusetts and Washington close bars and restaurants (

usatoday.com

). Los Angeles mayor Eric Garcetti closes all Los Angeles restaurants, except for takeout and delivery
3/16
10:22 a.m

. UK prime minister has told Britons to avoid pubs, clubs, restaurants and theatres and to only make essential journeys in the "national fightback" against corona in first daily update (

bbc.com

)
11:35 a.m.

San Francisco orders resident to go on lockdown
12:33 p.m.

Trump asks for gatherings to be limited to 10 people. (15 Days to Slow the Spread) (

thehill.com)
2:49 p.m.

Palos Verdes HS student tests positive for coronavirus (

LA Times

)
8:13 p.m.

Archdiocese of L.A. suspends in-person masses, but will hold livestreams (

LA Times

)
9:15 p.m.

CA Gov. Gavin Newsom in a Facebook Live asks restaurants to close. 3/15 He said they could remain open if patrons were six or more feet apart. (

LA Times

)
3/17
4:00 a.m.

Ontario declares state of emergency (

CBCNews

) 

11:25 a.m.

White House plans to send cash payments to Americans to stop economic free fall by virus (

Washington Post

) 
Leave a Comment
Your donation will support the student journalists of Sunny Hills High School. Your contribution will allow us to purchase equipment and cover our annual website hosting costs.
About the Writer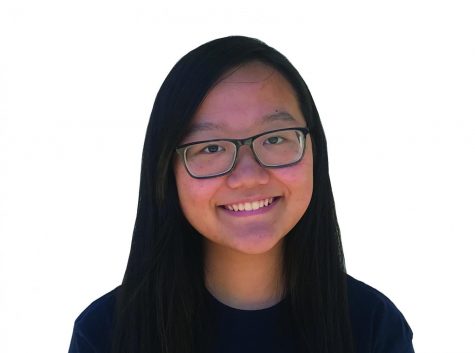 Hannah Kim, Special Sections Editor
Despite being a full-time staff writer last year, senior Hannah Kim moves on to become The Accolade's first special sections editor. After coming from her middle school's yearbook staff, Kim has been able to utilize Photoshop and InDesign to aid in the composition of graphics and layouts. She has previously won awards in several journalism competitions, and Kim hopes her efforts may help The Accolade and its staff flourish.

When not interviewing sources, Kim can be found singing alongside her choir, practicing with her Science Olympiad team or hanging out with her friends.