Springing into fashion with cardigans, Nikes and headbands
Instead of neon tube tops and low-rise jeans, 2020 fashion means headbands and cargo pants. With the upcoming spring season, the fashion spotlight is shining on new styles, accessories and patterns as students start updating wardrobes and picking out what's hot or not. 
"As a fashion enthusiast myself, I think there will certainly be an increase in hair accessories and pastel colors" said senior Clara Hahm, who is a snappy-dresser that is always ahead of the latest trends. "Spring will definitely bring a mix of graphic tees and floral skirts." 
Recently, teens on campus have been seen styling scarf scrunchies, barrettes and bandana head wraps with everyday looks. Even stylist Tina Outen told the online Guardian that "the headband is a key accessory that designers are embracing, and it's a quick fix that keeps hair chic and tidy for the summer."
On the other hand, some students are opting to pair layered gold or bulky chain necklaces with bucket hats to brighten up some simple outfits. This style has recently flourished into a statement-making, go-to trend as teens mix and match heavyweight accessories and coin pendants with both colorful and monotone hats.
As a self-proclaimed fashion guru, junior Leah Samano can often be seen dressing casual yet stylish while keeping up with the fads, "I think bucket hats are really cute, I usually layer necklaces with certain themes like stars, the moon or the sun. But I have seen a lot of people wear clunky chain necklaces recently." 
Additionally, the vintage brands have resurfaced, and with them, so did the popularity of the Nike Air Force 1s. Despite its previous ups and downs, the shoe is back with new models and colors, and is now being worn by models, athletes and even students on campus.
"Although Air Force 1's have been around for a while, I don't think they will die out anytime soon because they are easy to wear with almost any outfit, dressed up or casual," said senior Ruben Parker, who has been rocking this year's style in public and on his Instagram. "I've also noticed that Doc Marten shoes have become a huge hype for girls, as well as a few guys."
Chunky platforms are another recurring trend. Shoes with thick soles and high ankles provide not only durability but also comfort and style. So it is no wonder that they've only gained more popularity since the 80s.
As an expert on unconventional and eccentric looks, junior Christain Campos says he can always rely on his Docs Martens. "They've never really died out. They just came back into fashion in waves, and lately, the indie scene has seeped into mainstream in almost every way. Docs have come back with them because they're sleek, dependable and durable."  
Besides shoes, students are exchanging sweatshirts and sweatpants for oversized graphic tees, cropped cardigans and straight leg jeans. 
"Personally, I love graphic tees because you can dress them up or style them with shorts or jeans and thrift stores have a really big variety [of tees] for cheap prices," said sophomore Elaine Chu, who often sports skirts and Vans. "I've also seen a lot of cargo pants with tight crop tops around school, and they look really put together yet simple."
A majority of expected upcoming trends are essentially derived from classic styles, but the accentuating accessories and chromatic footwear add a chic, modern spin to it. Nonetheless, students will inevitably have plenty of fashion inspiration for this spring.
"People are starting to express themselves more through their clothes with different types of aesthetics," junior and lover of gem-encrusted barrettes Vivian Tran said. "Instead [of worrying] about name-brand clothing, they wear what looks good, and students of both genders are starting to discover their own styles."
Leave a Comment
Your donation will support the student journalists of Sunny Hills High School. Your contribution will allow us to purchase equipment and cover our annual website hosting costs.
About the Writer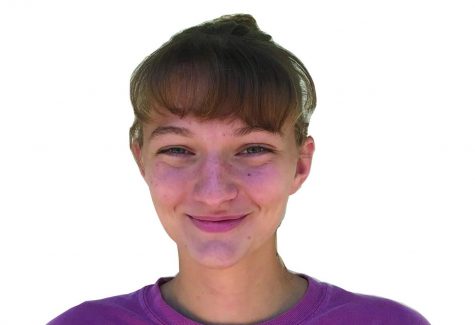 Hanna Oltman, Arts & Entertainment Editor
With one year of high school left, senior Hanna Oltman is finishing her time at The Accolade as the new arts & entertainment editor. Over the past three years, Oltman has discovered a love for journalism and reporting, specifically for writing critical reviews. So whenever a new movie, album, or TV show is released, she'll have plenty to say about it. Aside from writing reviews and entering in journalism competitions, Oltman usually spends her free time either reading or gardening. She loves growing plants almost as much as she loves working with her staff members.