Eco Club adds more color to its recycling plans
Nearly two years ago, the Fullerton Joint Union High School District [FJUHSD] banned the storage of recyclables on all campuses and in classrooms.
Citing concerns that recycling bins containing open plastic bottles with water still inside and aluminum cans with sugary liquid inside attract pests, FJUHSD officials also instructed custodians in all six of the district's campuses to dispose recyclables when found in classrooms or around campus.
At Sunny Hills, the new policy affected Eco Club's plastic bottles, aluminium cans and glass recycling the most.
"I felt bad about it because they worked so hard to get the program going," Eco Club adviser and social science teacher Patrick DeBacker said. "It kind of took the wind out of the sails, and we didn't know what else to do."
So last year, because club members struggled to find a project to work on, the club slowly became inactive.
But two months into the 2019-2020 school year, new Eco Club leadership found another recycling opportunity — though it does not earn any funds.
Eco Club co-president junior Hanna Oltman spotted an online advertisement in October about Crayola's marker recycling program called ColorCycle.
"While I was looking through my Instagram stories, a Crayola advertisement popped up, and I got interested," Oltman said.
The junior then contacted her co-president, junior Ella Eseigbe, and the two agreed to set up the recycling program at Sunny Hills the next month in November.
Crayola's ColorCycle is accepting any brands of plastic markers, including dry erase markers and highlighters, according to crayola.com/colorcycle.
Besides the ColorCycle program, the crayola.com website explains how conscious the company is about the environment.
"The Crayola solar farm includes over 30,000 panels on 20 acres of land," according to a statement posted on the website. "These solar panels provide enough power to make 1 billion Crayola crayons and 500 million markers a year!"
The website then goes on to explain how Crayola will recycle the collected markers.
"Through this initiative, students in K-12 schools across the continental United States and parts of Canada can collect used markers and send them to a conversion facility, where they will be repurposed and kept out of landfill."
The co-presidents began to plan for the marker drive in November and agreed to start it on campus in mid-December. The members first brought empty shoe boxes from their houses and decorated them during lunch during their meetings.
The boxes will stay in the classes permanently throughout the year, and the club members will collect the markers in one large box , Oltman said.
As of Feb. 7, the marker boxes can be found in 15 classrooms, one box in every building section of the campus. For example in the 130s building, teachers and students can go to Room 137, art teacher Brian Wall's class, to donate their used markers in the box near the door on top of a desk.
Every one or two months, club members collect the boxes and pack them for shipment via FedEx; the shipping cost is free because Crayola pays for that.
To promote their campaign, club members have put posters around the school walls, such as on the wall of the 30s building.
"Although it took us a while to start the marker drive, I think it's going really well so far because we've noticed that a lot of teachers are actually putting markers in the boxes," Oltman said.
Besides this marker collection campaign, the club focuses on raising money or improving environmental conditions, but that is not its only purpose. Eco Club also works on projects such as planting trees, doing a beach cleanup and collecting donations for the Australian bushfires.
"The goal and purpose of the [club] meetings is to encourage actions among our peers that are beneficial to our environment," Eseigbe said.
Before becoming co-presidents, Eseigbe and Oltman wanted to create their own club that could help and have a positive impact on the environment. However, after reviewing their club idea, the ASB co-advisers David Fenstermaker and Mike Paris told them that their idea was very similar to Eco Club, which already existed on campus, Eseigbe said.
"We both had the idea of forming a club like [Eco Club] to help the environment, so it was ideal for us to take the previous presidents' places after they graduated," she said.
Club members have been thinking about what they could do to save the environment and ways to handle problems on pollution.
"The [members] are trying to push for having a lot of our lighting around the campus be solar powered, and I think the district is still working on that," said DeBacker, who has been the club's adviser for as long as the club existed on campus.
During past club meetings, members have also talked about participating in Jog-a-Thon in which they raised approximately $90 last semester.
"[The money] goes toward our ultimate goal of planting trees, which is hardest to do because trees are expensive," Eseigbe said. "We're still looking for an ideal location for the tree planting so it's a long-term goal for the club."
In the meantime, Eco Club members can look to their crayon collection drive as meeting one of their short-term goals.
"The marker drive has been going great so far and is definitely beneficial for the environment," said club member junior Sarah Abitria, who joined because she cares about the environment and wants to contribute in saving the earth. "I'm glad that some of the marker boxes are almost completely filled up."
Eco Club meets every other Wednesday during lunch in Room 180.
Leave a Comment
Your donation will support the student journalists of Sunny Hills High School. Your contribution will allow us to purchase equipment and cover our annual website hosting costs.
About the Writer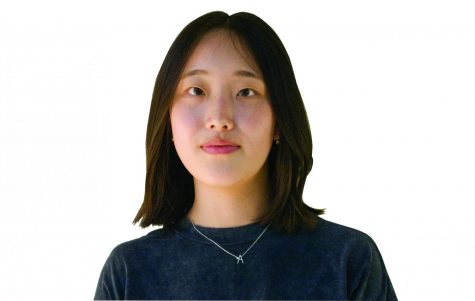 Alice Shin, Managing Editor
After spending her second year on
The Accolade
staff as the assistant news editor, senior Alice Shin looks forward to another year on staff as the managing editor. In the previous school year, Shin has spent most of her time writing articles for the news section. This school year, she hopes to contribute to the award-winning newspaper and cover a wide range of subjects. Besides her involvement in
The Accolade
, Shin is part of the American Red Cross club at school as one of the blood drive coordinators and can be seen outside of school with her friends or at home watching Netflix or dramas.