2020 color of the year is a classic
Sophomore Toni Lee's favorite color is red.  
"Red is really flattering to me," Lee said. "I think it suits me the best when it comes to clothes."
Junior Kayla Vazquez agrees, though she prefers a darker shade, burgundy. 
"The color also looks really nice on most people," Vazquez said. 
Freshman Lyla Agarwala likes purple the most.
"It is really soothing, and many flowers are so stunning when they are purple," Agarwala said.  
But none of these Sunny Hills High School students will be sporting much the 2020 color of the year as voted upon by three nationwide paint or color-matching companies. 
According to a Jan. 17 Los Angeles Times online article, Pentone, PPG and Sherwin-Williams all selected a certain shade of blue for their vote for color of the year. 
"This year was really special," PPG color specialist Dee Schlotter told the Times. "Usually, it takes until the end of the workshop, and then one color bubbles to the surface as being dominant in everyone's color palette and story, but this year, every single region and every color stylist came with blue." 
PPG representatives honed in on Chinese Porcelain, a mix of navy and cobalt.
Pantone crowned Classic Blue as its 2020 pick.
"When you look at a highly anxious, highly contentious world right now," Schlotter said in the Times story, "people feel very unsettled, unmoored almost. Blue is a trustworthy, really anchoring color. It's the color of the sea and sky, and it's just really reassuring."
Sherwin-Williams went with a more militaristic version of blue for its 2020 color of the year: naval. 
"It was absolutely a slam dunk," said Sue Wadden, the company's director of color marketing, in the Times article. "Blue was prevailing through all the palettes and all of the themes we were talking about."
The big three color/paint firms' choice for color of the year suits freshman Kanieya Desai.
"Even though I love the color blue I am not a big fan of the Dodgers or Pepsi," he said. "I plan to continue to wear blue but no need to buy a whole new wardrobe," 
Despite these companies' push toward blue, many Sunny Hills students are going to stick with their own favorites.
"Classic blue is a great color, but I don't have many clothes that are blue," Lee said. "Plus, blue is never my option to go for when picking out clothes." 
Sophomore Aimee Kwon's favorite color was actually Pantone's 2019 color of the year: living coral, a fancy shade of pink.
"It is soothing and the prettiest out of all colors," said Kwon, who sports her light pink in her dresses and skirts she wears to school. "It's also the most pleasing to look at."
Another national paint firm, Benjamin Moore, went against the grain of its competitors and settled on Kwon's favorite color called first light, "a soft, rosy pink with pale gray undertones," according to the Times' description.
"Pink has been getting bigger every year," Benjamin Moore's color marketing and development manager Hannah Yeoshe told the Times, "and it's getting more gender neutral, especially when paired with a masculine color like blue or Thunder (a gray). 2020 is the dawn of a new decade. What's more appropriate than the color First Light?"
And if none of these colors appeal to Sunny Hills students, perhaps others will go with the old reliable — the color of money.
Los Angeles-based Dunn-Edwards and Orange County-based Behr opted for green.
Dunn-Edwdards representatives chose minty fresh, "a light, mentholated green that earned the top spot for 2020 thanks to its calm, cool color and inherent message of hope," according to the Times.
"The start of the new decade is a time of optimism, renewal, starting over, of asking what can I do to push forward in life. … So having looked at all the pastels, green just kept coming to the forefront and being the symbol of rebirth and renewal and ecological sensibilities," Dunn-Edwards color expert Sara McLean told the Times.
Behr's version of green is called "Back to Nature." 
"We're seeing the rise of these popular color families," Erika Woelfel, vice president of color and creative services for Behr, told the Times. "These blues and greens are everywhere, all different shades, all different variations, and green in the color family has huge bandwidth."
"Green has always been my favorite color because my eyes are also green," senior Diego Cano said. "I don't really like to wear the color, but my favorite pencil is green."
View Comments (1)
Your donation will support the student journalists of Sunny Hills High School. Your contribution will allow us to purchase equipment and cover our annual website hosting costs.
About the Writer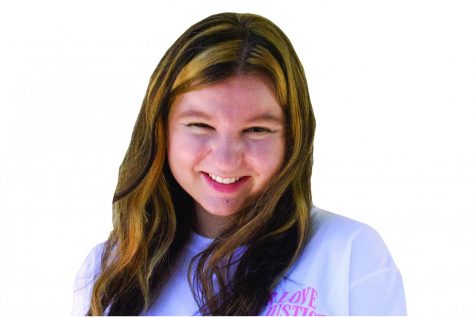 Sydnee Tallant, Assistant Arts & Entertainment Editor
Sydnee Tallant is thrilled to continue her journey in
The Accolade
staff as the assistant arts & entertainment editor in her senior year. She is ecstatic to continue her passions of writing and editing stories for the school newspaper. Tallant is involved in Link Crew, Conservatory of Fine Arts and the California Scholarship Federation at school. Outside of school, she likes to dance, produce music and videos and sleep.