Group 'flocks' to aid homeless students in Fullerton Joint Union High School District
A man wearing tattered clothes while pushing around a shopping cart.
A woman sleeping under a bridge with nothing but a stray dog to keep her warm.
A man holding a sign on the side of the highway asking for spare change.
These are the preconceived notions most people have of homelessness based on students' personal experiences and media portrayal.
No one really suspects that a student could be in the same situation.
However, more than 400 students reportedly experience homelessness in the Fullerton Joint Union High School District [FJUHSD], though the exact number for how many are attending Sunny Hills High School this school year is confidential.
When it comes to dealing with this issue in the public school system, administrators follow federal law. According to the 1987-passed McKinney-Vento Homeless Assistance Act, homelessness is defined as "a student who lacks a fixed, regular, and adequate nighttime residence."
That means a person can be living in a motel, shelter, car or sharing housing with another family and still be considered homeless.
According to education.wm.edu, the act was originally named the Homeless Persons' Survival Act. But after "the death of its chief Republican sponsor, representative Stewart B. McKinney of Connecticut," the act was renamed the McKinney-Vento Homeless Assistance Act.
A majority of youths in those situations don't know who to turn to or don't have anyone to help them. That's how Fullerton's Love of Orange County Kids [FLOCK] entered the picture.
According to the flock.gives website, the non-profit organization based on Bastanchury Road has a mission to "end the cycle of homelessness for the children of Orange County by sponsoring local students to support sustainable housing and education."
At Sunny Hills, assistant principal Mason Morris is the liaison between FLOCK and anyone who comes to school officials acknowledging their homelessness. Besides providing food and shelter, Morris and other administrators in the FJUHSD try to go beyond to give students more breathing room in terms of their livelihood.
"Our district has been working with FLOCK for the last few years to help provide quarterly scholarships, prom scholarships and college assistance to our students in need," he said.
Though several attempts have been made since the fall semester to reach the founder of FLOCK, Angela Joe, by phone or email, Joe has yet to return phone messages or emails as of the spring semester.
According to FLOCK's Facebook page, the organization was formed as early as 2015 based on a review of its posts that go as far back as that year.
In a Feb. 4, 2016, post, the writer mentioned the following about FLOCK's aim: "We don't want to just feed them [homeless students]; we want to help bring them out of homelessness. We will be helping the families gain financial and physical support, so that they will be able to obtain a home of their own."
Each FJUHSD school site has a campus liaison where an application for FLOCK is available to any student who may need immediate help.
"We are not able to reach out to them; they have to reach out to us," said FLOCK volunteer Rachel Scambray, who has been helping for a little over a year. "It is up to the student to turn in [the application] if they choose to do so, and [then] they can reach out to us at any time throughout the year."
Students can pick up fliers from around campus or the main office and can register whenever they feel the need to.
The FLOCK website explains that after applying, students are offered several different types of programs, including quarterly scholarships, college scholarships and partial financial scholarships. However, one of the most beneficial aspects of FLOCK is its wish granting program.
Homeless students are given the opportunity to write a letter asking for a few necessities that will help them succeed in school; some of these items include sporting equipment, shoes, backpacks, prom dresses and calculators.
"Volunteers [including myself] read the apps and decide if we can or will grant their wishes," said Scambray, who's also the wife of FJUHSD's superintendent Scott Scambray. "Many of these letters are very heartfelt; they express what they need for school or in their personal lives to make their lives just a little bit easier."
According to a June 11, 2017, FLOCK Facebook post, a Sunny Hills student was among those whose prom needs were met.
"Please read another heart-felt thank you letter from David at Sunny Hills High School," the post states. "He was able to attend prom and receive a free Tux Rental!"
The post also included a thank you note from "David": "I had so much fun with my friends, and it was the best dance of high school for me. I also remember the thermos and hat that I received, and I am deeply grateful. One thing I learned is that there are generous, caring people out there, and it motivates me to keep going and help out others."
FLOCK is primarily run by six to seven adult volunteers who are willing to give up their time and energy to help the community. These helpers personally go shopping for the items needed and then proceed to coordinate a day when they can go to high school campuses to deliver the requests.
"We give them their awards, privately and discreetly so there is not special attention brought to them, and they don't feel singled out [because] most [students are in] very difficult situations that the majority of the people around them have no idea what is going on," Scambray said.
If Sunny Hills students would like to self-report or ask FLOCK for assistance, they can pick up a flier from the office in Room 5 and contact the organization at (714) 478-6152 or visit it at 1038 E. Bastanchury Road #265, Fullerton.
Leave a Comment
Your donation will support the student journalists of Sunny Hills High School. Your contribution will allow us to purchase equipment and cover our annual website hosting costs.
About the Writer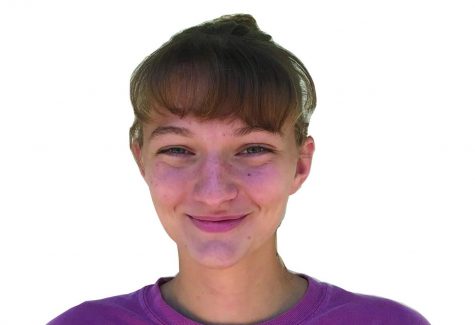 Hanna Oltman, Arts & Entertainment Editor
With one year of high school left, senior Hanna Oltman is finishing her time at The Accolade as the new arts & entertainment editor. Over the past three years, Oltman has discovered a love for journalism and reporting, specifically for writing critical reviews. So whenever a new movie, album, or TV show is released, she'll have plenty to say about it. Aside from writing reviews and entering in journalism competitions, Oltman usually spends her free time either reading or gardening. She loves growing plants almost as much as she loves working with her staff members.