The Next Frontier: Sunny Hills science teachers weigh in on future of space exploration
The first step on the moon in 1969 was a "big step for mankind," but an even bigger step could be looming in this new decade.
People could even be populating other Milky Way planets — similar to "The Expanse," a science-fiction television series about a future in which humanity has colonized Mars and Venus. (Based on an ongoing eight-novel series by author James S. A. Corey, "The Expanse" ran for three seasons on the SyFy channel before it got canceled and picked up for streaming season four on Amazon Prime.)
The book and TV show have reportedly even captivated Amazon owner Jeff Bezos, the top billionaire in the world. who wanted to see the series continue via his Amazon Prime streaming service.
"The Expanse" focuses on key characters living on Earth, Mars and various interplanetary stations that make up what is called, "The Belt." The protagonist and his crew travel in a space ship called the Rocinante.
For many science teachers on campus, the possibility of such an interplanetary society in the next decade seems unrealistic
"I don't think so just because of the resources we have on Earth," said Andrew Gartner, who teaches environmental science and chemistry. "With our temperature ranges and [even] having water in all three phases here, we have so many things that make our planet Earth so special and suitable for living that other places don't have."
Most science teachers agreed that even if technology advanced to the point of sending people to different planets like what SpaceX is working toward, taking over the celestial bodies does not provide many benefits besides the possibility of finding undiscovered elements.
"There are theories that if you get the right number of neutrons and the right ratio, there could be some [other elements in space,] or maybe we'll discover a new subatomic particle that'll allow [radioactive elements] to become stable," chemistry teacher Andrew Colomac said. "I never say anything is impossible, so some star exploding somewhere could [produce new elements]."
Colomac added that he thought exploring the moon wasn't worth the time and money.
"You want to colonize places that have resources that we can harvest as our own planet starts running out," he said. "To me, the moon has a lot of obstacles that we would have to overcome for what seems like little reward — unless maybe there's minerals that [scientists] want to mine or something."
This idea was previously featured in a Wall Street Journal video in which scientists brought up the concept of asteroid mining to break down these "space rocks," which are made of many metals and gases such as iron and hydrogen to create useful materials for various machines at a low cost.
Physics teacher Christopher Peoples also agrees with this, as he believes asteroids are much more fascinating than visiting Mars or another planet.
"I think there are a few other things besides Mars that would be a lot more interesting to look at and easier to get to [like] going to asteroids and seeing what they're made of," Peoples said. "We're flying around asteroids, and we've landed on a couple of them, and there is some interesting stuff there."
Along with these suggestions, some stellar advances in space travel technology — new rocket designs and space stations — have emerged that have the SH science department excited for the future
"I think there will be pretty big advancements in at least being able to travel to the moon and back in a consistent, stable way in the next 10 years," chemistry teacher Alexander Hua said.
Heading into the next decade of the 21st century, many are looking forward to seeing the innovative space travel developments of companies like SpaceX, Virgin Galactic and Boeing.
It's been almost 51 years since man first touched the moon, and NASA is finally planning to go back in 2024.
However, projects like #dearMoon have interested many, giving them hopes that the public can also visit the lunar celestial body. The idea of "commercial moon flights" has become big with companies like Astrobotic, Moon Express, iSpace and even NASA.
Teachers like Gartner and Colomac also agree that future personal trips to "the moon and back" with a loved one could be available to the public within this new decade.
"Maybe a private space flight [could be possible] — [buying] a ticket to take a trip to outer space, float around a bit and then come back," Colomac said. "Maybe we'll see that [in the future,] but I would put it at that."
Now, bigger explorations like the Mars One mission, which would be sending people to live on the Red Planet, are being criticized by scientists and engineers, but exciting much of the public.
Mars One started in 2012 with the goal to eventually establish a permanent settlement on the Red Planet, but without funding and a launcher to send its supporters, it eventually went bankrupt in 2019.
Though most science teachers here agree that living on Mars isn't on their mind, they admit the concept of visiting it is an interesting idea.
"To think that humans can be the first interplanetary species is really special — that we have a chance in our lifetime to see that happen," said Hua, a self-proclaimed fan of Elon Musk. "I would want to go to Mars — maybe not live there, but at least go."
However, this might not be a possibility as one of the biggest concerns Peoples points out is the pacing of current space missions.
"We're finally getting to the point where we can launch people from this country into space, and I think it's taken us far too long to get here," he said. "Boeing put a rocket into space but didn't control the orbit properly, so I'm a little frustrated with the pace of things."
Despite this, Peoples still sees a bright future for space-themed projects with his students, as he has noticed a stronger interest in rocket science in his physics classes the past few years.
"I think what I find exciting is I see the level of interest that people have," he said. "I love watching the control room at SpaceX when they do a launch, and when something goes right, [the engineers] are all cheering. I'm glad to see that level of excitement again, and I hope we can keep it going."
View Comments (1)
Your donation will support the student journalists of Sunny Hills High School. Your contribution will allow us to purchase equipment and cover our annual website hosting costs.
About the Writer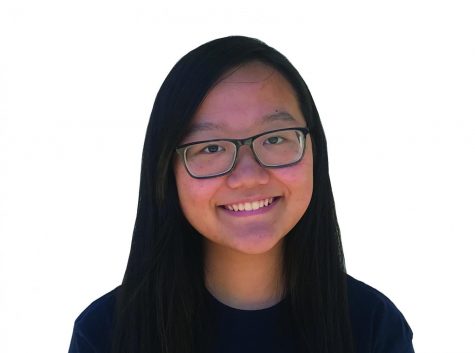 Hannah Kim, Special Sections Editor
Despite being a full-time staff writer last year, senior Hannah Kim moves on to become The Accolade's first special sections editor. After coming from her middle school's yearbook staff, Kim has been able to utilize Photoshop and InDesign to aid in the composition of graphics and layouts. She has previously won awards in several journalism competitions, and Kim hopes her efforts may help The Accolade and its staff flourish.

When not interviewing sources, Kim can be found singing alongside her choir, practicing with her Science Olympiad team or hanging out with her friends.