Challenge squared: Eighth-grade Parks student takes not one, but two academic classes at Sunny Hills
Accolade staff writer Alice Shin contributed to this story.
It's the first day of the spring semester in Nicole Knutson's zero period Algebra 2 Honors class.
The 36 students enter the classroom and return to their seats from the fall semester. After Knutson shares her welcome back message, she reminds the class about an online Pearson quiz from students' chromebooks, followed by groans of disappointment or surprise from the class.
Around 15 minutes into the timed quiz, one of the quiz takers can be heard folding his chromebook and finishing the assignment.
That's not the first time this particular student has completed a quiz or a test so quickly.
Halfway through the school year, Knutson's students have acknowledged that they are in the presence of a potential math genius.
And he's not even in high school yet.
Though Parks Junior High School eighth-grader Kyle Pak doesn't call himself a prodigy of numbers, he does acknowledge that he's "just good at math."
And though eighth-graders have taken classes — usually honors or regular biology — at Sunny Hills for one period and return to their junior high school campuses the rest of the school day, Pak is the only eighth-grader during this school year who's enrolled in two classes here: zero period Algebra 2 Honors with Knutson and first period regular biology with Kathy Bevill.
Pak says he's been quite comfortable taking double the classes in which his peers are older than him by a grade level or two. In fact, the same thing happened when he was in elementary school.
"In fifth grade, I started doing sixth-grade math, and in sixth grade, I went to Parks Junior High for Algebra period 1," the five-foot-four-inch eighth-grader recalls. "In seventh grade, I took Geometry [with eighth-graders]."
All of this advancement would not have ever occurred if it weren't for his fifth-grade elementary school teacher.
"In fifth grade, my teacher saw that I was talented in math and asked me if I wanted to do sixth-grade math," he says. "And ever since, I've been taking advanced math."
As well as taking high school classes, Pak has been enrolled in Pre-Advanced Placement English Language and Composition at Parks and plans on taking the AP Language exam in May.
"I think middle school and high school are pretty similar," Pak says. "The only differences are the number of students and harder classes."
The first half of the school year in a more challenging environment at Sunny Hills hasn't fazed the 14-year-old at all.
"[I like to think that] my high school classes are regular classes with other students older than me," Pak says. "I feel like any other student, and other students don't really have a different reaction,"
And since last August, Pak doesn't feel his Parks peers treat him any different when his mother drives him back to campus from Sunny Hills.
"No, my friends don't have a problem with it," he says. "As a matter of fact, they occasionally ask me for homework help."
Pak is also a second teacher in his zero period classroom.
"[He's] someone I can always count on to help me with my work," sophomore Carolyn Tran said.
And when Pak reaches high school next year, he could be enrolling in college math classes by as early as his sophomore year depending on which high school he chooses to attend.
" If there are no other classes to take in high school, [yes] I will take college classes," he says.
Meanwhile, the main reason Pak is enjoying his two hours of high school experience each school day is because of his teachers.
"My teachers are nice and supportive," he says. "They make sure I am content with my classes."
His two Sunny Hills instructors also recognize the intelligence and leadership that he exhibits.
"[Pak] is eager to learn in class, and I feel [he] has the respect of his classmates," Knutson said.
Pak has been very engaged in what's happening during his biology class.
"He is very helpful, and he catches my little mistakes," Bevill said. "He has a bright future ahead."
And that post-high school future could lead him toward a major in computer science or … of course, math — both subjects that at this point, he says he's "interested in."
As all eighth-graders and their parents will soon decide in the next few months which campus to enroll in for high school, Pak says he is still unsure:
"I've narrowed it down to a couple of schools, but Sunny Hills is definitely in that category."
View Comments (1)
Your donation will support the student journalists of Sunny Hills High School. Your contribution will allow us to purchase equipment and cover our annual website hosting costs.
About the Writer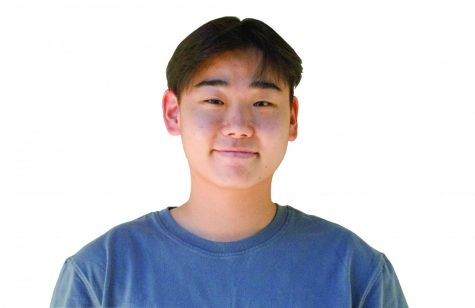 Daniel Kong, Business Manager
Daniel Kong is excited to return to
The Accolade
for his senior year as the business manager. Outside of the newspaper, Kong is involved in several business-oriented clubs including Distributive Education Clubs of America, Student Business Club and Youth Investors of America. Most days, you can find him running on the track or talking to friends!