Meet this year's Sunny Hills AVID Senior Standout: Dana Mabin
"Hard-working, driven, determined, ambitious and focused."
Those are the words from an staff email that Lori Larsen, the district's coordinator of the Advancement Via Individual Determination [AVID] program, used to describe senior Dana Mabin, who was selected as the Sunny Hills AVID Senior Standout for the 2019-2020 school year.
"Dana is the epitome of an AVID student. … She has a wonderful personality and positive attitude," wrote Larson, who also teaches senior AVID students at Sunny Hills.
Mabin found out about her distinction on Nov. 22 during break in Room 67, where Larsen made the announcement in front of the 13 qualified contenders and AVID teachers.
"I am really happy and overjoyed because I pursued the award since freshman year," said Mabin, who recalled being inspired by a senior who won the award last year when he came and shared information to her AVID class about the distinction.
Mabin, who plans to major in biochemistry if she were to be admitted to USC, will be recognized by the Orange County Department of Education at the Senior Standout and Scholarship Ceremony on April 20 at the University of California at Irvine's Barclay Theater, according to Larsen's email. That's also the same day when she'll find out whether she will be awarded up to $24,000 for the Orange County AVID scholarship and up to $2,500 for the AVID Orange County Dollars scholarship.
"It feels pretty cool because I never thought that [becoming an AVID Senior Standout] was this big," she said. "I just feel really happy that I can stand out in a way that I never thought I would."
The AVID site team, which comprises seven staff members, made the decision off a point system in which it took into account the 70 eligible AVID seniors' extracurricular activities, grades and the number of Advanced Placement classes taken. From there, the committee narrowed down the nominees to 13 who had to undergo an interview process with the team.
AVID teacher Jennifer Papageorge, who taught Mabin her junior year in AVID class, was excited for her when she heard the news.
"She was focused, driven and such a delight to have," Papageorge said. "She has just a whole list of all these things she's involved in."
Mabin first joined the program during her freshman year, hoping to stay on top of her studies.
"We do these things called tutorials where we can present our problem to a group of students and work it out," she said. "That's something that helped me a lot since I am kind of shy, and I don't like asking teachers for help."
Although she considers AVID her most influential class, she acknowledges how much her experience on the varsity cross country and track teams have impacted her during her four years at Sunny Hills.
"I had a lot of ups and downs in those sports, [and] at the same time I got a lot of injuries," Mabin said. "It taught me about failure and that you just have to get back up."
Close friend and senior Lauren Lee, who knew Mabin since middle school, is not surprised about what her classmate has accomplished.
"I think she deserved it because she worked really hard for it," Lee said. "When she sets her mind to something, she goes for it."
Even though Mabin's peers praise her for her determination and motivation, a personal obstacle for her is keeping a positive self-esteem.
"I had a lot of personal issues with about how I feel about myself and being in a place where there are a lot of scholars," she said. "I thought maybe I'm not good enough."
Throughout her four years in high school, Mabin said she would often have mood swings that would make her feel sick and lose concentration in classes.
"Through all this, I learned about what I can do and that the best I can be is me," she said.
Leave a Comment
Your donation will support the student journalists of Sunny Hills High School. Your contribution will allow us to purchase equipment and cover our annual website hosting costs.
About the Writer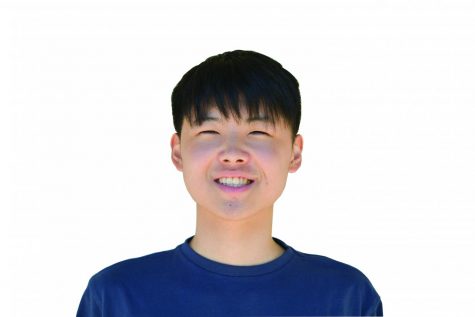 Andrew Park, Arts & Entertainment Editor
In his fourth year in journalism, senior Andrew Park came from being a staff reporter to an arts & entertainment editor. Along with his assistant editor, Park plans to bring more insightful stories and creative layouts to the A&E page.
Outside of
The Accolade
, Park pursues his passion in the filmmaking field and his cabinet positions of multiple clubs such as Model United Nations and Key Club.