Newcomer Layton Greene's debut EP captures listeners' attention with songs about her rough childhood, broken relationships
Teenagers love to listen to music and often bump out to rap songs with no meaning such as "In the Party" by Flo Mili and "Wow" by Post Malone.
But newcomer Layton Greene has opted to dive into deeper topics like dark childhood stories and broken relationships in her debut album, Tell Ya Story.
The seven-track EP contains music that would fall into the R&B/soul genre so fans of Melanie Martinez, Billie Eilish and Olivia O'Brien might also enjoy Greene's work.
At nearly four minutes, "Blame on Me" kicks off the album with the 21-year-old's life story and how she blossoms from a challenging childhood in East St. Louis, Ill., at the age of 10 to the age of 20.
The song features sounds from a piano along with a strong bass and will definitely hook listeners. At one point, she accuses her cousins of "touching me inappropriately" and recalls how her mother chose to abandon her, forcing her to be "homeless 'till I turned eighteen / Started living with a man I was dating / Last thing on my mind was graduating."
By the end of the song, she shares her success story about how she "posted myself singing a song 'cause it was on my heart / When it went viral I was working in Walmart / I got a new start / taking my pain, turning it into art." This shows listeners that no matter what situation they go through, they can rise up and get stronger.
Despite the positive outcome for Greene, she creatively ends with her chorus about how she still has moments of regret from the past about her parents ("Mama getting high up in the kitchen / Daddy wasn't there, he was missing") and how she kept these problems to herself, putting the "blame on me."
Two other songs that stand out are "I Love You" and "I Choose."
At a little over three and a half minutes long, the former has Greene crooning about how she is passionate about a guy and will do anything for him, but he turns out to be a cheater.
With such a ballad, she expresses real human emotions about losing a lover as she reminisces in the first verse, "Was it all a lie? Was it just fantasy? / You control my mind, was you just using me?" This stage of confusion, disbelief and heartbreak touch upon conditions that many listeners — especially girls — can identify with.
The most promising of the songs in this album is "I Choose." With a steady beat of drums in the background, Greene showcases her talented and amazing vocals as she raps about how she's in love with someone, but he makes bad decisions quite often.
She goes on to express how she gets so angry, she could "leave him in stitches," but the singer also mentions she will wait patiently for him to become better.
One tune that is a skip would be "Choices." The beat is just too steady, and it doesn't offer that emotional vibe as her other songs do. Her voice stays in the same tone for half of the song.
Released Sept. 27, Tell Ya Story has yet to make waves on the iTunes, Spotify and Billboard charts. To get some more traction on her EP, she has released four music videos on YouTube. The most visually appealing ones to check out are "Blame on Me" and "I Love You."
It's clear that Greene is slowly building her way to the top with her alluring and darker song topics. As of Dec. 19, her most recent music video, "I Choose," has gained 33,000 likes on YouTube. If she were to explore more genres, she could get more well-known so she can continue to tell her story.
View Comments (2)
Your donation will support the student journalists of Sunny Hills High School. Your contribution will allow us to purchase equipment and cover our annual website hosting costs.
About the Writer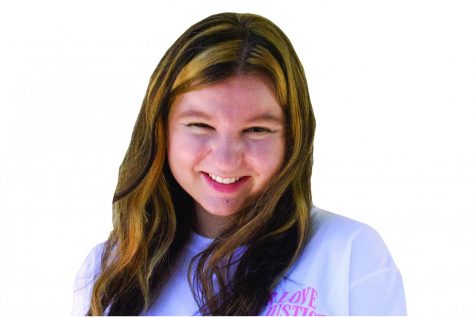 Sydnee Tallant, Assistant Arts & Entertainment Editor
Sydnee Tallant is thrilled to continue her journey in
The Accolade
staff as the assistant arts & entertainment editor in her senior year. She is ecstatic to continue her passions of writing and editing stories for the school newspaper. Tallant is involved in Link Crew, Conservatory of Fine Arts and the California Scholarship Federation at school. Outside of school, she likes to dance, produce music and videos and sleep.