Freshman forms new Cyber Patriots club at Sunny Hills
As the only freshman to have an ASB-approved club for the 2019-2020 school year, Remy Garcia-Kakebeen took initiative to create the campus' first Cyber Patriots club at Sunny Hills High School.
Inspired by her Cyber Patriots involvement at Parks Jr. High School, Garcia-Kakebeen said she decided to bring the club here since none had ever existed before.
"I have always been involved with computers and technology since early elementary school, so the club [at Parks] piqued my interest, and I chose to attend the meeting," she said.
The group is part of a national organization that defends operating systems, shows how technology can be used for protection and eliminates vulnerability and weak points in software such as Microsoft.
With six members signed up as of December, the freshman said she plans to recruit new members next March after Cyber Patriot competition season ends.
"We are hoping that we can get that message onto the announcements when the time comes so that students of all grades can check it out," Garcia-Kakebeen said. "I could also ask some of the comp sci teachers to suggest this club to their students as well."
Since Garcia-Kakebeen did not know the teachers well here on campus, she met with principal Allen Whitten before the school year started to see if Whitten can suggest an appropriate candidate for the club's adviser, which is one of the requirements to be an ASB-approved group.
The principal then suggested geometry and Algebra I teacher Minhoh Han, a first-year instructor at Sunny Hills.
"What wanted me to [become the adviser] was that it was a group of freshman students, so they can start it this year, and [I could] help it grow," said Han, who also attends after school practices every Monday at Troy High School and supervises club members during competitions. "It would kind of be their project for the next four years."
Han is optimistic about what this new group can bring to the Sunny Hills community.
"They have been doing very well [in competitions], especially for a freshman team," the adviser said. "I believe that they will do very well and continue to improve every time."
The Cyber Patriots defend such computer operating systems as Windows, Linux and Cisco. After eliminating vulnerabilities, the teams gain points from Windows and Linux, which gives a maximum of 100 points and Cisco, which gives a maximum of 30 points.
"I decided to join Cyber Patriots when I saw the team at Parks Junior High last year," club member freshman Daniel Lee said. "I saw that Cyber Patriots was related to a future job possibility for me, so I decided to try it out."
Competition season usually begins around early October and ends in early April depending on the success of the team, Garcia-Kakebeen said.
Meanwhile, the Cyber Patriots club members plan to use Troy's equipment on Mondays after school until competition season is over. After that, club members will figure out what equipment is necessary to have practices on campus.
"We hope to reach Nationals at least once within the next four years, and maybe even win the competition," Garcia-Kakebeen said.
Cyber Patriots meet Thursdays during lunch in Room 16.
View Comments (1)
Your donation will support the student journalists of Sunny Hills High School. Your contribution will allow us to purchase equipment and cover our annual website hosting costs.
About the Writer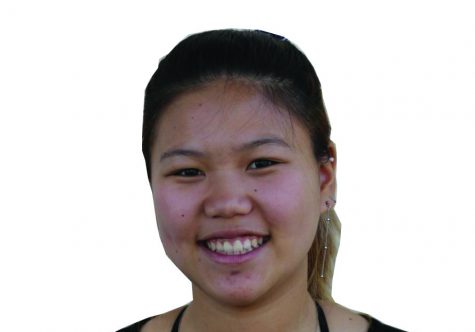 Alice Lee, Staff Reporter
As a new addition to The Accolade, junior Alice Lee passionately strives for innovative and intriguing stories to write and interest readers. To fill her position as staff reporter, she will aspire to constantly put out her proudest works. Having experienced writing stories online and on paper, she prepares for any types of stories in all formats. Lee is expecting many obstacles, but also a wonderful year in The Accolade with many accomplishments ahead.