'Tall Girl' falls short on sentimental moments but offers lots of laughs
She has blond hair and blue eyes and looks stunning, but one thing sets 17-year-old Jodi Kreyman apart from others – she's six feet, two inches tall.
Hence the title of the 101-minute, Wonderland Sound and Vision-produced film, "Tall Girl," which succeeds with several comedic scenes but falls flat at times in the dramatic ones.
Being so tall in high school might be an advantage for student athletes or aspiring models, but Jodi (Ava Michelle, "Dance Moms") doesn't fall into any of those categories. Instead, she finds herself dealing with peers who make fun of her height amid the typical "unpopular girl falls in love with popular boy" storyline.
Originally released for streaming on Netflix since Sept. 13, the film also focuses on Jodi's struggles with her body image by comparing herself to her older sister, Harper (Sabrina Carpenter, "The Hate You Give"), a cute, petite pageant queen.
"Tall Girl," directed by Nzingha Stewart ("The Catch"), follows a storyline in which the main character falls for the good-looking new student in school while her scrawnier, more nerdy best friend overtly pursues her.
However, the plot unfolds quite differently.
The seemingly handsome, foreign student named Stig Mohlin (musician and model Luke Eisner in his debut film role) becomes self-absorbed throughout the flick, knowing that he is the hot topic of the school.
Though he starts off as a kind and goofy student, he begins to string Jodi along, successfully bouncing between her and his girlfriend, Kimmy Stitcher (Clara Wilsey, "Ballers") — unable to decide who to choose.
Jodi's best friend, Jack Dunkleman (Griffin Gluck, "American Vandal"), whose friends refer to him by his last name, constantly prevents Jodi from having a relationship with Stig by interrupting their dates and giving bad advice to her.
Yet, he also involves himself with another girl who takes an interest in him while pining after Jodi.
Dunkleman's hypocrisy makes the audience feel unformattable and suffocated, evoking more emotion and allowing viewers to feel more involved in the film.
However, one thing that interrupts the film is Carpenter's Harper character.
At times, she livens up the movie in playing Jodi's older sister, but at other times, her character seems too over dramatic. Take the scene in which Jodi gives her speech at prom. Being the pageant queen she is, the older sibling interrupts a climactic moment in which Jodi gives her, "I am a confident girl, and I love myself," speech, ruining the overall mood.
Altogether, "Tall Girl" is a light-hearted, cute film that features many laughs — mostly from the awkwardness and creepiness of Dunkleman. To expect a sequel, though, would be quite a tall order.
Leave a Comment
Your donation will support the student journalists of Sunny Hills High School. Your contribution will allow us to purchase equipment and cover our annual website hosting costs.
About the Writer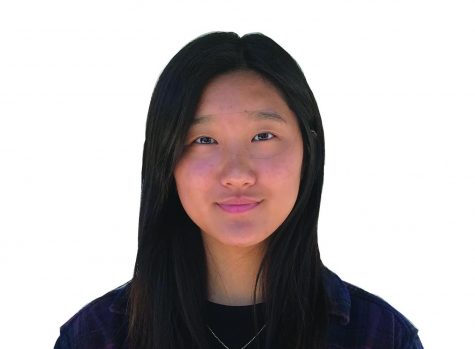 Charis Lee, Feature Editor
Now The Accolade's feature editor, senior Charis Lee has achieved her dream position to cover unique stories on all kinds of people, places and events. Other than being on The Accolade staff, she enjoys her time with art, music and books! Her favorite book has been Screwtape Letters by C.S. Lewis. Lee commits herself to various clubs and programs on and off campus, including the International Baccalaureate program, The Accolade and the Conservatory of Fine Arts.