Uno has been around for 52 years.
It's a simple card game of numbers and colors with the objective of being the first player to get rid of all of the cards in his or her hand. Uno is easy enough for a child to play and even win a couple of rounds. 
According to a November 2018 article by The Strong National Museum of Play, an estimated 80% of households that play card and board games together have participated in this numbers and color coding activity, which I started playing 10 years ago. The Museum of Play's online article also refers to Uno as "America's Favorite Game."
Even at Sunny Hills, I've seen students play "America's Favorite Game." One group of boys, in particular, even started playing this semester during lunch in The Accolade classroom.
"It's a very suspenseful game when it comes down to getting the last three cards, and then once you have the last card, you really have to hope on having the right color or having the right number," said sophomore Tate Garcia, who is among the group of students who play Uno during lunch.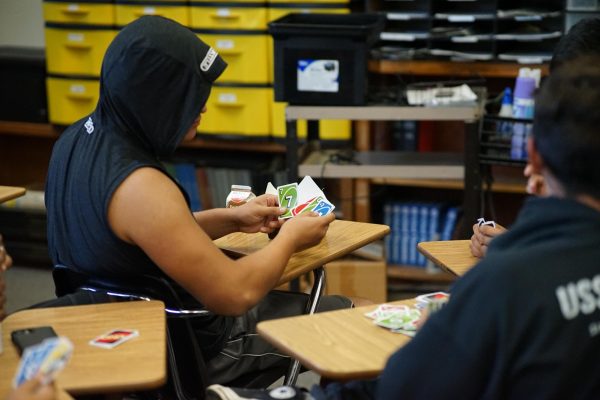 It seems like Uno has a large following on our campus, and maybe it's time to start a club (if someone does start one, I want some credit for my idea). 
So it caught my attention when I found out from my journalism adviser earlier this semester that the makers of the game, Mattel, offered to hire someone to become its Chief Uno Player, paying that person a salary of $4,444 per week for a month.
According to a Tuesday, Aug. 1, TikTok video, Mattel "is looking for [its] very first 'Chief Uno Player.' As 'Chief Uno Player,' [his or her] job is to play and teach people [its] latest game, Uno Quatro." The video goes on to explain that the applicant "should be on TikTok, be down to make fun videos and challenge [strangers] to play Uno Quatro at Pier 17, in the Seaport in New York City."
Personally, this is an absurd decision by Mattel and its money is definitely being wasted. It seems a bit extreme to pay someone almost $20,000 for a month's work.
@uno🚨do you have what it takes to be our CHIEF UNO PLAYER?🚨 are you passionate about throwing down the Draw 4 and playing the Reverse Card IRL? stitch this video, introduce yourself and answer these four questions:   what's your best memory playing UNO? what's your best Reverse Card moment? why shouldn't we SKIP you as the Chief UNO player? what's your fave version of UNO?   submit your video by August 10th at 11:59 PM PST and check out the link in our bio for more information.♬ Summer – Croquet Club
Unfortunately, the application for this "job" closed on Thursday, Aug. 10, and applicants had to be 18 or older and be willing to travel to New York for a month.
Had I known about this opportunity before the application deadline, I would have jumped at the chance to do so. Unfortunately, I would be ineligible to apply since I'm not 18 for another four months.
Anyway, I decided to email Mattel to find out how many takers it got and who ended up getting hired. After not getting any responses back, I went on TikTok on Oct. 11 and learned that the makers of Barbie selected Litzy Santana from Austin, Texas, to become its Chief Uno Player.
I'm not jealous at all (that's a lie).
In a Saturday, Sept. 16 TikTok video called "Four Questions with Litzy, the Chief Uno Player," Santana shares how she believes getting the position was a bit of "luck" and "loyalty." She then goes on to say how she's "been playing the game for as long as [she] could remember and [has] over 70 different editions of the game."
Honestly, I probably wouldn't have been this upset if it was some TikTok star with a million followers, but this woman only has around 500 TikTok followers and just seems like a normal person. Which means I definitely could've been in contention for the job had I been eligible.
Personally, I consider myself quite the Uno connoisseur, playing the colorful card game a few times a month with family. Playing Uno is one of my favorite activities during the summer or on a holiday break, but it almost always ends in an argument because each of my family members is extremely competitive. Looking back, I guess I'm not as committed to the Uno craft as Santana is, but I'm still allowed to be jealous.
Sanatana has begun playing Uno Quatro with a few different opponents; their battles are posted on Uno's TikTok account.
Simply put, it is absolutely absurd that a person will be getting paid almost $20,000 to play Mattel's new card game with other people. While it is possible that this will encourage more people to buy this new game, Uno is already incredibly popular, and I doubt that its sales will increase by a significant number.
It's a very suspenseful game when it comes down to getting the last three cards, and then once you have the last card, you really have to hope on having the right color or having the right number."
— sophomore Tate Garcia
Uno Quatro combines the basics of Uno's color and number matching with Connect 4, a game I mastered at 7 years old. Offering $17,777 to play a game that even my 6-year-old cousin could play is laughable. Just for some context, those who work an eight-hour day earning minimum wage in California gets about $124. Mattel will pay Santana, who is working four days a week for four weeks around $1,111 every day. (Crazy, right?) 
My initial desire to apply for this position if I were eligible came from my love for the simplicity of Uno. Some of my best memories have been spent playing Uno on vacation with my family. Another selling point of Uno is its small size makes packing for a fun trip simple. 
I have yet to buy Uno Quatro, but all this talk about it has certainly made me want to go out and give the game a shot. It's an extension of the Uno-verse after all, so I know I'll have a fun time playing it.
Meanwhile, I'll just have to wait until someone from Mattel or another game manufacturing company invents the next game and offers a "chief player" position.
Watch out Litzy Santana and other game aficionados. I might just buy 70 different Uno editions and take that next job offer – when I turn 18.
And I won't have to say, "Uno," to win.