The crowd roars for the Lancers' last sprint to the goalpost.
As the football stands rattle from the hundreds of feet stomping against the steel slate, one student's easel stands unbending. 
Earning himself the title of campus painter, senior Jake Merioles frequents school events with his large canvas and painting supplies, in hopes of capturing his high school memories.
"Painting at the football game was definitely my favorite outdoor painting site," said Merioles, recollecting his memory of the 2022 Battle of the Nations. "That experience was my first time painting in front of an audience, and it really forced me to develop my confidence in painting." 
As a junior, Merioles began exploring various art media during his spare time. His research led him to begin his outdoor painting series.
"I began in-depth research through books that I've read, which really taught me how to paint outdoors pretty confidently; that's how I came to paint at random places in school," he said. "I love just painting at random places and painting what I see, but there's a lot that goes into the meaning behind that."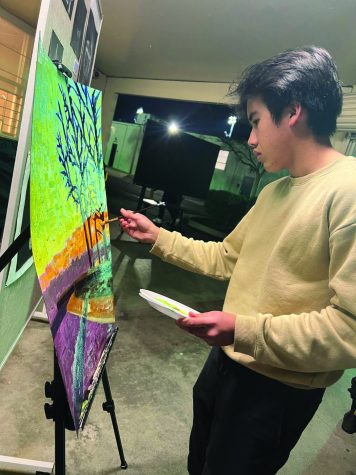 Junior Kasey Lee is among many of Merioles' peers who have witnessed him painting live.
"It was my first time seeing a student paint with a canvas at an event, and I found it really interesting," said Lee, who saw Merioles at work during the Jan. 24 Open House event on campus. "It was really cool seeing a fellow student demonstrate his talent like that for other students and parents to see."
Aside from canvas painting, the senior references images from Pinterest to create digital landscapes under his Instagram account @jake.merioles, averaging two pieces a month. Merioles also takes commissions ranging from $15-25 for his digital work and has generated approximately $300 in sales. 
"They have something to do with the experiences that I'm going through, whether that be heartbreak, challenges or other emotions," he said.   
The artist's mom, Shirley Merioles, notes her son's initiatives. 
"Even on our long trips, he likes to watch the scenery of the place, and I think that sparks more of his interest to do landscape painting," she said. "He likes to paint all the time, even on tiny subjects at home, which is interesting to us." 
Though he enrolled in art classes during middle school, the senior said it wasn't until high school that his fervent journey with art officially set off.
"I've liked art all my life, but during freshman year before [the pandemic], I met a group of friends who were super passionate about art and would do it in their free time," he said. "That wasn't a thing to me during middle school, but I met a group of friends who showed me what that was like." 
Art Club co-president senior Jonathan Kim also has praise for his friend's craftsmanship.
"I remember in freshman year, he only did art as just a pastime, but he grew so much as an artist," Kim said. "Jake has inspired me as an artist and a person — a risk-taker and someone who's committed to their passion. I admire his dedication and I aspire one day to be like him."
Enrolled in the International Baccalaureate [IB] art program for the past two years, Jake Merioles said he expanded his artistic expertise largely thanks to IB coordinator and art teacher Brian Wall's guidance.
"Jake's like the dream student; he's self-motivated, proactive, has a real curiosity to learn and he's really good at art," Wall said. "He has been the president of our club for the last two years, and he's really taking it to a new level."
As this school year's co-president and a long-time member of the Art Club, Jake Merioles has applied his knowledge of the craft through various projects produced on campus. 
"During my junior year, all the Art Club members collectively thought of design ideas for the Conservatory of Fine Arts [COFA] mural, which I compiled into a single design," said the artist, an active member of the COFA program. "It's like a stamp that I was here at the school."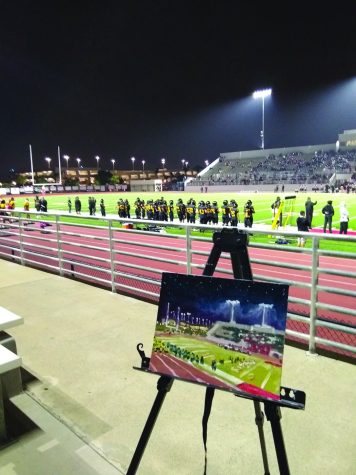 With the support of administrators and the Parent Teacher Student Association, he recently designed and piloted a mental health-themed mural with his club members' help. With large yellow words that read "You Matter," the work can be found near the entrance of the library.
"I've been hearing a lot about mental health events and clubs going on," said the artist who first developed the theme over the summer. "The mural is just supposed to let students have a resting space for their eyes and relieve their stress through an artistic and creative way." 
The senior has also been enrolled as an Engineering Pathways to Innovations and Change student for three years, learning the details of civil engineering. Though immersed within opposing fields, he hopes to conjoin his investments in both to uncover an intersection. 
"Throughout my engineering classes, I've been able to incorporate my creative ability as well," he said. "For example, with designing 3D models in engineering, individuals are going to have to think of creative ways to design one thing while another person could design it." 
Despite his plans to pursue a career in civil engineering at the University of California, Berkeley, the senior said he intends on continuing art as a pastime activity.
"I love how people are able to come up with designs for buildings to be structurally stable and also aesthetically pleasing," he said. "When I'm in college, I hope I'll have so many opportunities to have time for myself and what I do, so I want to keep art as a side hustle."
Following his high school career, the senior's mom anticipates his future as a civil engineer and hopes he can continue to hone his creativity through art.
"He's got so much passion in what he does as an artist, [and] his skills have improved a lot in the last few years working in both canvas and digital art," she said. "Art is a difficult skill to do, and you have to have that passion and talent to be able to accomplish your vision. As parents, we get inspired by his desire to do better in what he does every day."
Though his time at Sunny Hills comes to an end, Jake Merioles hopes fellow students can recognize the beauty and message hidden behind his murals and artworks across campus. 
"I think for me, art is all about discipline; sometimes I feel terrible about myself as an artist, but that's normal," the senior said. "I paint something because I want to show my feelings and experience, but also because I want to convey the beauty of something that I see."