For our last "Did You Know?" feature of the school year, The Accolade looks into the origins of some senior traditions — most notably, the wearing of togas and tutus as part of the Associated Student Body [ASB] spirit week for 12th-graders. The Accolade sends copy editor Seowon Han to investigate.
It's the last week of the school year for seniors.
Before they start their final activities the following week, like senior breakfast and graduation day, many opt to come to campus with the same outfit in line with the ASB's senior spirit week.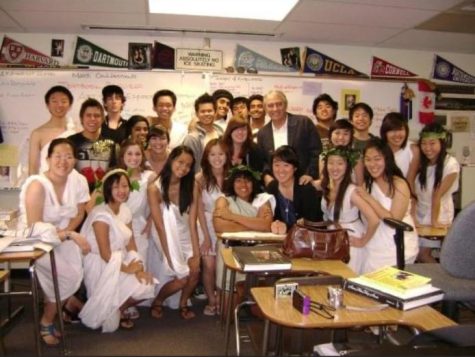 Toga Thursday, for example, will have seniors sporting long, white pieces of cloth, usually made of towels and bed sheets. The day after will be tutu Friday — the fluffy ones worn around the waist that come in various colors and that ballet dancers usually wear.
So how did togas and tutus come to be associated with farewells for 12th-graders?
Many suggested looking to see if the school's yearbooks ever featured photos of toga and tutu-wearers. However, Helios adviser Lindsay Safe said the annuals never captured such moments because the staff had already finished producing the books by then. And none of The Accolade's back issues ever had any articles written about such a tradition.
Based on interviews with alumni, including those who teach here, and the school's former ASB adviser, The Accolade was able to narrow down this tradition to nearly two decades ago.
TOGA! TOGA! TOGA!
That chant was first featured in the 1978 movie production of "National Lampoon's Animal House."
Starring comedian John Belushi — then a rising star from his performances on NBC TV's "Saturday Night Live" — the film focuses on the challenges that one wild fraternity faces in the Greek system, hence the title, "Animal House."
At one point, the guys suggest putting on a Greek-costumed toga party, prompting Belushi and several others to start the repetitive shouting of "Toga! Toga! Toga!"
After the film's release, it was eventually rebroadcast annually on TV in an edited version because it was rated R. By the 1990s, toga-themed dances started making their way into the Sunny Hills campus.
Former activities director Tiburcio Garcia, who advised the ASB from 1985-2012, said the students started wearing such clothing to non-ASB-sponsored stag dances — events run by the Parent Teacher Student Association [PTSA]. 
Newly hired English teacher Jill Lomheim, who graduated from Sunny Hills in 1997, said she recalls having a toga-themed stag dance during her freshman year, which was in 1994. 
"It was like a Greek toga stag dance, but I think that was it," Lomheim said. "There were no togas and tutus, so perhaps that's how it evolved."
Although senior Lyla Agarwala, a member of the ASB, hasn't watched "Animal House" before, she said she finds the original inspiration interesting.
"I knew about the spirit day, but I had no idea of the origin, so I think it's pretty cool," Agarwala said. "I like it when we have movie-themed dress-up days, so seeing one for seniors would be really nice for upcoming seniors."
2004 – THE YEAR THAT STARTED A TRADITION
Michelle S. Kim, who graduated in 2004, remembers participating in the toga spirit day her senior year. 
"It felt like a very high school thing to do because that's what you saw in the movies about college and high school, like 'Animal House' when they were really popular," Kim said. "It's not always easy to make 600-plus kids feel like one, so when you have things like the toga or spirit days, it feels like you're united."
Two decades after her high school graduation, Kim said she was glad to hear that the tradition continued. 
"I love it — it just feels like there's so much that changes, and it's not to have some things not change," said the '04 graduate, who now is a UX designer to enhance users' web experience. "It's a thread that kind of holds it all together so you can appreciate change and the things that stay the same."
CARRYING ON THE TOR–TOGA, OR NOT
Class of 2006 graduate Chi Young Ji, who now works as a substitute teacher in the Fullerton Joint Union High School District, said he remembers having the toga spirit day for seniors on their last day of school; however, he chose not to participate. 
"I didn't participate because I think it was a cultural thing, too; I was in South Korea pretty much all my life, and I moved here when I was in eighth grade," Ji said. "I think people wearing Greek stuff just appeared weird to me, so I didn't dare to dress. Now if I could go back, I would."
Reflecting on back, he said he wishes he enjoyed more of his high school experienced but was scared to try new things from the new culture then.
"Now looking back, I wish I realized that I was scared because back then, I didn't know that I just was trying to avoid it," the substitute teacher said. "So now that I know if I can do that, try new things here and there and they would allow you to grow into a better."
Despite finding little meaning in participating back then, Ji said he is pleased to hear about an ongoing tradition at Sunny Hills. 
"I think it's good that the seniors still have the tradition, as long as they know why they're doing it and what meaning it carries, and they have fun with it," he said.
After the senior tradition started in 2004, Class of 2009 alumnus Arvin Wali said he participated by wearing togas on the last day because he was interested in school spirit then.
"It was cool to have the experience to commemorate the passage of time," said Wali, who is currently a neurosurgery resident at the University of California, San Diego. "For example, when your toga day comes through this stage in your high school life, and you walk through it, I guess it gave a little bit of ritual in your graduation process."
Contrary to publicity initiatives taken by the ASB via Instagram posts on the senior class account, Class of '09 graduate Kawai Mang, who was part of ASB starting her sophomore year, said toga wearing was communicated among the students' discussions then. 
"I don't think there was a lot of formal organization like senior breakfast or prom," Mang said. "I think it was not really a class-wide activity; it was throughout the class, but I would say it was less than half of the senior class." 
After watching previous seniors celebrating their forthcoming graduation by wearing the garments, it was finally SH alumna Sahana Sankar's time to experience the cemented tradition in 2009 when she was a senior.
Sankar said she asked her mom to help her make a fitted, white gown because she wanted to use her mom's saris, women's garments from the Indian subcontinent with an unstitched stretch of woven fabric, for a pop of color. Even though her mom thought it was strange, she helped her daughter figure out a way to fashion the garment into a toga.
"It was a time to make memories with my friends since we would all be going our separate ways for college," she said. "It was a celebration of all of our hard work over the years and one last hurrah together."
TUTU TO YOU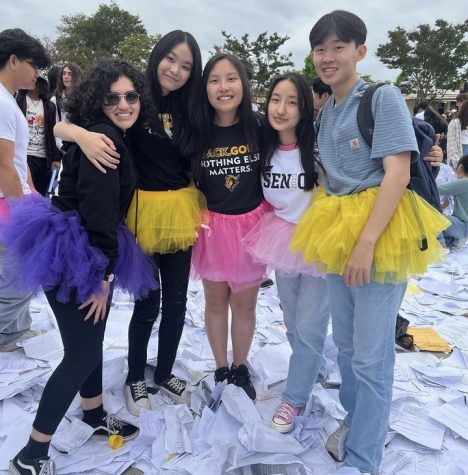 Additional to the togas tradition, tutu — a dress for classical ballet performances — formed as another senior spirit day. 
In the mid-2000s, Senior Girls Club, also known as Sugar and Spice, started wearing the tutus with their senior T-shirts during the paper toss on the last day of school.
Garcia said he distinctly remembers the Class of 2006 girls wearing their shirts and tutus because he took on as the Sugar and Spice adviser around then. 
"I think it's fantastic that seniors now still have the traditions," the then-Sugar and Spice adviser said. "I love these traditions because I think they build unity and promote participation and school pride. So I was always supportive of that."
THE TRADITION CONTINUES
The only year when seniors did not come to campus wearing these outfits was in May 2020, two months after California public schools were shut down because of the COVID-19 pandemic.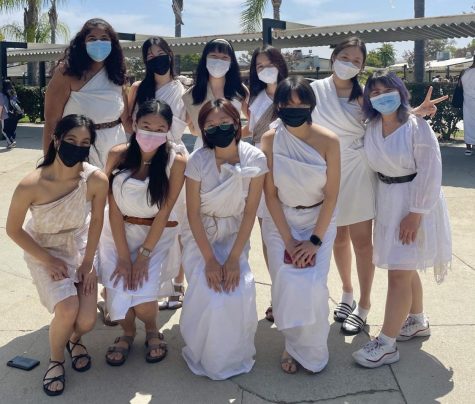 So for this school year, ASB members plan to keep the tradition going for as long as possible.
"I love this tradition as it is unique to Sunny Hills as a whole," said senior class cabinet president Sierra Chavez, who is responsible for creating and promoting the senior spirit week with togas on Thursday, May 25, and tutus on Friday, May 26. "I am excited to finish high school with an ongoing tradition."
Junior Daniel Jimenez, who saw seniors wearing togas in his sophomore year, said he is eagerly anticipating his turn to put one on next year. 
"My first thought was I get to pose for gym pictures in it when I'm a senior and walk around school flexing," Jimenez said. "It seems like a good way to end off the year, and I look forward to it because it's a cool way to dress up as Greek gods."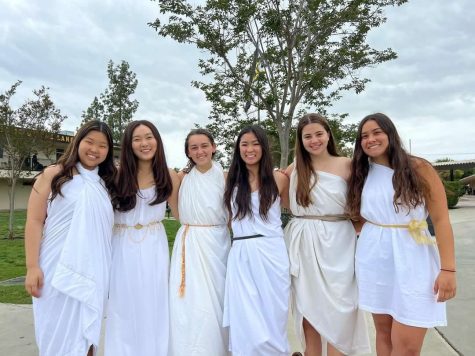 Although Lomheim said she did not have the togas and tutus tradition during her high school years, she said she is glad to see the culture form and have the seniors commemorate their graduation through this. 
"I also think it's like an incredible opportunity for students to memorialize their experience within the four years and create moments that are bonding," the English teacher said. "Anytime you transition, there's stress, there's anxiety, there's joy, there's sadness.
"But then to know that you're memorializing that journey is really sweet, and with a tradition, makes it even sweeter." 
Recalling his participation in the tradition, girls basketball coach and math teacher Jae Byun, who graduated from Sunny Hills in 2010, agrees.
"It was a memory of us feeling like we're finished and got to that point, so it was just like very fun times, it being the senior year," Byun said. "It's a fun tradition. It makes Sunny Hills what it is: fun and enjoyable."