Spanish teacher Gene Bordy's classroom walls showcase around 50 student-made film posters.
Disney's "Frozen" features a flurry of white alongside a pastel blue.
"Dora the Explorer" spotlights an eerie blend of pink, pink and orange.
"James Bond: Escobar Sword Against Bond" presents a striking contrast of white and black.
Somewhere on all these placards is the next print of the Spanish language.
These film posters are one part of Bordy's end-of-the-year project in which his students also recreate the film in their poster in Spanish. In fact, this has been an annual tradition since he first started teaching at Sunny Hills in 2001, with the exception of distance learning.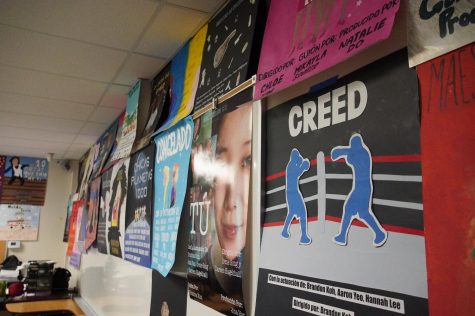 These eye-catching billboards, however, are more than just classroom decorations — they are part of the footprint Bordy hopes to leave behind as he retires this semester after a 22-year tenure.
"My legacy here is the movie projects my students do at all levels," Bordy said. "I challenge them to, not just the typical way, but make a movie more like Hollywood, encouraging  to change your angles, integrate music, title, credits, all those things."
Though the Class of 1974 SH alumnus hinted to principal Craig Weinreich about his retirement early in the school year, he turned in his resignation form in late March. For a majority of his colleagues and students, the world language teacher said he saved the news until the end of the school year because he didn't want to make a big deal of his retirement.
"His impact on the department and the students that have gone through there, preparing them for the next level, has been really second to none," Weinreich said. "He's been involved for a long time in a lot of different things."
Having taught all levels of Spanish, including Advanced Placement [AP] and International Baccalaureate [IB], Bordy said he first considered retiring in 2020 when the pandemic hit but felt that he would regret leaving after a full year of distance learning. The instructor then decided to postpone his retirement again to teach some of the same students the following year at the Spanish 3 level.
"Last year and this year, thinking that this might be the year [to retire], I was trying to walk away from responsibilities," he said. "This will be the last group, and there are certain ones that I've actually had for three years, so I got to know them pretty well."
LEARNING TO LOVE SPANISH
The alumnus recalls taking his first Spanish class during his sophomore year when the language was yet enjoyable. 
"The irony of things was I was a terrible Spanish student at Sunny Hills — I didn't grow up speaking Spanish and failed second year," Bordy said. 
It wasn't until Bordy started college at Biola University as an English major that he changed his attitude toward Spanish, he said. Because of a requirement to take at least three years of language, which he did not complete in high school, he enrolled to take Spanish in his first year of college.
"I met a very wonderful teacher, who I think had a real compassion for people trying to learn another language. … For the first time I started learning Spanish not because I needed a grade, but because I really wanted to learn," he said. 
The instructor said he's applied his college experience learning Spanish throughout his 22 years of teaching. 
"One general skill [I learned] was keep in mind that you're mainly dealing with people who this is not their language and try not to discourage anybody, regardless of the level you teach," Bordy said. "My saying is 'I can do more help for you in 10 minutes one to one than I can ever do in five classes of 55 minutes because then I can just focus on you." 
HOLA TO TEACHING
After earning a bachelors in English and a minor in communications, Bordy continued through Biola's credential program to receive his teaching credential in 1986. 
Bordy started his teaching journey in 1985 at Santa Cruz Cooperative School, a private pre-kindergarten through grade 12 school in Bolivia after first moving there as part of a missionary organization. This is also where he first started his movie project, except it was native Spanish-speaking students creating movie posters in English.
"I was thinking what's a good culminating project and something, as we're coming to the end of the year, might be a fun way to finish," the instructor said. 
Junior Francine Vudoti, who's been in Bordy's class for the past three years and chose to remake "Inside Out," for her movie project, said assignments like producing a flim allowed her to build a special connection with the language.
"
Spanish, what I really enjoy, is you're teaching people who have no background sometimes and every so often you see that growth
— Spanish teacher Gene Bordy
"I learned a lot about how to incorporate something I learned into something bigger," she said. "Mr. Bordy saying that this is his legacy is so true because it really makes an impact on you, and it's something you'll remember for many years." 
Bringing along his movie project idea, Bordy returned to the United States, and began teaching at Los Alisos Middle School in Norwalk for three years until he applied for a teaching position at Sunny Hills in 2001.
He soon received a call from the then-assistant principal, who knew Bordy prior through basketball, with a full-time job offer to teach both English and Spanish. By 2002, however, Bordy said he was relieved to learn that he could focus on teaching only Spanish with enough English teachers. 
"The reason I got the job was I did English and Spanish, and back then, I didn't have a classroom, so I walked around, which was challenging, but it was good to be back at Sunny Hills … Spanish what I really enjoy is you're teaching people who have no background sometimes and every so often you see that growth," he said. 
Starting in 2006 and for the next 15 years until 2021, Bordy was also the world language department chairman. During his time, the Spanish instructor has tried to create the best learning path for students, such as adding an honors course for Spanish.
"A lot of kids just didn't do level four of any type, so we didn't want to make it harder for kids who want to stop, but it kind of hurt the AP, IB kids because we realized we weren't having a curriculum that was as deep and preparing as it should be," Bordy said.
During his 22 years of teaching, the instructor has led an upward trend in Spanish AP Literature & Culture scores, guiding 96% of his last year's AP test takers to a passing score of 3 or higher.
"I've never had one that high, which makes it easier to walk away," he said. "My AP kids usually scored well on the test, and even non-speaking Spanish at-home people would pass it, so I felt really good about that."
OUTSIDE THE CLASSROOM
Coaching the junior varsity basketball team from 2003-2006 and co-coaching the girls basketball team for six years from 2016-2022, Bordy joined the sport he had even played professionally in South America. 
"I've always enjoyed helping players' individual skills get better, and then my biggest thrill is getting to watch them use it in the game," he said. "Being part of the coaching staff that went to the state championship game [in 2018] is probably the most amazing, surprising coaching experience." 
For girls basketball coach Jae Byun, memories with his assistant coach go all the way back to when he attended high school with Bordy's son in 2006. Ten years later, when Byun was hired in 2016, he asked Bordy, who was taking a break from coaching after coaching with Weinreich since 2003, to assist with coaching the girls basketball team.
"He actually gave me a car ride to my first ever varsity football game, so just memories like that make me happy for him more than anything that he's retiring," said Byun, who plans to keep in touch for the years to come, whether it's at basketball games or occasional in-person meetings.
The head coach said he values Bordy's contributions to the basketball program and especially cherishes going to the 2018 CIF state championship.
"He always had my back and was really encouraging, not just for me, but also to the girls," Byun said. 
Another one of Bordy's notable endeavors was commentating for basketball games as well as other sports, including football and water polo, for about 6-8 seasons starting in 2004.
"I got the best seat, and I'm right there in the center of the action, so I've got a great scene to watch a game," Bordy said. "I didn't do play-by-play, but I shared schools' scores, how many fouls, things like that in the announcements."
"
The other thing that piggybacks that is getting an encouraging note or card saying 'I just want to appreciate that you did this' — but I was just doing my job.
— Spanish teacher Gene Bordy
The Spanish teacher said he tries to be involved in student activities, such as being the adviser for Young Observers International. President of the club Vudoti said she appreciates Bordy's 
"Typically, I invite the advisers to come [to our meetings], but if they're busy with their schedules then I understand, but every time I send out like something for our meeting, Mr. Bordy always attends, which really means a lot to me," Vudoti said.
AFTER RETIREMENT
After this school year ends, Bordy said he hopes to resume his hobbies and go on as many excursions as possible.
"[I look forward to] being able to sleep in and traveling in the offseason when prices are better," he said. "I used to be a writer for newspapers … so also getting back into writing."
Though the movie posters will come down, Bordy said he will be taking fond memories of his interactions with students.
"It's always been special watching somebody improve," he said. "The other thing that piggybacks that is getting an encouraging note or card saying 'I just want to appreciate that you did this' — but I was just doing my job."