18 Questions for Top of the 2023 Class: Wrestling team captain Jeremy Lee graduates top of his class before heading off to Northwestern University
Question 1: How do you feel as one of the 18 valedictorians?
Answer: I feel accomplished to be one of 18 co-valedictorians at our school.
Question 2: What are your plans after high school?
A: I plan to go to Northwestern University for biomedical engineering.
Question 3: What are your career aspirations?
A: I want to get into arm/leg prosthetics. I feel like it's an underdeveloped field that's too inaccessible.
Question 4: How did you handle stress and manage your time effectively?
A: For stress, I try to ignore it as much as possible. I make sure not to take long naps and only go on social media after I finish all of my schoolwork.
Question 5: What extracurricular activities or leadership roles were you involved in?
A: The main extracurricular activity I participated in during high school was being a team captain of the wrestling team.
Question 6: What was the class that threatened your valedictorian status?
A: I was 0.7% away from getting a B during the first semester of Advanced Placement [AP] Spanish.
Question 7: What were some of your academic failures or setbacks, and how did you bounce back from them?
A:  Since I never paid any attention during online school, I never actually learned any Spanish, so when it was time to take AP Spanish, I had to constantly beg Maestra Deutsch to give me as many points as possible to get an A.
Question 8: Were there any teachers or mentors who played a significant role in shaping your academic journey? If so, how?
A: Ms. [Teresa] McCarty, Mrs. [Kelly] Kim, Mrs. [Shirley] Tan, Mr. [Andrew] Colomac, Maestra [Veronica] Deutsch and Mrs. [Kari] Morita all played significant roles in shaping my academic journey. They were all super nice, and it was clear that they cared about all of their students and the quality of education that we received. 
Question 9: How did you navigate the college application process, and what advice do you have for other students going through it?
A: I went through most of it myself since it was pretty self-explanatory. My biggest advice is to try to get your two letters of recommendation from a STEM and non-STEM teacher.  
Question 10: Whether it be school-affiliated or not, were there any specific projects or assignments that you feel were particularly impactful or rewarding?
A: During my sophomore year Dr. [Christina] Zubko sent me a Remind message telling me how great my acting was for a Macbeth project.
Question 11: What was a specific study habit or routine you had that helped you excel?
A: I always did the hardest assignments last so that I could remember the material from those assignments best.
Question 12: What is your most memorable experience or highlight from your high school years?
A: My senior night for wrestling was my most memorable experience.
Question 13: Where do you see yourself in 10 years?
A: Happy and successful.
Question 14:  What will you miss most after you graduate?
A: All of my high school friends.
Question 15: If you could go back to freshman year and redo high school, would you? What would you change?
A: I don't think I would. I'm happy with the experiences that I've gone through and the people I've met.
Question 16: Tell us a life lesson you learned at Sunny Hills.
A: The greatest life lesson that I've probably learned was to live in the present.
Question 17: As a valedictorian, what last message do you have for the underclassmen?
A:  Find something that you're passionate about and interested in and stick to it for as long as you can.
Question 18: What was the most useful advice you have received from someone about high school?
A: Don't quit.
Leave a Comment
Your donation will support the student journalists of Sunny Hills High School. Your contribution will allow us to purchase equipment and cover our annual website hosting costs.
About the Writer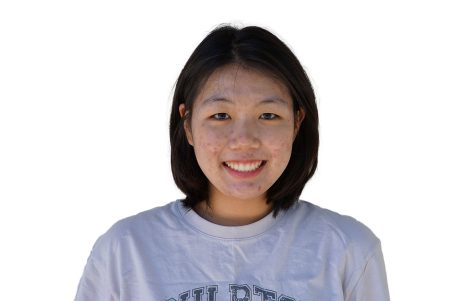 Jaimie Chun, Managing Editor
After an exciting first year on The Accolade staff, junior Jaimie Chun returns as the new managing editor. In addition to being one of the past year's copy editors, Chun was able to pursue her passion for writing by publishing stories for every section. She appreciates being able to speak to many people across campus and sharing their stories in The Accolade.

When not in the newsroom, Chun can be found on the softball field or participating in school clubs. A few of her hobbies include reading and hunting for music to add to her playlist.