18 Questions for Top of the 2023 Class: Jaiminh Park plans to pursue chemical engineering at UCI after graduating with straight A's
Question 1: How do you feel as one of the 18 valedictorians?
Answer: I am honored, of course, and honestly sort of suffering from imposter syndrome to think that I'd be grouped in with people who are known for being brilliant.
Question 2: What are your plans after high school?
A: I'll be attending UCI [University of California, Irvine] and pursuing chemical engineering.
Question 3: What are your career aspirations?
A: I hope to become a professor and research a safe, efficient way to create energy. I just really like chemistry, and that's what I've decided to be honest.
Question 4: How did you handle stress and manage your time effectively?
A: To be honest, I think I'm the most well-rested valedictorian. I sleep at the latest 11 p.m. and barely do any work outside of school. I just do all my work at school and try my best to forget all about school once I leave.
Question 5: What extracurricular activities or leadership roles were you involved in?
A: I didn't really do much; I just worked some, did some band stuff, tutored kids — nothing crazy. 
Question 6: What was the class that threatened your valedictorian status?
A: My academic course rigor is nothing like the others; I've always had easy classes. However, I'd say the only class I ever felt threatened by was the only English class in which my teacher hated my essays — AP Lit [Advanced Placement English Literature and Composition] with Mr. [David] Wolf. I've never had anyone abhor my essays as much as he did.
Question 7: What were some of your academic failures or setbacks, and how did you bounce back from them?
A:  Oh man, I've got quite a few. I think my biggest failure is not working hard enough during my high school years, leading me to go to UCI. I've bounced back by accepting myself and also realizing that I can't control the past, but I for sure can control the present, so I resolve to work harder than last time, every single time. 
Question 8: Were there any teachers or mentors who played a significant role in shaping your academic journey? If so, how?
A: The teacher that I for sure owe a lot to is Mr. [Andrew] Colomac. To be honest, I wouldn't have ever even thought about pursuing an academic activity if it weren't for the two years of chemistry with him. Now, I'll be majoring in chemistry!
Question 9: How did you navigate the college application process, and what advice do you have for other students going through it?
A: I'm the last person to ask about the college admissions process. I didn't think too hard about it and was just myself. Looking back on my failure, I'd say definitely focus on making an incredible personal essay and looking online and studying the ones that worked and then using your favorite as a model would probably help for the essay part at least.   
Question 10: Whether it be school-affiliated or not, were there any specific projects or assignments that you feel were particularly impactful or rewarding?
A: I liked the AP Chemistry final project, which was figuring out what chemicals are in an aqueous solution. That was fun.
Question 11: What was a specific study habit or routine you had that helped you excel?
A: I think not procrastinating is the only reason I am at the top. I think because I did stuff so early I got to sleep lots and not worry about school. 10 out of 10 — would recommend it. 
Question 12: What is your most memorable experience or highlight from your high school years?
A: Meeting new people and making lifelong bonds is definitely my favorite memory from high school. Despite being a misanthrope, the friends I made and the people I've met have shaped me, so I really am thankful and happy about that. 
Question 13: Where do you see yourself in 10 years?
A: I hope to have graduated with my doctorate and be researching.
Question 14:  What will you miss most after you graduate?
A:  For sure, the fun teachers; I've always had the best luck with teachers, and I think I met the best teachers that Sunny Hills has to offer.
Question 15: If you could go back to freshman year and redo high school, would you?
A: I definitely would. [Now that I'm] graduating, I have so many regrets that I want to be given a second chance. I would want to join more clubs, do more extracurriculars and try to meet more people. I wanted to meet new people and try basically everything. I feel like during my four years, I skipped a lot of opportunities and stuff, and I really regret that.
Question 16: Tell us a life lesson you learned at Sunny Hills.
A: Do everything you want to do and try everything. Else, you'll be left with regrets of what could have been. 
Question 17: As a valedictorian, what last message do you have for the underclassmen?
A: To the underclassmen, I'd like to say, work hard when you need to so you can play hard when you want to. Also, if you plan on going to a top 20 college, do lots of things and put in lots and lots of effort! You got this!
Question 18: What was the most useful advice you have received from someone about high school?
A: Really live every moment of it; it's never coming back.
Leave a Comment
Your donation will support the student journalists of Sunny Hills High School. Your contribution will allow us to purchase equipment and cover our annual website hosting costs.
About the Writer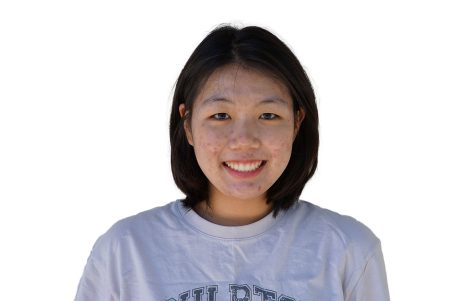 Jaimie Chun, Managing Editor
After an exciting first year on The Accolade staff, junior Jaimie Chun returns as the new managing editor. In addition to being one of the past year's copy editors, Chun was able to pursue her passion for writing by publishing stories for every section. She appreciates being able to speak to many people across campus and sharing their stories in The Accolade.

When not in the newsroom, Chun can be found on the softball field or participating in school clubs. A few of her hobbies include reading and hunting for music to add to her playlist.