18 Questions for Top of the 2023 Class: Emma De Leon reminisces about her memories as 4-year Dance 3 member, Bayanihan performer after graduating as valedictorian
Question 1: How do you feel as one of the 18 valedictorians?
Answer: I feel very honored as one of the valedictorians this year. It's a bit anticlimactic but it's a goal I've been working toward for a while, so I'm pretty happy about it. My parents were [some] of the top students of their class at their high school in the Philippines, so it feels great giving them something to be proud of.
Question 2: What are your plans after high school?
A: I plan to major in applied mathematics at UCLA. I'll probably spend my first year or so figuring out what I really like studying and then specialize more intentionally in that field when the time comes.
Question 3: What are your career aspirations?
A: Honestly no idea yet. The ultimate goal is to pursue a career where I'm not working to live but also not living to work.
Question 4: How did you handle stress and manage your time effectively?
A: The notes app on my phone. I make checklists on the notes app. I draft text message rants that never end up getting sent on the notes app. I formulate playlists on the notes app. There is literally not a single aspect of my life that can't be confronted, organized and put to rest in the notes app. Apple please sponsor me.
Question 5: What extracurricular activities or leadership roles were you involved in?
A: I served as co-president for Stress Less, vice president for Algebra Center and a dance coordinator for Bayanihan. I was also a member of Dance 3 since my freshman year, and I participated in the California Scholarship Federation, Link Crew and Conservatory of Fine Arts Council throughout high school.
Question 6: What was the class that threatened your valedictorian status?
A: Advanced Placement [AP] Calculus BC. The class itself was actually not that bad — my senioritis was just killer. By May I was already on my seventh week of saying "I'll just pull an all-nighter and do all my late work" without actually doing it. Sorry, Ms. [Shirley] Tan — love you and calculus though.
Question 7: What were some of your academic failures or setbacks, and how did you bounce back from them?
A: I signed up for a ton of different programs without having much rationale behind my participation. I took journalism as a freshman but didn't apply for the newspaper, joined the yearbook staff but resigned after one semester and enrolled in International Baccalaureate classes but switched to an AP schedule 10 days into junior year. Though I was really discouraged and ashamed of myself each time I gave up on these goals, I feel like I bounced back by recognizing that each experience helped me learn more about myself and what I value as a student.
Question 8: Were there any teachers or mentors who played a significant role in shaping your academic journey? If so, how?
A:  Ms. [Mariam] Tan and Mr. [David] Wolf were both really great mentors throughout my time in high school. I was in each of their classes for two consecutive years. Ms. [Mariam] Tan's classes helped me hone in on my interest in math, and it was also really fun getting to do Dancing With the Staff with her earlier this year. As for Mr. Wolf, I really appreciated the way he structured his classes and made an effort to keep us engaged. Mr. Wolf, if you're reading this, thank you for the memes.
Question 9: How did you navigate the college application process, and what advice do you have for other students going through it?
A: I mainly navigated the process by doing some research online and just keeping everything organized in my Google Drive and notes app. I didn't have a college counselor, but it was helpful working through the process alongside my friends and reaching out to my parents and older sister whenever I needed help or just someone to vent my frustrations to. The best thing I can say to other students going through is start early! Be honest with yourself, and don't be too self-critical because at the end of the day nobody really knows why they got in where they got in. Also fill out your Free Application for Federal Student Aid as soon as possible.
Question 10: Whether it be school-affiliated or not, were there any specific projects or assignments that you feel were particularly impactful or rewarding?
A: The routines I choreographed for the dance department were definitely some of the most impactful projects in my high school experience. I started out as a freshman in Dance 3, so I really looked up to the students who would get to choreograph for our concerts, and eventually I had the opportunity to become one of those choreographers myself all throughout junior and senior year. Choreographing routines was not only really fun, but it was also super rewarding because I made a lot of friends through this class, and getting to share our passion for dance on the stage in front of an audience has definitely been a core memory.
Question 11: What was a specific study habit or routine you had that helped you excel?
A: I honestly am not the best at studying, but being consistent with my day to day homework and being attentive and productive in class mostly kept me on track. I'm also not sure how well this worked but one of my life hacks is to make a really good iced drink right before I study because it'll melt if I ignore it and take a nap.
Question 12: What is your most memorable experience or highlight from your high school years?
A: Being a part of the homecoming court and performing in the International Food Fair [IFF] were definitely some of the highlights. I used to be really quiet and afraid of putting myself out there in middle school, so it felt really gratifying to participate in these activities that had me engaging with the whole school. IFF was especially fun because I got to showcase my culture alongside some of my closest friends. The same goes for homecoming court since I got to be a part of it with my friend Ashley.
Question 13: Where do you see yourself in 10 years?
A: I barely know what I'll be doing with my life in 10 weeks. Ten years from now is a matter of God's will at this point.
Question 14: What will you miss most after you graduate?
A: I'll miss all the people who made my time at Sunny Hills worth it, including my closest friends but also the people who I'm used to seeing everyday. I often looked forward to fifth period dance or after school Bayanihan practices as my motivation to get through each day, so I'll definitely miss seeing all those familiar faces after I graduate. I'll also miss not having to pay for my education.
Question 15: If you could go back to freshman year and redo high school, would you?
A: I wouldn't redo it. I'm content with how I spent high school, and it was fun at times, but I'm ready to move on.
Question 16: Tell us a life lesson you learned at Sunny Hills.
A: I learned not to live with regrets. Even though I've made mistakes and had my fair share of moments I wasn't exactly proud of, I've concluded that it's better to look back on those experiences as opportunities to gain new wisdom. Overall, I find that I'd much rather regret trying something that didn't work out for me than regret not trying at all.
Question 17: As a valedictorian, what last message do you have for the underclassmen?
A: Make time for the grind but also make time for leisure. Learn how to check your email. Do the assigned reading for your English class. Use your AP review books throughout the year instead of cramming after spring break. Get a gold card and attend events. As you get older, be the kind of person you would've liked to have around when you were younger. Most of all, stay humble and grateful. And don't be afraid to talk to new people — it's never too late!
Question 18: What was the most useful advice you have received from someone about high school?
A: From my mom, "You have to be selective in order to be effective."
This is part of an ongoing series featuring the Class of 2023 valedictorians. More Q&As will come soon.
Leave a Comment
Your donation will support the student journalists of Sunny Hills High School. Your contribution will allow us to purchase equipment and cover our annual website hosting costs.
About the Writer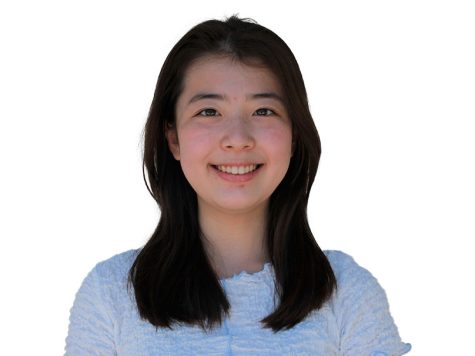 Susie Kim, News Editor
Returning as the news editor for The Accolade, junior Susie Kim enters her second year on staff with the goal of providing impeccable content for both print and online. Kim looks forward to analyzing various print layouts and incorporating more multimedia aspects to The Accolade's online platform.

Aside from writing stories, Kim is often found leading blood drives for the American Red Cross and volunteering for STEMup4Youth. She enjoys socializing with her Science Olympiad team members or listening to music by the boy band called Victon.