18 Questions for Top of the 2023 Class: After serving as the graphics editor for The Accolade, DaHee Kim decides to pursue her interest in engineering at Stanford University
Question 1: How do you feel as one of the 18 valedictorians?
Answer: Excited and tired. 
Question 2: What are your plans after high school?
A: I'm going to Stanford and planning to major in electrical engineering. 
Question 3: What are your career aspirations?
A: I want to help make consumer products like phones and laptops because I want to make the world better through things that are tangible to people. 
Question 4: How did you handle stress and manage your time effectively?
A: I have a dump journal on my Notes app, and I have a sticky note on my laptop to remind me to do things. 
Question 5: What extracurricular activities or leadership roles were you involved in?
A: I was a captain of the Science Olympiad, director of publicity for COFA [Conservatory of Fine Arts], graphics editor for The Accolade and was part of robotics.
Question 6: What was the class that threatened your valedictorian status?
A: Every single English class ever. 
Question 7: What were some of your academic failures or setbacks, and how did you bounce back from them?
A: I had a D in English for a hot minute in freshman year. I made sure to read the book next time.
Question 8: Were there any teachers or mentors who played a significant role in shaping your academic journey? If so, how?
A: Mr. [Brian] Wall definitely helped me tap into my artistic side during my school years. Without him, I would have probably stopped creating art. 
Question 9: How did you navigate the college application process, and what advice do you have for other students going through it?
A: You need to start your college application during the summer. I am being serious: jot down ideas, write down good sentences — do anything just to get the ball rolling. 
Question 10: Whether it be school-affiliated or not, were there any specific projects or assignments that you feel were particularly impactful or rewarding?
A: I created an interactive painting that would flash LED lights if there was enough light in the room. I loved how I combined both art and tech to create something much more meaningful than its parts.
Question 11: What was a specific study habit or routine you had that helped you excel?
A: The day before an English exam, I turn on the novel's audiobook and listen to it with my eyes closed.
Question 12:What is your most memorable experience or highlight from your high school years?
A: In ninth grade, our Science Olympiad team was eligible for the Southern California state competition. There was so much leading up to it, and I saw the seniors crying happy tears. 
Question 13: Where do you see yourself in 10 years?
A: Rich enough to afford a house. 
Question 14: What will you miss most after you graduate?
A: Competing. I am super competitive, so whatever it was, I was really invested. 
Question 15: If you could go back to freshman year and redo high school, would you?
A: Absolutely not. High school is an experience meant to be done once!
Question 16: Tell us a life lesson you learned at Sunny Hills.
A: Just be better next time. 
Question 17: As a valedictorian, what last message do you have for the underclassmen?
A: Do what you want when you want. Your happiness comes second to everything else, I promise. 
Question 18: What was the most useful advice you have received from someone about high school?
A: Keep it simple, stupid.
This is part of an ongoing series featuring the Class of 2023 valedictorians. More Q&As will come soon.
Leave a Comment
Your donation will support the student journalists of Sunny Hills High School. Your contribution will allow us to purchase equipment and cover our annual website hosting costs.
About the Writer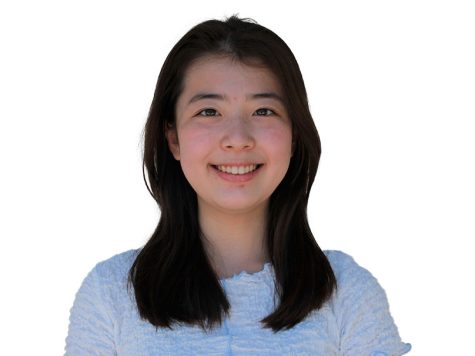 Susie Kim, News Editor
Returning as the news editor for The Accolade, junior Susie Kim enters her second year on staff with the goal of providing impeccable content for both print and online. Kim looks forward to analyzing various print layouts and incorporating more multimedia aspects to The Accolade's online platform.

Aside from writing stories, Kim is often found leading blood drives for the American Red Cross and volunteering for STEMup4Youth. She enjoys socializing with her Science Olympiad team members or listening to music by the boy band called Victon.