JOURNEY TO STANDOUT: AVID senior looks back on the path to success
Growing up, senior Krisi Patel felt deprived of the mother-daughter relationship she thought everyone else had.
At 10 months of age, her mother was diagnosed with poliomyelitis, a disease that restricts movement.
This disability, along with the fact that both her parents never received a high school diploma, led to Patel experiencing many difficulties until now.
"It hasn't been easy being the first child nor a first-generation student," Patel said. "I've had to climb and get through it by myself."
However, the senior's mother has become an inspiration to her over time.
"Even though disabled, she does everything she puts her mind to," she said. "I aspire to be like her, someone who never stops because of an obstacle and continues to push her way to success."
Patel said she was constantly encouraged to persevere through any hardships she may face.
"My parents always pushed me to exceed my expectations and reach for the stars," the senior said. "They've always had my back and were willing to help with anything I needed."
This encouragement was essential to her success throughout high school, leading to one of her greatest achievements: being chosen as the 2022-2023 Advancement Via Individual Determination [AVID] Senior Standout.
"When I found out, I cried because I'm the only child in my family and first-generation," Patel said. "It was something I never expected."
"
I knew I had to get past high school, earn that degree and create history."
— Krisi Patel
She initially joined the AVID program in 2018 in hopes of receiving academic support.
"I wasn't going to [join], but since it's a college-preparatory class, I thought it would help me with all of my other courses," Patel said.
The senior did not regret her decision.
"Not only was I able to get help with my other course work, but I also met people to discuss my college plans with," she said. "It really helped me set goals for the future."
Because Patel's parents never attended college, she strives to get the most out of the education they weren't able to receive.
"I knew I had to get past high school, earn that degree and create history," she said.
Patel said she applied for the AVID Senior Standout title because she met the eligibilities.
The requirements include a weighted GPA of 4.0 or higher, three or more years in AVID, two or more years of extracurricular activities, one or more leadership positions and no disciplinary issues or unexcused absences.
In addition to being the vice president of community service and fundraising for AVID, the senior balances her various extracurriculars as president of the Indian Student Association, vice president of Deviation Hip-Hop Club and a Link Crew leader along with her schoolwork.
"I'm an outgoing person, so I enjoyed participating in all these clubs, getting involved and getting to know people," Patel said. "Earning those leadership positions in multiple clubs allowed me to express my ideas and motivated others to participate."
On Nov. 18, 2022, AVID teacher Jennifer Papageorge announced the award recipients from third runner-up to the official Senior Standout — Patel.
All teachers and applicants of the program were present in AVID coordinator Jennifer Papageorge's room at the time of the announcement.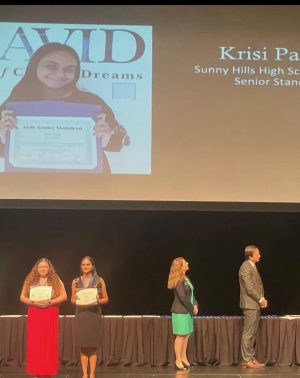 Patel's previous AVID teacher Lindsey Safe said Patel had a unique aspect to her, which made her different from other students.
"It's always the toughest decision ever to pick the AVID Senior Standout," the AVID teacher said. "But just based on having her and knowing her, she just exemplifies an AVID student."
The senior's family also echoed Patel's joy at receiving the recognition.
"I couldn't express with any words how proud I was," Patel's mother said. "I couldn't believe that my child had done such an amazing thing."
Although Patel did not expect it, her friends said Patel's character made the recognition foreseeable.
"She's optimistic and just very caring in general," said senior Elyssa Dimalanta, Patel's friend and a member of AVID. "If anyone was to get it, I knew it would be her."
After Papageorge sent out a link on Google Classroom for the Dell Scholars program at the beginning of the year, Patel applied on Nov. 25, 2022.
She was rewarded with a $20,000 fund, a laptop, textbook credits and other non-monetary support on March 16.
"I got very emotional and hugged all my teachers," she said. "I was beyond happy and grateful."
Aside from the Dell Scholars, Patel also applied for others including the Burger King Scholars program, whose results will be revealed sometime in May.
Patel said she plans to use these funds toward her postsecondary education.
The senior aims to attend California State University, Long Beach or the University of California, Riverside for their medical or biochemistry programs.
"I want to work in the medical field as it's been my goal to help people in need just like my disabled mom," Patel said.
Apart from the title of AVID Senior Standout, she believes the program has benefited her in other ways.
"I learned that there's a lot more to a student than studying and taking tests," the senior said. "I feel like AVID really made me grow as a person."
Leave a Comment
Your donation will support the student journalists of Sunny Hills High School. Your contribution will allow us to purchase equipment and cover our annual website hosting costs.