Superheroes never die.
At least they shouldn't.
Those behind Disney's Marvel Cinematic Universe, however, have definitely tossed that notion aside after not one, but two Avengers got the ax in 2019's "Avengers: Endgame." And nearly three decades before that, DC comics decided to get rid of its most famous hero from Krypton in "The Death of Superman."
So it doesn't come as much of a surprise when the Caped Crusader dies in the pilot episode of the CW's "Gotham Knights," which first debuted in March and has now reached its eighth episode as of Tuesday, May 9. Viewers never get to see Batman in action; instead, we get a closeup of his broken mask in the aftermath of his fall from Wayne Tower.
From then on, the first episode slowly explores what events occur after Batman's death and how the ensemble of protagonists (aka Gotham Knights) ends up working together to find the Dark Knight's killer (or killers). We meet the series' lead character, Turner Hayes (Oscar Morgan, "Zero"), the adopted son of Bruce Wayne, who is informed of Wayne's death and double life as Batman from the city's district attorney, Harvey Dent (the always reliable Misha Collins, known for his role in the CW's "Supernatural"). 
DC comic book fans will remember Dent as the man who ends up becoming the villain, Two-Face.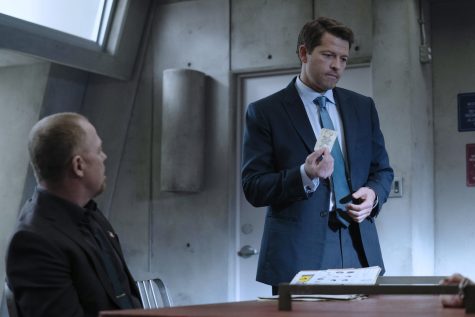 Speaking of villains, viewers learn of Batman's death after seeing a trio of thieves, Duela (Olivia Rose Keegan, "Daisy Jones and the Six") — the Joker's daughter — and siblings Harper (Fallon Smythe, "Saturday Morning") and Cullen Row (Tyler DiChiara, "Our Language is Chaos") being hired to break into Wayne Towers to steal something, only to end up being framed as the Bat killers. And then somehow, Hayes is set up to become the police's No. 1 suspect.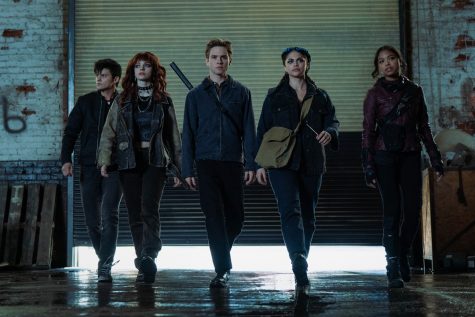 With no one else in law enforcement believing in their innocence, the teens form an unlikely alliance to break out of jail and uncover the truth while evading Gotham City's authorities — some of whom have been mysteriously paid off to ensure that they join the city's fallen hero. In a key sequence, Duela ends up revealing who or what might be behind all of this: The Court of Owls, a powerful underground organization that Batman was investigating just before his death.
From watching the next two episodes, viewers learn more about the Owls and other gangs who wreak havoc in Gotham now that they don't think anyone else can stop them. We also get to see a female version of Robin (Navia Robinson, "We Are Gathered Here Today"). All of these developments add to the plot's intrigue, prompting viewers to want more.
In the brewing chaos, Hayes reads through his father's journals but finds that certain pages have been ripped out, making him believe these will provide the answers he seeks. 
Like most Batman films, "Gotham Knights" offers a dark and gloomy setting. This somber mood effectively captures the suspense, which keeps viewers glued to their screens and remains one of the most alluring aspects of the show.
The characters themselves have their mysterious backstories, which add a variety of experiences for viewers and go beyond just an action series.
Throughout the series, Hayes continuously battles self-doubt, something that today's teens still face. This is heavily explored through his relationship with Robin, a girl his age and attends his school and who had gained Batman's trust to work alongside the Caped Crusader.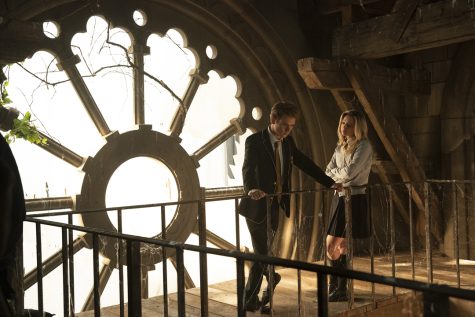 To keep things light at times, viewers are treated with Duela's wild and unpredictable nature. Despite her fierce personality and "bad girl" persona, the actress succeeds in getting viewers to find a likable character beneath the surface. 
By including moody teenage characters who speak in a foul yet extremely familiar manner, it's evident that the CW aims to appeal to Generation Z viewers. 
However, with this comes the drawback of the storylines being cliche and, at times, predictable, especially since the characters occasionally speak in an almost embarrassing manner. 
For example, in one scene from the first episode, Duela says to the Row sister about her underestimating her brother, "So, maybe it's time for you to recognize he's a total bad …" Then she follows that up with a one-liner, "Toodles!" 
Video used with permission from Warner Bros. Television
The show's producers should consider incorporating more subtle jokes to offset the fighting or dramatic scenes. They should also weigh whether the mystery of who killed Batman can go beyond one season. 
And if the show can survive and get a second season, viewers may get restless and want their main Gotham Knight to return from the dead.
Because superheroes never die, right?
"Gotham Knights" airs Tuesdays at 9 p.m. on the CW channel. Past episodes can be streamed on the CW website or app.