QUOTE OF THE DAY: Brothers' Instagram Reels garner up to 9.1 million views
Five days after Election Day last November, sophomore Jerome Bishay wanted to know what his peers on campus were thinking as he sat in the quad during lunch.
Not about politics, but about what might inspire, encourage or just make them laugh.
"I was right next to him, we were both sitting down," Bishay said. "The idea just popped into my head, and I told him 'Let's do it.'"
The younger Bishay then decided to take out a microphone he had in his backpack and walked up to sophomore Gunnar Okerlund during lunch.
"We originally bought the microphone for YouTube, but we started using it for Instagram content," Bishay said. "I just saw [Okerlund] walking by, and he's a friend, so I asked him 'What's the quote of the day?"
After Okerlund gave it some thought, he said he was ready, and Abanoub Bishay took out his phone and hit record while Jerome Bishay walked up, microphone in hand.
Okerlund chose the quote "If there's a hole, there's a goal," after seeing it on TikTok videos.
"If you're in a deep hole, you can't find your way out, you find your goal to get out of the hole," he said.
The brothers decided to post it right when they got home from school on the junior's Instagram account, garnering around 300 views on the first day.
The next day after school, behind the Performing Arts Center, Jerome Bishay walked up to sophomore Jared Dibble, and his offering for the quote of the day was: "If she can say, 'LOL,' without laughing, she can say, 'I love you,' without meaning it." After that got posted, it not only doubled the number of views from their first post but blew up nearly 6,000 times and got over 1.8 million views.
"After I saw that the video got over a million views I thought 'We have to keep going,'" Jerome Bishay said.
Since that second post, the brothers have continued their Quote of the Day encounters, collecting 26 statements from Sunny Hills students and staff before winter break and adding six more since the start of the spring semester. 
"We wanted to inspire people — we wanted to see if we can make videos that make a positive impact," Abanoub Bishay said.
"
We wanted to inspire people — we wanted to see if we can make videos that make a positive impact."
— Abanoub Bishay
So far, the highest number of views — 9.1 million — came from their fourth Quote of the Day: "People say nothing is impossible, but I do nothing every day," sophomore Moe Ibrahim said.
"Not all of the quotes we do are serious and inspirational," Abanoub Bishay said. "Sometimes we also just do funny or entertaining ones."
However, by December, the responses became more serious, after the brothers received positive feedback about how the quotes inspired them.
"Practice like you never won; play like you never lost," said junior Mateo Munoz, whose quote gained 2.5 million views.
View this post on Instagram
Senior Samuel Ryoo's statement picked up 4.9 million views: "The best time to start was years ago; the second best time to start is right now."
View this post on Instagram
Of all the quotes the brothers have posted, they believe the most motivational comes from Abanoub Bishay who said: "It's not about the New Year's resolution; it's about the execution," on Sunday, Jan. 1.
To keep the momentum going, during winter break, the two also went to New York to ask strangers the same question, "What's the quote of the day?"
The brothers posted a total of four Quote of the Day Reels over winter break, averaging around 105,000 views per video.
They decided to approach two other SH staff members: campus supervisor Leslie Rains who said "Be smart, not cool," which got over 49,000 views and librarian Laura Prompongsatorn who said "The more you know, the more you know you don't know," which amassed 203,000.
But when the two approached principal Craig Weinreich to say something last December, he declined the offer because he couldn't think of a quote fast enough. Even though Weinreich said he hasn't seen any of the brothers' posts, he recognizes their value.
"I think it's cool when people think that they have some of those types of things that they can add," he said. "It's their own little flair and personality to something."
"
I think it's cool when people think that they have some of those types of things that they can add. It's their own little flair and personality to something."
— principal Craig Weinreich
Sonya Joyce, the brothers' fifth period Advanced Placement Computer Science Principles teacher, found out about the Quote of the Day reels after Jerome Bishay showed her some and requested her to be in one.
"I'm really proud of them being able to find something that wasn't out of malice or being mean," said Joyce, who didn't accept the request because what the brothers are doing isn't school related. "I think they've kind of hit a niche, like their own little thing, and I think it's great that they're putting positivity out there."
More SH students are taking notice of what the brothers are doing with the quotes they have posted.
"They're entertaining, sometimes they're funny, sometimes they're more inspirational," said freshman Lesly Flores-Alvarado, who discovered the Reels last November while scrolling through her Instagram feed. "My favorite quote might be: 'If you don't believe you're the best, you'll never achieve what you're truly capable of'; it gives me a confidence boost whenever I need it and pushes me to do better."
View this post on Instagram
Since junior Rahil Kachhadiya's Wednesday, Dec. 7 interview, he said he has since made sure to watch all new posts, which have no set upload schedule.
"I think they're pretty interesting; they have a lot of energy in them," said Kachhadiya, whose statement, "The windshield is so much bigger than the rearview mirror; focus more on what's ahead of you rather than keep looking back at your past," attracted 320,000 views. "It's pretty fun; [Abanoub Bishay is] always engaging in interesting activities and experiments."
Jerome Bishay said some of the comments from viewers about the posts have praised his work.
"Some people write back and are like, 'Your quote really helped me out today,'" the sophomore said. "I like to see that we reached back to the community."
After seeing the success of Quote of the Day, Abanoub Bishay said he plans to continue creating content and hopes to eventually monetize his Reels but wants to slow down on producing work and focus on getting better quotes.
"I feel like recently the quotes have been getting less inspiring, so I want to focus on quality over quantity," Abanoub Bishay said. "I want to have more diverse content and expand more to our YouTube channel 'Coolestra' and other platforms."
Jerome Bishay shares his brother's views, and the two aim to successfully grow their social media presence, specifically on YouTube.
And if any students were to wonder what the brothers' quote of the day would be, they need only to look at Abanoub Bishay's Instagram bio: "Everything is possible for the one who believes."
Leave a Comment
Your donation will support the student journalists of Sunny Hills High School. Your contribution will allow us to purchase equipment and cover our annual website hosting costs.
About the Writer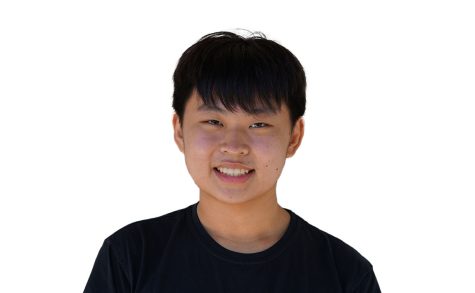 Justin Pak, Copy Editor
After taking the Journalism 1 course as a freshman, sophomore Justin Pak joined The Accolade as one of the copy editors. Through journalism, he aims to strengthen his writing skills, manage his time better and improve his social skills. As a cub reporter, Pak primarily wrote news stories and now hopes to write in other sections to broaden his horizons.
In his free time, Pak enjoys watching videos, playing games with friends or sleeping.