Around this time just a year ago, senior Rachel Miyamoto found herself filling out an application for an internship after looking for activities that could help her expand on her field of interest.
At the end of days of scrolling through websites, Miyamoto set her mind to apply for an unpaid high school intern position at the Holocaust Museum LA in Los Angeles.
Little did she know that she would receive a congratulatory email about her acceptance just a few months later that led to not only the internship but to numerous opportunities, such as getting selected among her co-interns to deliver a speech in front of Holocaust survivors and the museum staff on Thursday, Oct. 20, 2022.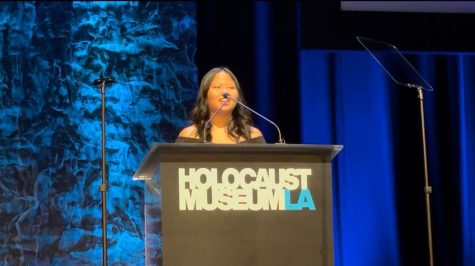 "When I was accepted, I felt extremely accomplished and excited as I knew this would be an incredible experience and opportunity of a lifetime," said Miyamoto, who interned from Monday, June 20-Thursday, July 14, 2022.
Besides Miyamoto, The Accolade has decided to interview two other seniors to share advice for this year's crop of students hoping to secure an internship this summer.
"I encourage others to try having internships because it was such a valuable learning experience and was very fun," she said. "It was incredible to learn from many different professionals in the community and also meet people who share the same interests as me."
The senior said her interest in history and the Holocaust sparked when she was building a research paper for the Chapman University Holocaust essay contest in her sophomore year. Then she enhanced her ability to analyze historical documents and movies through the summer program.
"
I encourage others to try having internships because it was such a valuable learning experience and was very fun.
— senior Rachel Miyamoto
"I think the internship really helped with that because I had to research a lot about Holocaust denial and distortion," Miyamoto said.
For those interested in searching and applying for internships, she suggests open-mindedly considering various programs.
"If you're looking for a certain internship, it's probably not going to exist because high school students are less likely to get internships as it's mostly for college students," the former intern said. "You might not get an internship for something that you were truly passionate about, but when you learn about it, you might actually really end up liking it."
The senior also emphasized the importance of researching when writing essays.
"I think researching the program is the best thing you can do for essays; they like to see that you're interested in specifically what that program will bring you and how specifically you will contribute to it," she said. "Make sure to speak on behalf of your best assets."
Senior Jake Merioles, another upperclassman who sought to get more experience in engineering, participated in the Boeing summer internship at its Huntington Beach facility from Friday, June 10-Friday, Aug. 5, 2022, to continue his interest in the field.
"My experience in Boeing didn't relate exactly to civil engineering, but it just opened me up to different types of engineering," Merioles said. "I got a taste of authentic tasks that the engineers at Boeing actually do."
Computer science teacher Myra Deister, one of the instructors who selected Sunny Hills students for the annual Boeing internships, said the opportunity was open to juniors in the Engineering Pathways to Innovation and Change program, Advanced Placement [AP] Computer Science A and AP Computer Science Principles classes. To be considered as an applicant, students had to submit a resume and a questionnaire that former engineering teacher Gracie Mariner provided.
"
What I'm looking for [in the resumes] is a student that goes the extra mile — students that are willing to go above and beyond in finding new things.
— computer science teacher Myra Deister
"What I'm looking for [in the resumes] is a student that goes the extra mile — students that are willing to go above and beyond in finding new things," Deister said.
To show these qualities, she suggests students spend extra time on their resumes.
"You probably want to do a good description of your extracurricular activities: What have you done besides just showing up? Did you take or assist a leadership role?" the computer science teacher said.
Merioles said discovering and having a passion for a subject as soon as possible helped him participate in clubs, extracurriculars and competitions. 
"Finding interest in participating in class can help to get recommendation letters, and getting to know my past three engineering teachers, Mr. [Daniel] Zanone, Mrs. Gracie [Mariner] and Mr. [Patrick] Salem helped me find my own passion in engineering," he said. "Self-studying civil engineering and participating in architecture competitions helped me think of what to write about in my essays and what to talk about in my applications and interviews."
As part of the final stage of the application process, business teacher Richard Bailey, Deister and Mariner conducted interviews. Merioles, one of the interviewees, said he advises students to avoid getting too nervous about it.
"Before the interview process, I had it all in my head about what I was going to say for each question, so when I went in to be interviewed, I sounded very robotic," he said. "I would say don't over-prepare, and overall, make sure to help the interviewers know that you're confident in yourself and you have a passion for engineering."
"
I would say spend a lot of time like pursuing your passion in ways that are immediately accessible to you so that you can have a foundation upon which NASA can then take you even further.
— senior Thaddaeus Kiker
In addition to the tips for the interview process, senior Thaddaeus Kiker, who participated in a paid software engineering internship at NASA Goddard from June-August 2022 after three attempts since his freshman year, advises not to be discouraged by rejections. 
"After getting rejected the second time I applied to NASA, I instead continued working a lot more with a professor; that was a huge summer for me developmentally with my programming and machine learning skills," Kiker said. "It turned out that it was actually a better experience, so I'd say things will work out, so just keep on pursuing."