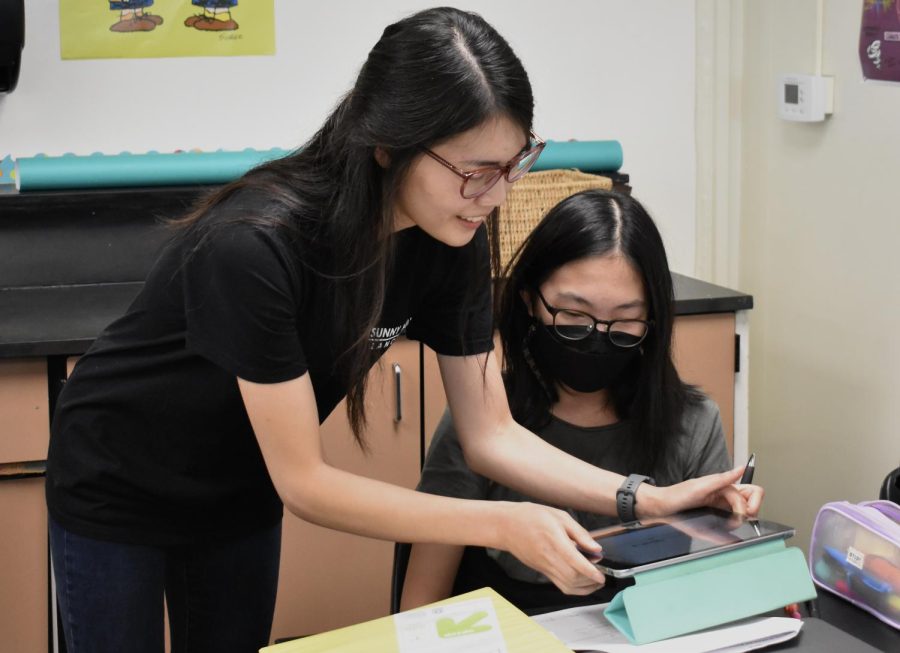 ALL IN THE FAMILY: New teacher follows in her mother's footsteps as an educator; aims to multiply the joy of math with her students
Christina Vu sat in the back of her mother's classroom at Rancho Alamitos High School in Garden Grove 20 years ago as she watched her role model teach math to Advanced Placement Calculus and Algebra 1 students.
It was at this moment that Vu – then a fourth-grader – said she knew she wanted to follow in her mother's footsteps and pursue a career in the education field when she grew up.
"It was fun to just sit in the classroom and watch her teach," she said. "As I got older, I really liked doing 'teacher' things, like writing on the board or helping out the teacher with passing out stuff."
Although the instructor originally wanted to be an English teacher when she was younger because of her love for writing and reading, Vu said she decided to stick with math because she enjoyed it more.
"I was able to help out my classmates with math and just the fact that they were able to understand the math after I helped explain it to them made me feel like this is something I could be really good at and help future students with," said Vu, who graduated from Villa Park High School in the Orange Unified School District.
Going from teaching her friends to students, Vu said she aims to make math a more approachable and enjoyable subject for her students. 
"I hope that by the end of the year, they will see math as something useful for them to learn and something that they can achieve because I know a lot of students don't like math," she said.
The math teacher said she hopes to get closer to her students and know them better individually in her three Algebra 1 and two Algebra 2 Honors classes.
"I hope that I can really build those relationships with them so they can feel comfortable just sharing about their hobbies, their life or just things that they did that day," she said. "I hope I can eventually reach every student that is in my class."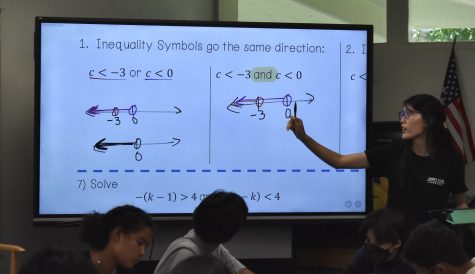 One way Vu's already making inroads is with her use of an iPad, which not many faculty members use in their classrooms.
"I like the iPad because then I can walk around while I'm writing to make sure the students are on task," she said. "Sometimes I like to take a picture of their work with the iPad and show it on the screen so that students can participate more, and it helps them stay engaged.
"And then it's not just me talking and doing the work all the time, but it gets the students more actively involved."
As a new addition to the staff and the second newly hired math teacher for the 2022-2023 school year, Vu said she anticipates cooperating with and getting closer to other staff and faculty.
"I hope that I can make a lot of positive relationships here with other teachers, especially the other math teachers, and that we can all work together to help the students become better each day," she said.
Before coming to Sunny Hills, Vu said she graduated from the University of California, Irvine, in 2016 with a bachelor's degree and teaching credential in math. She then taught Algebra 1 and Geometry at El Toro High School in Lake Forest from 2016-2022.
"It was a good experience," she said. "I think any starting teacher starts out with a lot of challenges, but as I got used to teaching, I really liked the community there. They had a lot of school spirit, good students and a good community overall."
Principal Craig Weinreich was also impressed with Vu's resume.
"I think her extensive math background and experience that she's had with teaching will make her very valuable to us," Weinreich said.
Vu said the welcoming atmosphere during the interview, which took place in May 2022, was one of the deciding factors in her choice to come teach at Sunny Hills, which is closer to her home than her previous campus in Lake Forest.
"I went into the interview, and I just remember everyone being very nice and welcoming," the teacher said. "From the questions that they asked me at the interview, I just had a feeling that this was a really good school district that I would want to work at — where they are very supportive of their students and teachers."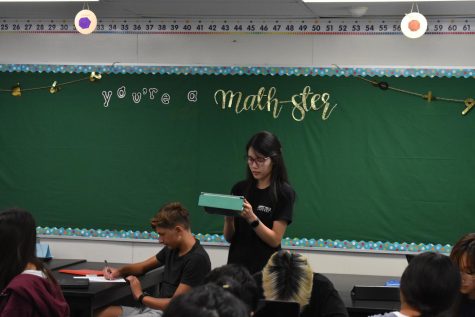 Sophomore Kailyn Lee, who is in Vu's fourth period Algebra 2 Honors class, said Vu's amiable nature left a positive impression on her.
"My first impression of Ms. Vu was that she is very friendly and enthusiastic," Lee said. "I could tell she was excited to help us learn. Sometimes, I get intimidated when meeting my teachers for the first time, but Ms. Vu was approachable from the start."
Freshman Elijah Orlino, who's in Vu's fifth period Algebra 1 class, said he also admires the new instructor's kind and gentle approach with students.
"I definitely like her teaching style because she's very patient, and she'll adjust to your pace," Orlino said. "If someone doesn't understand something, she'll help them have a deeper understanding of that, which is really helpful to me."
Aside from teaching her classes, Vu is the adviser of the Mini VIDA club, a new group formed for anyone interested in volunteering at animal shelters.
She is also active in church activities and enjoys spending time with family and friends. Outside of socializing, Vu said she likes playing the piano and guitar and often goes on walks or hikes.
While the school year is nearly half over, Vu wants to ensure that she remains approachable to her students while still adjusting to a new campus culture and environment.
"I'm always open to students coming and saying, 'Hi,' or just wanting to hang out and talk," she said. "I'm hoping to learn a lot even though I have experience as a math teacher before at another school.
"I feel like I'm starting fresh, and I'm looking forward to what the [rest of the] school year will bring."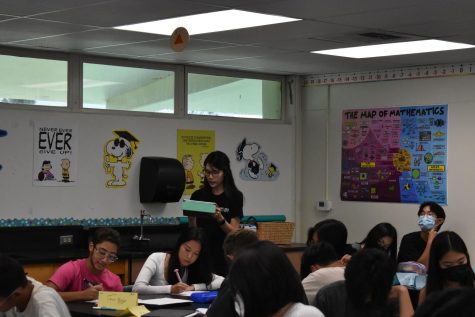 And although her mother is still teaching at Rancho Alamitos High School in Garden Grove, Vu said she has never thought about reversing roles and asking her role model to sit in the back of her class to give her feedback on her instruction methods.
"I haven't asked my mom because I think the teaching methods have changed a lot since she became a teacher," she said. "And also, it would take my mom away from her own school."