DANCING WITH THE BOYS: Baseball team joins Dance Production in first joint workouts
Daddy Yankee's "Gasolina" starts blasting from the speakers in Room 130, the dance room, during sixth period.

Sophomore Dance Production [DP] member Lauren Bromley starts the zumba workout, hopping and swinging her arms up and down, corresponding to her hips popping side to side. 

Nathan Le

Immediately, everyone behind her follows along.

The intensity continues for another five minutes before the music changes to Don Omar's "Danza Kuduro."

Nathan Le

Then 15 minutes later, dance instructor and DP coach Leiana Volen walks toward the light switch to turn off the lights.

"You've got to create the mood," Volen says. "I feel like it makes it feel less like practice and more like an event because the lights [being off] bring the energy."

Nathan Le

Soon, the music's tempo slows down as the dancers hear Selena's "I Could Fall in Love."

Usually after school, those entering Room 130 would notice only girls from Dance Production performing such routines. But on Friday, Oct. 21, 10 boys from the varsity baseball team joined them. 

It was the culmination of three prior joint workouts between DP and the baseball squad.

"Our coach talked about it, and I was a little surprised that we were going to work out with the Dance Production, but it was fun working with them," said junior Tyler Simkins, who plays outfield on the team and has been a varsity starter since his freshman year. "I thought it was cool how we both wanted to work with each other."

The team's co-captain, junior Lex Hou, was excited to try out this unprecedented collaboration when his head coach, Ryan Bateman, had told him about it earlier this school year. 

"It's a different experience than we do with our own workouts," said Hou, who plays second base and has been a varsity starter for two years. "It's fun to work out with other people [besides] the baseball guys and try something new for a better experience."

"

It's a different experience than we do with our own workouts. It's fun to work out with other people [besides] the baseball guys and try something new for a better experience."

— junior Lex Hou

That something new could also lead to better results when the team takes to the baseball diamond next semester. 

"Our job is to help the baseball team not only strengthen their muscles, but also learn how to take control of their movement," said senior Jaden Michel, DP co-captain. "Through these workouts, we get to introduce the baseball team to a new muscle they have been neglecting."

Bateman, who will start his second year next semester as head baseball coach, was the one who originally approached Volen in the start of the school year with the idea of sending his players to collaborate with the all-female Dance Production squad in hopes of improving his team's rhythm and coordination.

"This is a fun way to expand our imagination and create some friendships with other teams on campus," said Bateman, who last season guided the Lancers to their first Freeway League title since 1991 followed by a CIF playoff appearance that ended in the second round. "We're trying to facilitate this workout in ways that are engaging for both teams."

Volen said she had no reservations upon speaking with Bateman about his idea.

"One of my favorite parts is that I don't typically teach a lot of boys, [and] boys bring a different setting," said Volen, who has taught dance here for seven years and has only had one male student on DP who graduated last year. "A lot of teamwork happens between the DP and baseball team because a lot of athleticism goes under dance."

The workouts – Sep. 14, Sep. 28, Oct. 7 and Oct. 21 – typically last 30-40 minutes, focusing on strengthening stability, balance and teamwork for the baseball players.

The first and third collaboration involved everyone using various equipment while in stations such as trampolines, resistance bands and dumbbells. Meanwhile on Sept. 14, the baseball team worked on coordination and balance while traveling across the dance floor, Michel said. On the last day, they danced to zumba.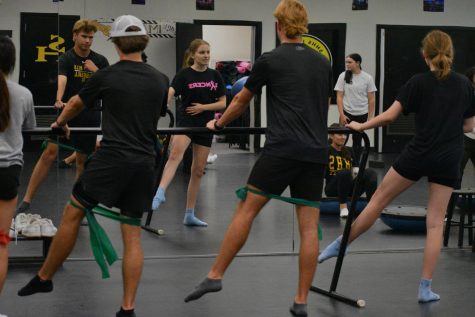 The joint workouts have hit a homerun with the girls on DP.
"When Ms. Volen introduced this new program to me and the other captain, Jaden, I was confused and also wondering how this was going to benefit both DP and the baseball program," said co-captain junior Ashley Hong, who has been in DP since her freshman year. "But as we kept practicing [together], I realized it's not just helping the baseball team with coordination, but it also helps us lead and take initiative by teaching dances and choreographies."
The collaboration has also had its funny moments.
Hong said she has witnessed gum falling out of baseball players' mouths while they were doing flips and cartwheels.
"My favorite part is seeing how the baseball team is struggling," she said. "It's really funny how they're putting the effort to become better baseball players. … It's funny to see how they're struggling to do something that's normal to us."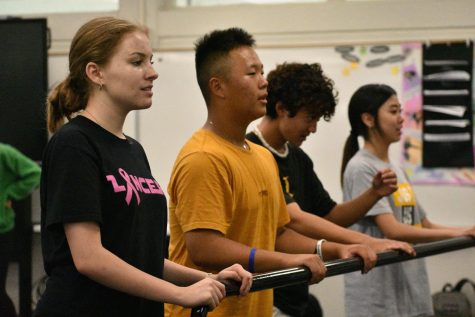 Some of the baseball players said they have a newfound appreciation for their athletic counterparts.
"It's cool how they can do all these weird stretches and do what they do," Simkins said. "It makes me gain more respect for them." 
Although Friday, Oct. 21, was their last collaboration, the two squads found themselves together again on Oct. 29, the Saturday before Halloween. But instead of being in Room 130, they ended up in the bowling alley at Bowlero Fullerton on Lemon Street.
Bateman had already planned a team outting at the bowling alley, but he decided to ask Volen and her DP squad if they would like to join them in the spur of the moment.
"It was super fun because everyone was just everywhere in multiple bowling lanes," said Volen, who brought her family there as well. "The main purpose was to have everyone have fun with each other."
Junior DP member Addison Cannon also had a good time.
"I think it was a good way to interact with other people you usually wouldn't," Cannon said.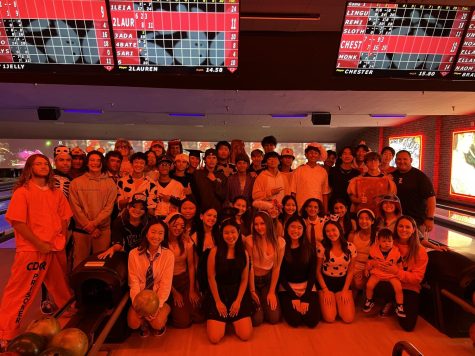 Bateman said he hopes to continue collaborating on workouts with DP in the future. 
"As long as [Volen] is on board, we discussed reciprocating the favor by inviting DP to do some workouts with us," the coach said. "I'm big on this community and for this school to grow as it takes collaboration and partnership."
Simkins is looking forward to that possibility.
"It would be fun if they were able to do baseball with us on the baseball field because they would be experiencing something that we do every day," he said.
For some on DP, that might be going a bit too far.
"I definitely don't want to be working out on the field," Hong said. "It should just stay in the dance room because we're already busy enough."
Leave a Comment
Your donation will support the student journalists of Sunny Hills High School. Your contribution will allow us to purchase equipment and cover our annual website hosting costs.
About the Writer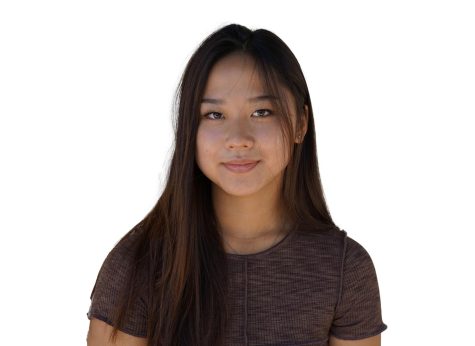 Euree Kim, Staff Reporter
Entering her first year as a staff reporter for The Accolade, sophomore Euree Kim hopes for a great start during the 2022-2023 school year. Kim experienced writing for The Accolade's cub issues twice and is working her way up to improve throughout her next three years of journalism in high school.
Aside from being an active journalist, Kim plays for the girls basketball team and is involved in volunteering for community service, such as tutoring for Young Leaders of Orange County. She enjoys hanging out with her friends and going on vacation.