First-year baseball head coach's 'Be Great' mentality has led to team's Freeway League title — the first since 1999
First-year coaches often talk to their players about winning league titles and CIF championships. But few have seen that kind of success happen in their inaugural seasons.
Sunny Hills baseball head coach Ryan Bateman is the exception.
The newly hired leader of the Lancers has done something his predecessors in more than two decades haven't accomplished – win a Freeway League title.
The last time that happened for Sunny Hills baseball was in the 1998-1999 season, 23 years ago.
"Our goal is to build champions," Bateman said, referring to his coaching philosophy in an email interview. "I believe that success is habitual and that we need to strive for excellence in all aspects of our lives.
"Within the baseball program, we often challenge each other to 'be great!' It often gets chuckles from the players in a joking fashion, but the sentiment still resonates true."
Since being great enough to take sole possession of first place in the Freeway League after a 4-10-1 league record during the COVID-19 shortened season last year, the 11-4 Lancers (18-11 overall) defeated Apple Valley 5-4 last Friday, May 6, in a home, first-round CIF game and will play on the road against Citrus Hill (16-5) Tuesday, May 10.
"I'd like to compete for the state championship, so we're definitely championship-minded," he said. 
Bateman was hired last August; at that time, he said he was choosing among three different positions at local high schools but ended up choosing Sunny Hills for its high standards and long-term stability.
Before accepting the job here, Bateman said he played baseball for Cerritos College as catcher and first and third baseman. He then coached baseball and football at Santa Fe High School from 2005-2015 and baseball at Fullerton College [FJC] until 2017.
"Since leaving Fullerton College, I've taken some time to continue coaching at local high schools in varying capacities, while prioritizing loved ones. … And most importantly, I was married in July 2021 to my best friend and now beautiful wife, Lauren, with whom we are expecting our first child this June," said the first-year coach, who also in that span earned a bachelor's degree in psychology from Grand Canyon University and is working toward completing his master's degree in special education this fall, also from Grand Canyon University.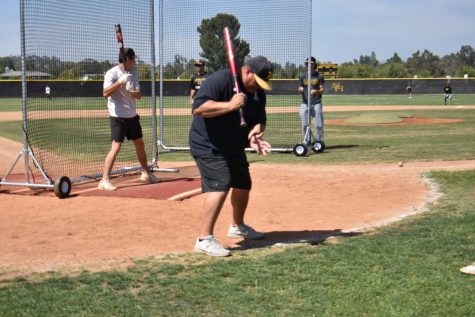 Bateman credits his success and championship-coaching mentality from two of his mentors: the late Jack Mahlstede, previous head football coach of Bateman's alma mater – Santa Fe High School in Santa Fe Springs in Los Angeles County – and current Santa Fe High head baseball coach Pierre Romo.
"Mahlstede taught me the standard of excellence and blue-collared attitude that is required to create and maintain success," he said. "I first played football for him from 2000-2003 with a combined record of 32-7 with three undefeated league championships and three trips to the [CIF] semi-finals. 
"As his assistant coach from 2005-2012, we had a combined record of 70-38 with seven league titles – five undefeated [squads] – and double-digit playoff victories. He taught me to keep raising the bar of excellence and hold everyone in the program (including coaches) to those standards. He also taught me to invest in the person (rather than the athlete) and treat those within the program as part of my extended family."
Bateman said it was Romo who gave him his first shot as a significant role player within an athletic program.
"Beginning my baseball career on the freshman staff, he groomed into his right hand man and varsity assistant coach within the span of a couple years," he said. "With coach Romo, I learned all of the behind the scenes efforts that it takes to run a successful program.
"He also allowed me to work through many ideas and mistakes along the way, which helped to mold the philosophy that I implement today. As we still maintain a strong friendship, I continue to consider him to be one of my most influential mentors and supporters."
Those early experiences eventually paved the way for Bateman to join the Fullerton College baseball coaching staff, which was overseen by then-leader Nick "Skipper" Fuscardo.
"That FJC staff taught me a higher level of baseball knowledge and how in-depth the 'game within the game' can be," he said. "That year we advanced to the Southern California Super Regionals and helped over 10 players reach the MLB draft or high-caliber NCAA programs."  
Developing those strategic aspects of the game has helped Bateman make a significant impact on his baseball players like left fielder, junior Dustin Staggs.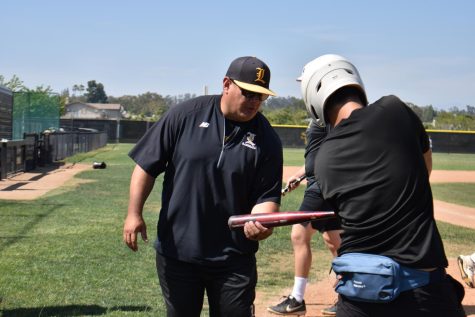 "I think that coach coming into the program was a much-needed thing, and the assets that he brings are like no other coach I've had," Staggs said. "Our goal at the beginning of the year was to take things one game at a time and try to take home a league championship."
Athletic director Paul Jones said Bateman embodies the goals of the athletic program, which is to instill the trait of a champion into student athletes.
"He's a very good communicator, and we have the same philosophy in coaching, and that coupled with his communication skills makes him my top choice," Jones said.
Catcher senior Matthew Cho also praises Bateman for helping boost the team's confidence.
"He's believed in us and trusted us to win games, and he's really a coach who wants a unified team," Cho said. "He's done that for us, and that's why we're No.1 in the league."
Bateman aims to keep it that way beyond his rookie season at Sunny Hills.
"If we can challenge ourselves to be our best and constantly attack life with enthusiasm, that standard of personal (well-rounded) excellence will translate to the baseball field," Bateman concluded in his email interview. "I firmly believe that winning games/championships is a byproduct of a blue collared attitude and constant progress toward our life goals."