THANKFUL TO GET OUT: One of the artists behind the breezeway mural speaks up about how she ended up with the offer of a lifetime to tell her story
Just before the end of the 1995-1996 school year, around five students participated in a mural-painting project between the main breezeway here on campus.
Now, 26 years later and with Thanksgiving approaching next week, Shanks looks back at the time she spent with her fellow art club members as a safe haven from her traumatic past — as a member of an evangelical cult.
Shanks said her father, Timothy Geftakys, and grandfather, George Geftakys, formed a small Fullerton cult in 1970 called The Assembly, which forbade her from various everyday activities, such as painting her nails, listening to pop music or watching television.
"It's interesting because when you're really young, you don't know the difference," she said. "So for a while, I didn't know all the things that we were living without."
They highly disregarded feminism, and women never had the same rights as men, she said. Men always placed women at fault for meticulous details, such as not wearing their religious dresses long enough with several layers underneath during prayer meetings every Thursday night.
"Because of how we were raised, we didn't believe in just trusting people, and we thought the government was out to take us away from our parents," Shanks said.
Online reports about The Assembly showed that the founder, Shanks' grandfather, died on Aug. 10, 2014. Shanks was unable to provide any contact information for any current Assembly members who are not part of her family if the group still exists.
She attended a local cult school called Cornerstone Academy, which enrolled less than 100 students from the evangelical group, until ninth grade when the group lacked competent teachers to teach higher education.
"Everyone in the cult were kind of living in this tiny little world, and then we were dropped into public high school; that was really the first time I interacted with the real world on a regular basis," said Shanks, who still remained in The Assembly after entering Sunny Hills. "I think that's when I really started getting curious about the world."
During her four years at Sunny Hills, Shanks said she ended up engaging in many on-campus activities with friends outside of The Assembly, such as painting that mural, which still stands between the main breezeway, and earning a $1,000 scholarship. Gradually, she broke away from cult traditions, deviating from her parents' expectations.
Knowing the cult viewed women, children and people of color as second-class citizens, she said she couldn't spend any more time with its members after being exposed to the world that she had been taught was dark.
In December 2002 at age 23, she said she made her life-changing decision: "It was time for me to leave [the cult]. I could not be in a group that sacrificed women and children so that a few men could stay in charge."
Leaving took her a lot of courage since she was afraid everyone in the cult — her family, friends and loved ones — would shun her completely, Shanks said.
The transition was difficult, and Shanks said she sought food stamps for financial support to help feed her two children. 
"It took a while for me to kind of work through all the things that I had been brainwashed to believe," Shanks said. "That took me a while, but it's a slow process, and leaving was the first big step." 
Now, her parents frequently visit to spend time with Shanks' children but are prohibited from mentioning religion to them, she said. 
Learning to grow out of her brainwashed beliefs was a long process, but Shanks said she began to dream of career aspirations and overcame cult values, such as undermining the impressionist movement and viewing everyone through the lens of holding incorrect spiritual beliefs.
"As my circle widened, and I started getting friends outside of The Assembly, I started building a life outside The Assembly," she said. "I started seeing how small my world had been."
Shanks kept her traumatic history as a secret among her friends but opened up for the first time in September 2017 during a five-minute presentation for The Moth, a non-profit organization dedicated to the art and craft of storytelling.
Among the listeners were curators of TEDxNatick – a subcategory of TEDx located in Natick, Massachusetts – Steve Gullans and Stenie Gullans. 
"We were both fighting about who's going to try to recruit her for a TED talk," Steve Gullans said. "We're just elbowing each other during her talk, and we were mesmerized because she was such a fresh spokesperson for something that most of humanity is ignorant about — being born into a cult."
He offered Shanks an opportunity to work with TEDxNatick to retell her story at The Moth event but said she showed signs she had some reservations at first. 
Following the September event, Steve Gullans and TEDxNatick curator Rosemary Driscoll held meetings with Shanks to share her stories and experiences other than being in a cult over a course of several weeks. 
"We were fascinated by how resilient she was, how well spoken, how smart and capable she was – just fascinated by her ability to have processed that life for so long, and how she was able to take lessons from that and thrive, both personally and professionally," Driscoll said.
Shanks gave her first TED Talk in January 2018; however, the video wasn't posted on the TEDx Talks channel until March 6, 2018, blowing up instantly. 
Now, the talk titled, "Why I Left an Evangelical Cult | Dawn Smith | TEDxNatick," has over 3.8 million views. 
Shanks currently works as a freelance writer and recently participated in a TV writing fellowship with Imagine Entertainment.
"Life is wonderful now," she said. "I currently have general meetings with various studios and producers, and I am trying to get a TV writing job."
Leave a Comment
Your donation will support the student journalists of Sunny Hills High School. Your contribution will allow us to purchase equipment and cover our annual website hosting costs.
About the Writer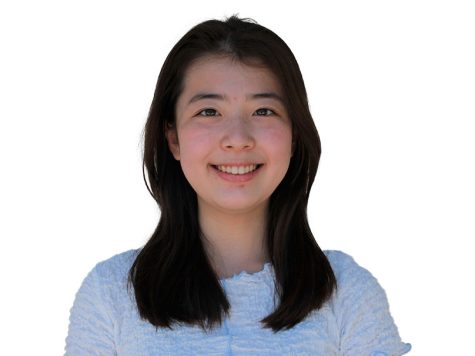 Susie Kim, News Editor
Returning as the news editor for The Accolade, junior Susie Kim enters her second year on staff with the goal of providing impeccable content for both print and online. Kim looks forward to analyzing various print layouts and incorporating more multimedia aspects to The Accolade's online platform.

Aside from writing stories, Kim is often found leading blood drives for the American Red Cross and volunteering for STEMup4Youth. She enjoys socializing with her Science Olympiad team members or listening to music by the boy band called Victon.